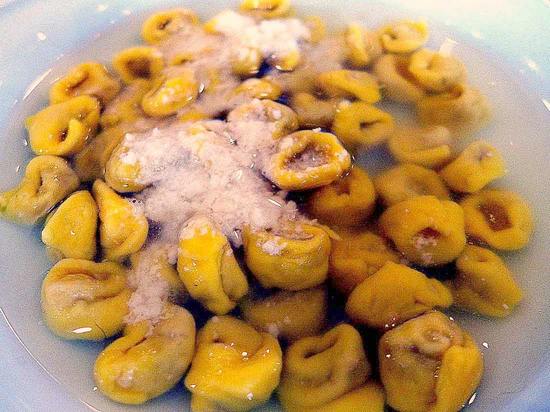 Before I visited Modena, I kept seeing references to the city as the home of stuffed pasta. It made little sense to me, but when I arrived, I discovered that the signature pasta of the region are those diminutive stuffed crowns known as tortellini.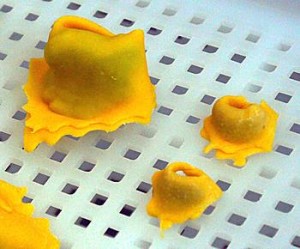 (They also serve tortelloni, which are much bigger and go better with tomato sauce.) Specifically, the classic dish of Modena is tortellini in brodo: the little pastas served in a strong chicken broth. Every home cook has a family recipe for the broth—and most people just go to the market and buy terrific fresh tortellini from local producers like Doremilia (www.doremilia.it).
I got a chance to see Doremilia's pasta factory in the hill village of Monchio di Palagano, about 45 minutes west of Modena. Alas, because I couldn't risk trying to bring a fresh meat product back to the U.S., I wasn't able to bring home any of the splendid, handmade tortellini. But I did have lunch with one of the owners at a wonderful restaurant in the larger hill village of Palagano, Hotel Ristorante Pizzeria Parco (Via Aravechhia, 27, +39 333 594 8124, www.hotelristoranteparco.it), where we proceeded to enjoy some tortellini in brodo as one of several courses. I recommend you do the same if you're ever in the neighborhood. Palagano sits on the Dragone river in the foothills of the Appenines, and the area is crisscrossed with scenic hiking and cycling trails. It's also well within the district for Parmigiano Reggiano cheese, so you get lots of great flavors with the natural views.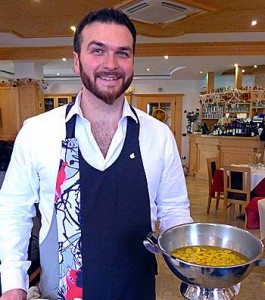 Chef Vittorio Tagliazucchi did Doremilia proud, serving a special batch of the tortellini that had been made with 36-month-old Parmigiano Reggiano in a clarified, very intense roasted chicken broth. While I couldn't bring any of the products home, I did manage to pick the chef's brain about his broth and got Massimo Ceci, the pasta company owner, to give me a rough idea of how to make the tortellini filling. It took a little practice, but here's a fairly authentic tortellini in brodo to make at home.
TORTELLINI IN BRODO
Makes 6-8 servings
Tortellini filling
1 tablespoon butter
2 teaspoons extra-virgin olive oil
8 ounces lean ground pork
2 ounces prosciutto, finely diced
2 ounces mortadella, finely diced
1/4 teaspoon nutmeg
1/4 teaspoon black pepper
1 cup grated Parmigiano Reggiano cheese
1 large egg
In a large sauté pan, heat butter and oil over high heat. Add ground pork and lightly brown, breaking up pieces with a spatula. Add diced prosciutto and mortadella and continue cooking a few minutes, stirring to mix thoroughly. Remove from heat and let cool.
Add nutmeg and black pepper to meat mixture and process with steel blade in food processor until the mixture is very finely ground (about 2 minutes). Add grated cheese and process about 30 seconds until mixture is well blended. Add egg and process until smooth.
Pasta
2 1/2 cups (350g) all-purpose flour plus extra for kneading area
4 large eggs
1 tablespoon extra-virgin olive oil
1/2 teaspoon kosher or sea salt
Place flour in a heap on the counter and make a depression in the middle. Crack eggs into the depression and add oil and salt. Using a long-tined cooking fork, stir the flour in a folding motion until eggs and oil are absorbed into a sticky dough. Knead for 3-4 minutes, using extra flour as necessary to keep from sticking. When ball has texture of an earlobe, divide into eight pieces.
To make tortellini, roll a ball of dough out one notch thinner than you would for fettucine.
Lay out flat dough on counter and using a knife or rolling cutter, cut into 2-inch (about 5cm) squares.
Place a slightly rounded 1/4 teaspoon of filling mixture in the center of each square.
Make tortellini by folding pasta corner to corner to form a triangle and pinch edges to seal in filling.With one corner pointing up, roll bottom up one-half turn. Using tip of little finger in the middle, fold over one corner. Then fold over the other, tucking point underneath into center area. Remove little finger and pinch to make sure ends stick. Here's a really good video of the process on YouTube.
Set tortellini aside and cover with dish towel to keep from drying out. Repeat process until all the pasta is used up. If any filling is left over, freeze for another day.
For broth
3 pounds (1.5kg) chicken necks, backs, and wings
2 medium onions, peeled and coarsely chopped
1 carrot, thinly sliced on diagonal
2 stalks celery, diced
1 bay leaf
2 sprigs fresh thyme
1 tablespoon salt
6 cups water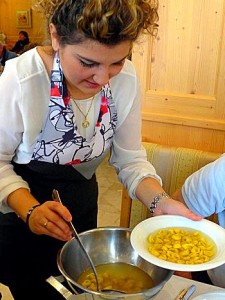 Set oven to 450°F and arrange chicken parts in shallow pan. Roast 30 minutes until browned.
In stock pot, place roasted chicken pieces and remaining ingredients. Bring to boil and lower temperature to simmer. Cover and simmer 2 hours. Let cool and strain, discarding solids.
—
To serve, boil tortellini in salted water for about 10 minutes or until done to taste. Heat broth separately. Spoon tortellini into bowl and spoon broth over. Pass grated Parmigiano Reggiano to sprinkle on top.