Whenever we visit Dublin, we make sure to enjoy lots of incredible butter and cream since we can't bring any home. (U.S. Customs frowns on such dairy products.) Fortunately there are lots of other good Irish foodstuffs that we can pack in the suitcase. For cheeses, we make our purchases at Sheridans Cheesemongers (see earlier post), but here are some of the things that caught our eye in a neighborhood Dunnes grocery store:
Irish soda farls
Pat's mother still remembers her own mother, who hailed from Northern Ireland, making soda bread farls in a round pan on the top of the stove. First she would shape the dough into a circle and then cut it crosswise into four pieces, the so-called farls. This style of soda bread is flatter and more moist than the more common cake-style. Most grocery stores sell the farls already packaged in plastic bags. They remain fresh if we put them into the freezer as soon as we get home.
Odlums mixes
Odlums began milling and selling flour in 1845 and the company remained in the family until 1991. Its flour has been a staple in Irish kitchens for generations and the Odlums web site (odlums.ie) is full of recipes. But we generally just pick up a couple of mixes for brown bread or for brown, white, or fruit scones.
Flahavan's Porridge Oats
The Flahavan family has been milling oats for more than 200 years, uses only local oats, and has perfected a technique to produce a fine flake that cooks up more quickly. Even if the oats weren't so good, we would probably buy them anyway because we can't resist the old-style packaging.

Erin Meal Mixes
This Dublin-based company's seasoning mixes for meats and vegetables include a number with a French accent, but for an easy to prepare flavor of the Emerald Isle, we opt for Shepherd's Pie or Country Stew.
Lakeshore Duck Fat
We almost hate to admit how good French fries taste when they are cooked in duck fat. We don't do any frying at home, but we agree with the Irish that a bit of duck fat gives roast potatoes or roast vegetables a richness that belies their humble origins. The manufacturer advises adding one tablespoon of duck fat per pound of vegetables, which means that a 200g jar will last for a couple of weeks in the winter. Better get two.
Marrowfat peas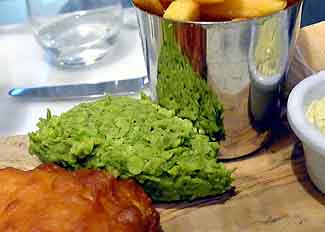 These green peas left on the vine until they have dried are the primary ingredient in mushy peas – the classic accompaniment to fish and chips (see photo at right). They're available canned, but it's easier to throw a bag of the dried peas into the suitcase.
Lemon's sweets
You can find just about every type of Cadbury chocolate bar in Dublin, but for a treat with local roots, we look for Lemon's. The company started out as a confectionery shop on what is now Lower O'Connell Street in 1842 and even made its way into James Joyce's Ulysses. It has changed hands several times and experimented with a number of products. Our favorites are the Mint Iced Caramels, with a smooth center and a crisp coating. The company claims that it takes two days to make them from a secret recipe dating back to 1926.