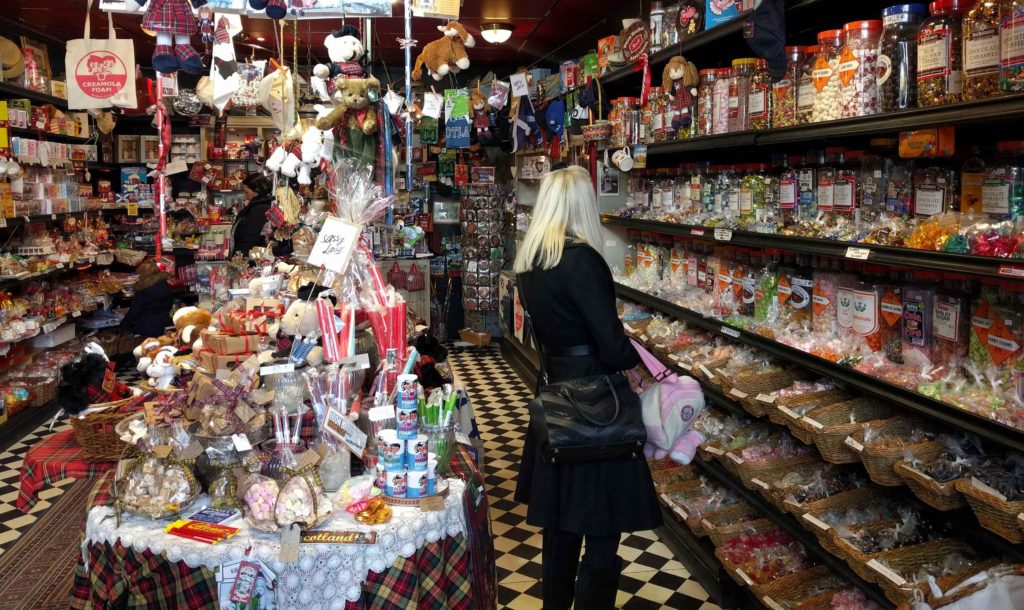 Sweet nostalgia is the stock-in-trade of Mrs. Mitchell's Sweetie Shop in Glasgow's Trongate neighborhood (117 Trongate). Out front, a giant swirled lollipop on the sidewalk lures in Glaswegians eager for a taste of their childhoods.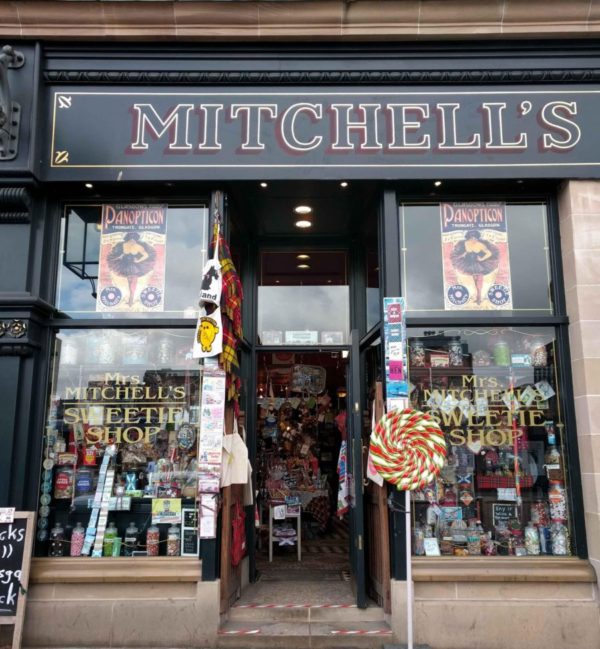 "Everyone asks for the old-fashioned candies," said Mercedes Thompson, niece of proprietor Beverly Mitchell. She gestured to shelves filled with jars of chocolate lime satins, barley sugar, rhubarb rock, butternuts, and rum and butter toffees. The wrapped candies are great to stuff in a pocket for a quick pick-me-up during a meeting or a ride on the subway. But some of the favorites are good for sharing. Beverly told us that MB Originals (chocolate-covered white fondant) and Chelsea Whoopers (chocolate- covered soft fudge) are among the most requested candy bars.
The Sweetie Shop also gives visitors like us a handle on some of the more unusual treats that help satisfy the legendary Scottish sweet tooth. We were expecting pretty pastel rounds when Thompson told us that the shop carries macaroons in a variety of flavors including banana, mint, raspberry, and Nutella. There are even macaroons flavored with Irn Bru, the Scottish soft drink (see this post). But Scottish macaroons in no way resemble French macarons. The Scottish version are small logs with a coconut-coated chocolate exterior. We could not begin to guess the secret ingredient in the sweet, creamy white center. It's mashed potato—mixed with lots and lots of sugar.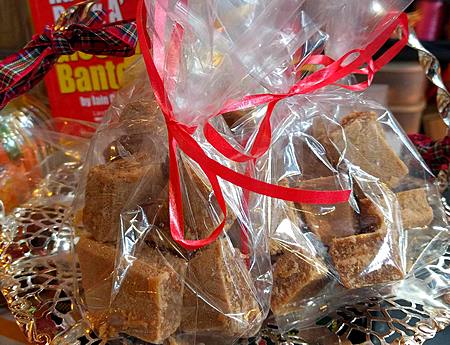 Speaking of sugar, Beverly Mitchell makes her own tablet. This penuche-like sweet seems almost ubiquitous in Glasgow. It has quite a history, having first appeared in the early 18th century Household Book of Lady Grisell Baillie. Back then, it was made with sugar and cream. Today's cooks tend to add butter as well. There are, of course, numerous variations on the recipe. Beverly has her own "secret" recipe.
"That's true," Mercedes confirmed, "but it's still tablet. Here, try a piece."
You know what they say: The first one's always free.