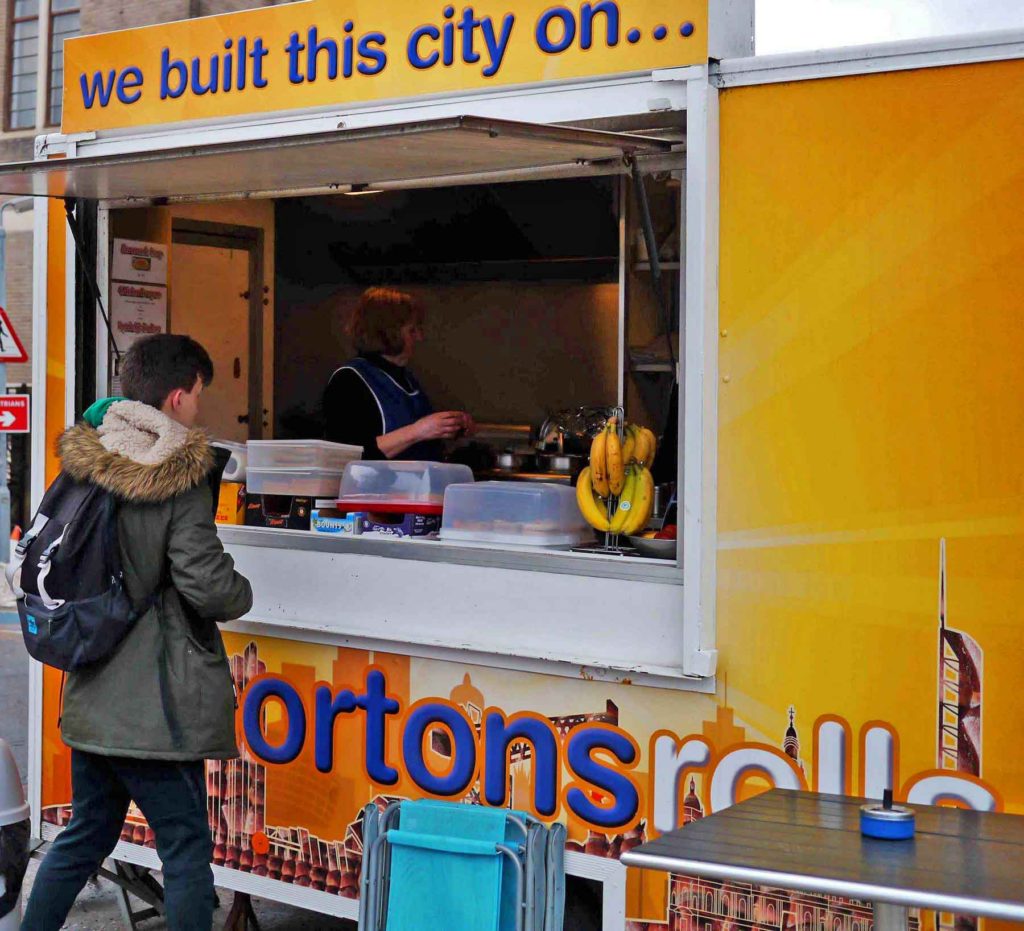 Wherever we go, we try to stay open to serendipity. We like to think of our approach as open-minded, but it might be better described as open-mouthed. Our goal is to discover local foods, however humble. So when we spotted the Morton's stand in Glasgow, we knew we'd hit paydirt.
As scripture reminds us, "man does not live by bread alone." The folks of Morton's Rolls would agree. You really ought to split it, spread it, and put something between the halves.
Founded in 1965, Morton's remains one of the two bakeries making the crispy edged, pillowy soft white bread rolls so beloved by Glasweigians (or "Weegies," as they sometimes call themselves). Morton's even has a small fleet of self-contained stands that sell the rolls filled with everything from hamburgers topped with haggis to a fried egg with a slice of melted cheese. The company motto is "We built this city on Morton's Rolls," giving the lowly bread a certain working-man's cred. If Bruce Springsteen were Scottish, he'd grab a Morton's roll for breakfast.
The real Morton's stand classic—reputed to cure or even prevent a hangover— is a roll wrapped around a square sausage patty, a "tattie" scone, and a runny fried egg. We encountered this Morton's stand near the University of Glasgow, where we'd walked to visit a museum. The workman's lunch works just as well for the penny-pinching student—like this young man at right devouring a sausage with potato scone (£1.80).

Deep-fried candy bar the whipping boy of Scottish nutrition
Like their English, Welsh, and Irish brethren, the Scots are partial to deep-fried food. Chippie joints are nearly as ubiquitous on Scottish streets as hamburger emporia are in America. But the Scottish fish and chips stands hardly stop with fried fish and fried potatoes.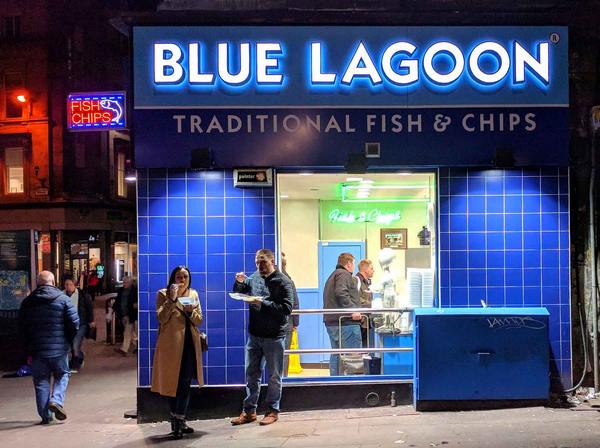 We became quite enamored of Blue Lagoon because it stood right outside the Principal Grand Central Hotel, where we were staying. (Actually, the stand shown here is at the entrance to Grand Central Railway Station. It has another full dining room located beneath the station.) Along with a choice of several deep-fried fishes served with potatoes, it also offered other battered and fried delicacies like haggis balls.
"Dessert" at Blue Lagoon generally means a battered and deep-fried Mars Bar. For American readers, the UK version of a Mars Bar has never had almonds. It more closely resembles the American Milky War—nougat and caramel coated in milk chocolate. (Just to confuse things, the British Milky Way is more like an American Three Musketeers bar.)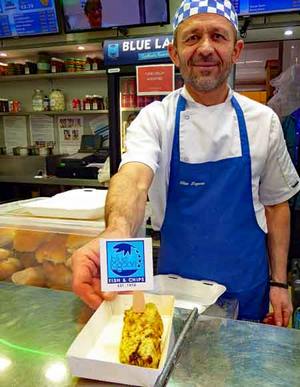 It's not clear which Scottish chippie first battered and fried a Mars bar, but the novelty swept the country in the mid-1990s. These days, "fried Mars Bar" is shorthand for unhealthy eating.
That didn't stop us from trying one. The cook at Blue Lagoon was proud to introduce us to the phenomenon, and the woman at the counter added that we weren't the first Americans to dine there. None other than Justin Bieber had come in for a deep-fried haggis supper.
Wash it down with an Irn Bru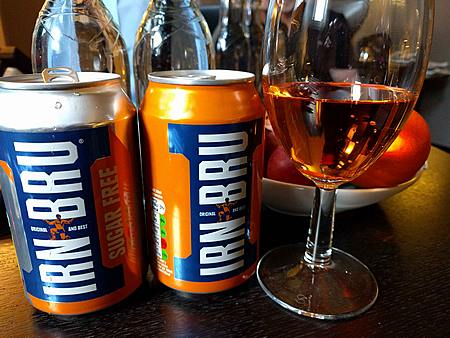 Like the deep-fried candy, Irn Bru is a Scotland-wide phenomenon. "Bru'd in Scotland to a secret recipe since 1901," the soft drink is as popular as Coke or Pepsi in the U.S. In fact, it's sometimes called "Scotland's other national drink" (after whisky, we presume). It's a hard flavor to describe—sort of a blend of orange soda, Moxie, quinine, and rusty water. It does contain some iron, in the form of ammonium ferric citrate. Once extremely high in sugar, it was reformulated recently to avoid the British tax on sugary sodas. The flavor certainly has its fans. One sweets shop in Glasgow even makes French macarons in Irn Bru flavor.