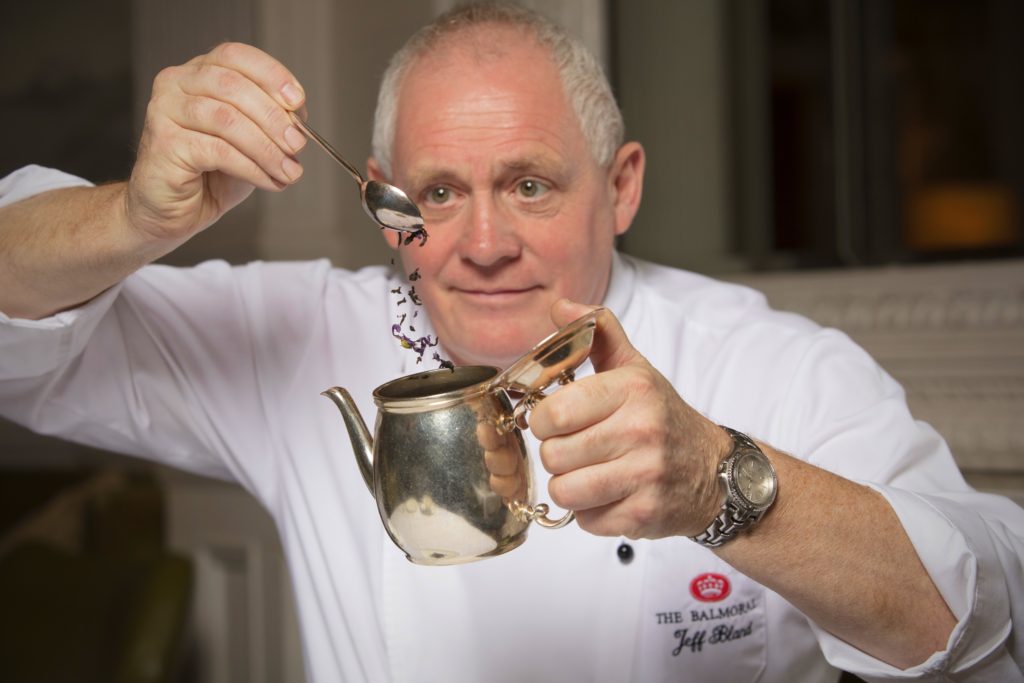 Any visitor who relishes the Scottish baronial architectural style of Edinburgh's central core has imagined a night at The Balmoral Hotel (1 Princes Street, Edinburgh; + 44 (0)131-556-2414; roccofortehotels.com/the-balmoral-hotel). The grand railway hotel opened in 1902 to complement Waverly Station and remains the most storied hotel in the city. With rooms starting around $325 and quickly rising, its elegant comforts are out of reach for many. But the hotel offers one sweet, not quite so dear indulgence.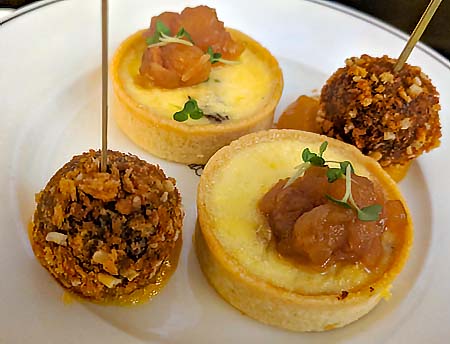 Book afternoon tea in the Palm Court, one of the classiest, most elegant rooms in Edinburgh. You can take in the surroundings as you linger over a tiered tray of sandwiches and savories, hot scones with clotted cream and preserves, a seasonal selection of pastries, and a choice of loose leaf teas (or coffee, if you must). Afternoon tea is £40 ($54) per person; reserve ahead.

Who knew Scotland could grow such amazing tea?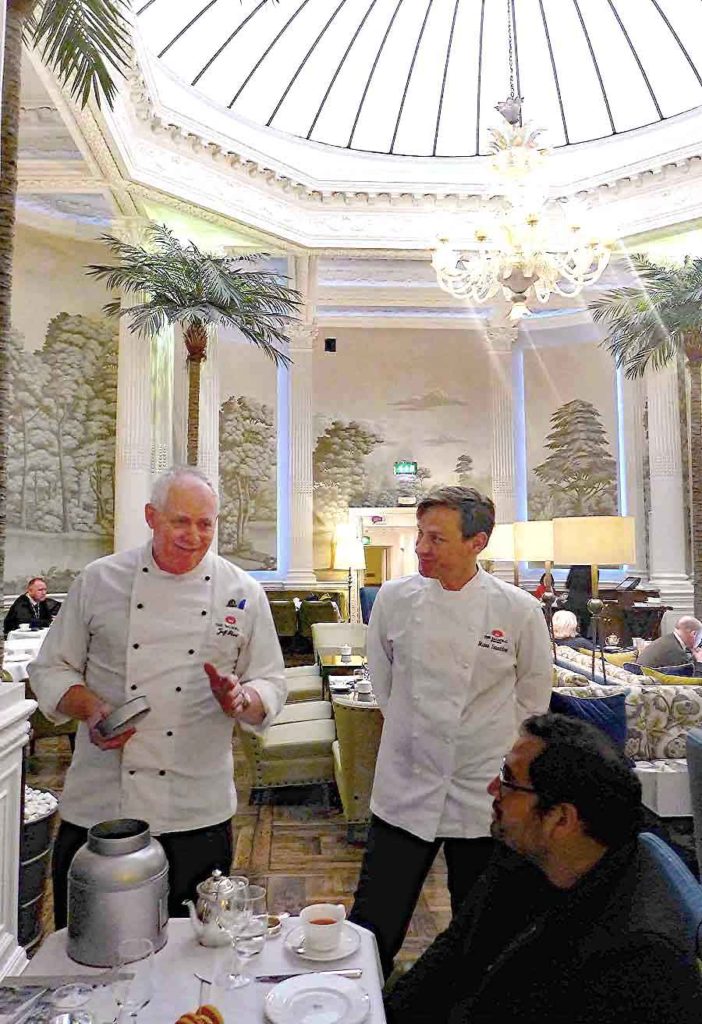 For 16 years, executive chef Jeff Bland (at top of post and right with pastry chef Ross Sneddon) has boasted a Michelin star—one of only 12 in all of Scotland. It's attached to the hotel's Number One restaurant, but Bland upholds the same standards for tea in the Palm Court. He even makes the amuse bouche for each tea tray himself. (It was a deliciously crunchy haggis ball during our tea service.)
The haggis was pure Scottish flavor. But we were surprised to discover that we were also drinking tea grown in Scotland. The Balmoral has collaborated with Tam O'Braan and the Wee Tea Company to serve a range of Scottish teas.
Plant scientist O'Braan spent many years helping farmers grow crops in difficult climates under the auspices of the United Nations World Food Programme. He wondered why no one had ever tried cultivating tea in Scotland since growing conditions are similar to some challenging Asian tea regions. His Wee Tea Plantation on Dalreoch Farm estate in Amulree, Perthshire, has been a booming success. O'Braan has also helped other entrepreneurs launch small plantations around Scotland, including some in the Hebrides. One of the newest introductions to the Balmoral's tea choices is "Island Green," grown in tea gardens on the isles of Arran, Lewis, and Harris.
We enjoyed a smooth and lightly perfumed pot of Scottish white tea from O'Braan's Dalreoch plantation. Like most Scottish teas, it's a "virgin" tea harvested by workers wearing cotton gloves to prevent the oils of their hands from affecting the flavor of the tea. A smoked version of Dalreoch white tea was judged the best in the world in 2015 at the Parisian Salon de Thé awards.
Ross Sneddon's scones are extraordinary. Following a little wheedling, the hotel sent along the recipe and photo below. Since pastry is very particular, we have left it in metric measure to ensure precision. Enjoy!
PALM COURT SCONES
The Balmoral's Executive Pastry Chef, Ross Sneddon's scone recipe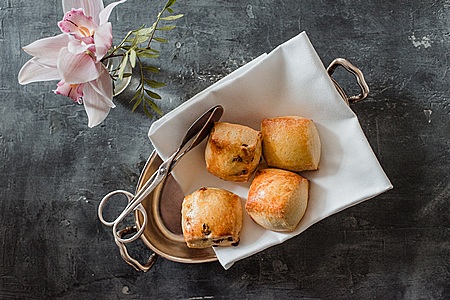 Makes 12:
Note: We recommend that you start this recipe the night before, so the flour and the butter mix can be thoroughly chilled overnight
You will need:
Stand mixer fitted with the paddle attachment
Rolling pin
5cm (2 inch) pastry cutter
Baking tray, lined with baking paper
Pastry brush
330g plain flour, plus extra for dusting
60g caster sugar
1 ½ tbsp baking powder
¼ tsp salt
90g cold unsalted butter, cubed
70g raisins
110ml buttermilk
90ml milk
1 egg, beaten with a pinch of salt, for the egg wash
In a large bowl, combine the flour, sugar, baking powder and salt, then add the butter and rub into the flour mixture with your fingers until you have a fine crumb. If you're making raisin scones, stir the raisins in now. Transfer to a smaller container, cover and leave to rest in the refrigerator overnight or until thoroughly chilled.
The next morning, preheat oven to 240°C, gas mark 9 (475°F). Transfer the butter and flour mixture to the stand mixer. Slowly mix in the buttermilk and milk until the dough comes together.
On a lightly floured surface, roll out the dough to form a circle, about 21cm (8 1/4 inches) in diameter and 2cm (3/4 inch) thick, then cut out 12 scones using the pastry cutter. Transfer the scones to the prepared baking tray.
Using a pastry brush, carefully brush the tops with the egg wash. We like to let our scones sit out for 20 minutes at room temperature to give the baking powder a chance to activate before we bake them.
Bake until evenly golden, about 12-13 minutes. Leave to cool for 5 minutes, then serve warm.
We strongly suggest serving these only on the day of baking.