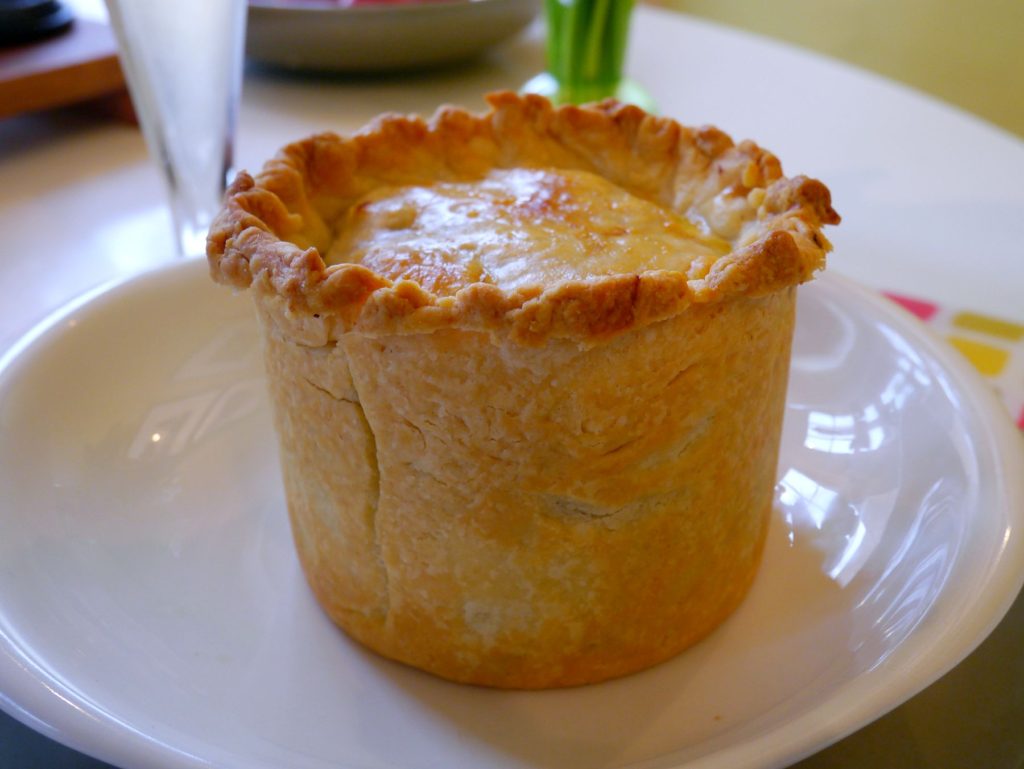 Our mission with HungryTravelers is to bring the taste of travel back home. That means trying the characteristic and traditional dishes of a place and trying to re-create them in our home kitchen. One of the signatures of Scottish cuisine—sometime called Scotland's national soup—is a bowl of leeks and peppery chicken stock. It's been going under the name of cock-a-leekie soup since the 18th century, though there are printed examples of the recipe from two centuries earlier. Food historians suggest that it was originally a French chicken and onion soup that made its way to Scotland through the Bourbon connections to the Scottish throne. Weather and soil being what they are in Scotland, hardy leeks soon superseded fussy-to-grow onions. The traditional version of the dish also includes chopped prunes, which add a surprising depth to the broth.
Turning soup to pie
Whenever we're in the United Kingdom, we find ourselves gravitating to small savory pies for lunch and sometimes dinner. If the hamburger is the quintessentially American food ("mass-produced, cheap, efficient but essentially juvenile," per a Victorian and Albert Museum exhibit many years ago), then the pub pie is Britain's comparable calling card. Besides collecting foodstuffs wherever we go (see What to buy in a Scottish grocery store), we're also fascinated by cookware shops.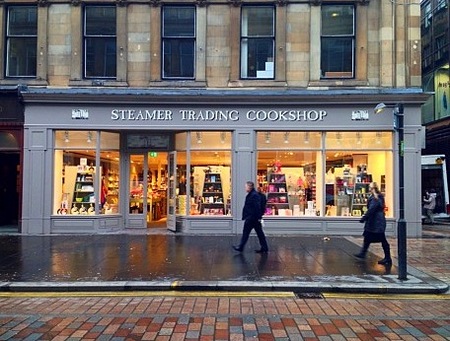 Steamer Trading Cookshop (0141 204 4141, steamer.co.uk) in central Glasgow is a magical shop of almost every cooking device and piece of hardware imaginable. Having already loaded up on cookware last fall in Marseilles, we thought we would be immune. But no! Steamer had these wonderful British pork pie pans. These Master Class "pork pie moulds" are 4 inches in diameter, have removable bottoms, and are constructed of 1mm heavy steel with a non-stick surface. We fell in love and managed to make room in our luggage to bring a pair home. We thought about making the classic steak and ale pie like the one we ate at the Glasgow Marks & Spencer, but thought something more distinctly Scottish was in order. The following recipe was informed by several others, especially one in a 2015 issue of Bon Appétit. The crust is much flakier and more luxurious than the usual Scottish savory pie, so it's best eaten in a bowl rather than out of hand.
COCK-A-LEEKIE PIE
This recipe requires some special equipment, namely a British pork pie pan and a 9-inch cast iron skillet. It fills two Masterclass 10cm Pork Pie pans.
Ingredients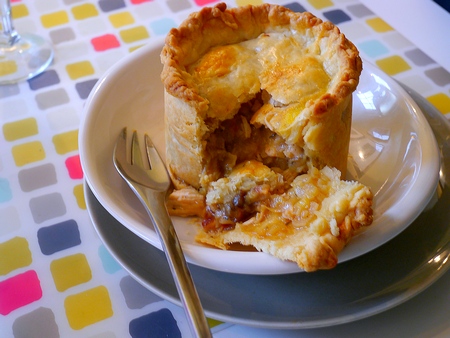 3 tablespoons salted butter, divided
2 slices bacon cut into 1/2 inch pieces
8 oz. boneless, skinless chicken breasts
1 1/3 cup chicken broth, divided
2 leeks, white and pale-green only, thinly sliced
salt and pepper to taste
1/2 teaspoon dried thyme
1/4 cup pitted prunes, quartered
3 tablespoons all-purpose flour
savory pie dough (see below)
1 egg, beaten
Directions
Place rack in lower third of oven and set oven to 400°F.
In a 9-inch cast iron skillet, melt 1 tablespoon butter over medium heat. Add bacon and cook until crisp. Remove to a plate to cool.
Add chicken breast to same skillet and cook until brown, about 3 minutes per side. Reserving 1 cup of broth, add about half of the 1/3 cup to skillet. Cover, reduce heat, and steam until chicken is cooked through, about 8 minutes. Remove chicken to plate with bacon.
Add leeks to skillet, season with salt and pepper, and cook until softened, about 5 minutes. Add rest of 1/3 cup broth, cover, and cook until leeks are meltingly soft and begin to brown, about 5 minutes. Place cooked leeks in large bowl. Shred chicken and add to leeks along with bacon, thyme, and prunes.
Continuing to use same skillet, melt remaining 2 tablespoons of butter. Whisk in the flour and cook, stirring and scraping, until roux turns golden brown, about 3 minutes. Stir in reserved cup of broth a little at a time, whisking until smooth with each addition. Stirring constantly, simmer until thick, about five minutes. Add sauce to leek mixture and adjust seasoning to taste. Let cool.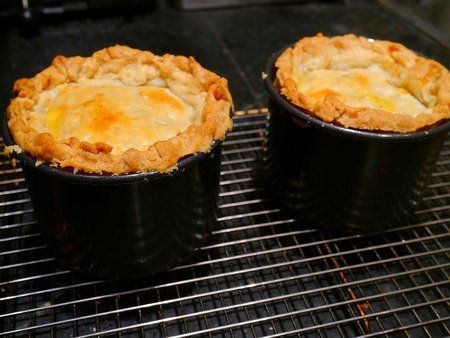 Divide pastry dough in four pieces—two large and two small balls. Roll out the larger ball to about 10 inches. Fold in quarters, insert point into middle of pan, and spread to line the sides. Let excess pastry drape over edges. Spoon the cock-a-leekie mixture into the pastry casing. Roll out a small ball of pastry to make lid. Cut off the excess pastry and pinch edges to seal. Repeat with second pan.
Cut vents in top crusts, brush with beaten egg, and place in 400°F oven. Bake until crust is golden brown, about 35 minutes. Let pies cool slightly before sliding out of tins.
SAVORY PIE DOUGH
This food processor recipe makes two pork pie pan crusts. The vinegar retards the formation of gluten as you work the crust, making it more tender and flaky.
Ingredients
1 1/3 cups all-purpose flour
1 teaspoon salt
6 tablespoons cold butter, cut into pieces
2 tablespoons lard or vegetable shortening
1 tablespoon white wine or cider vinegar
1/4 cup ice water
Directions
Pulse flour and salt in a food processor to combine. Pulse in butter and shortening until mixture resembles very coarse meal.
Combine vinegar and ice water in a measuring cup. Drizzle in vinegar mixture, pulsing until dough just holds together. That's around 10 pulses.
Turn out dough onto working surface and divide in half. Pinch off one third of each half to make pie tops. Flatten the four balls into disks on flour-dusted wax paper and chill until firm, about 2 hours.