It's really no surprise that we bring foodstuffs home from all our travels. It's not just that we love reliving taste memories. There's a practical side to grocery shopping on the road. We live in a small space and we don't have to commit to long-term storage (or dusting) of nifty food items that we buy as souvenirs. Even the lovely city of Glasgow (above) couldn't tempt us with durable souvenirs. Consumables also make great gifts. Much as we enjoy prowling specialty food shops, even a chain supermarket can yield a shopping basket full of goodies for yourself and your friends. That's just what we did at a branch of Britain's largest retailer, Tesco, on Sauchiehall Street in Glasgow. Here are a few of the things that ended up in our basket.
A spoonful of sugar…and then some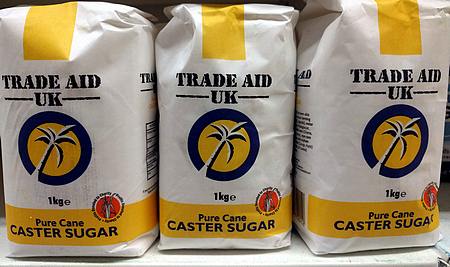 A quick stop in the baking aisle reveals that the Scots have quite a sweet tooth. Passing up the bags of Demerara, Muscovado, molasses sugar, and icing sugar, we picked up a bag of caster sugar. Regular British sugar is quite coarse but caster sugar has tiny crystals similar to American superfine sugar. That makes it perfect for meringues, whipped cream, and other uses where it needs to dissolve completely.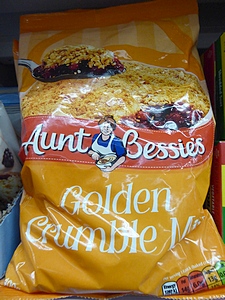 Watching the Great British Baking Show might give you the idea that folks in the United Kingdom spend all their free time in the kitchen whipping up amazing concoctions. Fortunately, we discovered that clever convenience foods still have a place on the grocery shelves. We couldn't resist the homey Aunt Bessie's Golden Crumble Mix. Sprinkle the mix of sugar, flour, and oats over fresh or cooked fruit and bake for what Aunt Bessie calls "a perfect pudding." Really in a hurry? You can even substitute pie filling or drained canned fruit.



It's not very original, but we did pick up some Paterson's Shortbread Fingers. The Scottish baking company founded in 1895 claims to be "the number one shortbread brand in Britain," so we figured we should compare our own shortbread against the British standard.

Tunnock's Tea Cakes may be really out of this world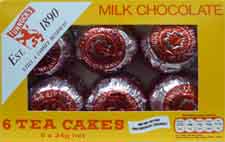 Fortunately, a couple of Tunnock's Tea Cakes wrapped in bright foil were left for us at bedtime at the Grand Central Hotel. Otherwise, we would have missed out on a kiddie treat that seems to have become a pop culture phenomenon. Family-run Tunnock's was established in 1890 and the tea cake was introduced in 1956 by the grandson of the founder. A round biscuit is topped by Italian meringue (a fancy name for marshmallow) and then coated in milk chocolate. Tunnock's Tea Cakes are apparently a favorite of Coldplay's Chris Martin. In 2017, a team at the Glasgow Science Centre attached one to a weather balloon which ascended to 37,007 meters (23 miles). When the tea cake landed in a tree after 2 hours and 4 minutes aloft, it was reported to be "pretty intact." It's an oddly reassuring thing to know about your afternoon snack.
Here's a video of the launch.

Scottish cheddar and oatcakes are soul mates

Tesco has a quite good selection of Scottish cheeses, especially the rich cheddars from the islands off the north and west coasts. We've hit on the virtues of Scottosh cheddar in the post about George Mewes (here – https://hungrytravelers.com/george-mewes-makes-us-smile-and-say-cheese/). In Scotland, you can't have cheese without oatcakes. Although we did want to try to make our own (same post), we also picked up some Stockan's wholegrain oatcakes. The company has been making them on the Orkney Islands for more than 100 years. It is, they say, "a total myth" that oatcakes are just for cheese. Try topping them with scrambled egg, smoked salmon, prawns, or even peanut butter.
Marmalade: It's not just for breakfast anymore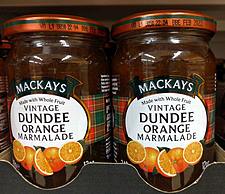 It's amazing how much history can be packed in a little jar. Take Dundee marmalade. The story goes that it was first produced in the 1700s with fruit from a Spanish ship that took shelter from a storm in the harbor at Dundee. An enterprising grocer purchased the cargo of Seville oranges but was mightily disappointed by their bitter flavor. His wife sliced and cooked them up with lots of sugar. Presto! Dundee marmalade was born. We purchased a couple jars of the Mackays brand. The company claims to be last Dundee-area producer of what was for years a fixture on the British breakfast table.
A 2010 article in The Telegraph lamented that sugary breakfast cereals have left young Britons with palates that are not up to the "bracing ripeness" of marmalade. The Scottish original must now compete with smoothies, sweet pastries, and other more soothing options to start the day. But there are other options for the time-honored bittersweet preserves. This chocolate marmalade cake, a variation on a traditional recipe, is great with afternoon tea or an evening cup of coffee.
MARMALADE CHOCOLATE SLUMP CAKE
Makes one 9 inch cake
Ingredients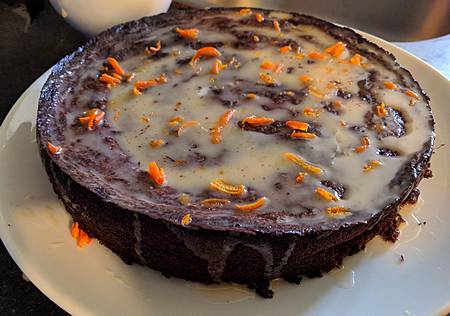 1 stick butter plus more for greasing pan
1 cup semisweet chocolate chips
(or 150g dark chocolate, coarsely grated)
1/2 cup (100g) Seville orange marmalade
5/8 cup (125g) granulated sugar
4 eggs, separated
5/8 cup (50g) cocoa powder
1/2 teaspoon vanilla extract
pinch of salt
For icing
1 1/3 cup (150g) confectioners sugar
juice of one orange
zest of one orange, diced
Directions
Set oven to 375°F and lightly grease 9-inch cake pan.
Melt butter in saucepan over medium heat. Remove from heat and add chocolate, stirring well to combine.
In a separate bowl, mix together marmalade and sugar. Add to chocolate mixture. Beat egg yolks, cocoa powder, and vanilla into mixture.
In a clean bowl, whisk egg whites and salt until soft peaks form. Beat about a third of the egg whites into the chocolate mixture, then fold in the rest.
Pour batter into prepared pan, smooth the top, and bake until center is set—about 35 minutes. Remove from oven and cool in pan for half an hour on a wire rack.
Mix together the confectioners sugar and enough orange juice to get a pourable glaze. Pour over cooled cake and decorate with bits of orange zest.