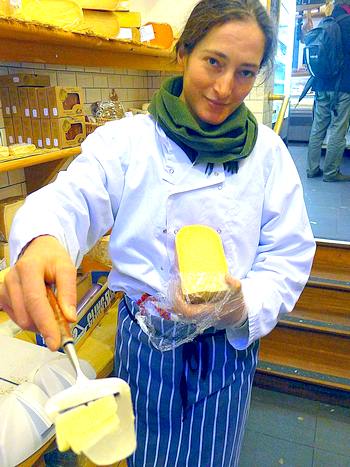 It's not really surprising that Irish cheeses all come with a story. Probably the best place in Dublin to hear these tales is the local branch of Sheridans Cheesemongers (11 South Anne Street, +353 1 679 3143), conveniently located a short distance from Grafton Street, just around the corner from the Celtic Whiskey Shop (more on that another time), and close by St. Stephen's Green. For a cheese-loving visitor, Sheridans amounts to a crash course on Irish farmhouse cheeses — and the perfect source to get pieces shrinkwrapped to take home in your luggage. Get a preview at sheridanscheesemongers.com.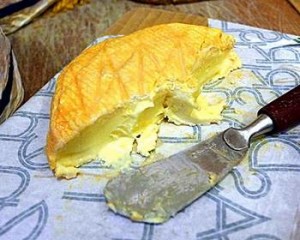 Several commercial Irish cheddars reach North America, but farmhouse cheeses are another matter. In fact, farmhouse cheesemaking had nearly died out in Ireland, as dairy farmers focused on butter as a way to preserve excess milk. But in 1976, Veronica and Norman Steele began making cheese on their farm at Milleens, County Cork. Veronica had taken a course in large-scale commercial cheddar production, but used her newfound skills instead to make a washed rind cheese. Called Milleens, it was an instant sensation and helped to relaunch small-farm artisanal cheesemaking in Ireland. That's a sample of it at the right. That's one of the great things about Sheridans. Samples abound, and cheesemongers like Dominique Dorman (that's her above, offering a sample of an Irish tomme) have all the tales that go with every taste.
Dorman explained that Ireland is so small and the cheesemakers all so individualistic that if someone stops making cheese, a whole style or category of cheese is lost. Fortunately, when her husband Eugene passed, Mary Burns, also of County Cork, kept making Ardrahan, a sublime washed rind cheese. Part of the secret to the flavor, we understand, is that Burns (like many Irish cheesemakers) holds onto her brine for years. Over time, the brine influences the flavor and determines which good molds grow in the rind—and which bad ones don't.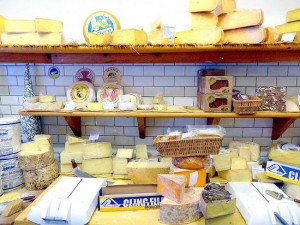 Not all the Irish farmhouse cheeses are semisoft, washed rind varieties. We were blown away when Dorman gave us a nibble of Coolea Mature, a Gouda-style cheese made by Dickie Willems Jr. from the recipe of his parents. In 1980, the Dutch couple moved to Coolea on the Cork/Kerry border, got a cow, and started making cheese with their excess milk. The operation has expanded considerably since. All the milk comes from cows grazed on fresh grass, so the cheese varies with the season. As it ages past about 20 months, the cheese takes on toffee overtones and develops a slight crystalline structure. Needless to say, we brought a half kilo home….
It's not surprising that a champion of farmhouse cheeses would be deeply involved in all manner of Irish artisanal food. For the last five years, Sheridans has sponsored an Irish food festival at its Virginia Road Station headquarters in County Meath. This year it takes place (along with the Irish brown bread competition) on Sunday, May 24. For details, see the website.