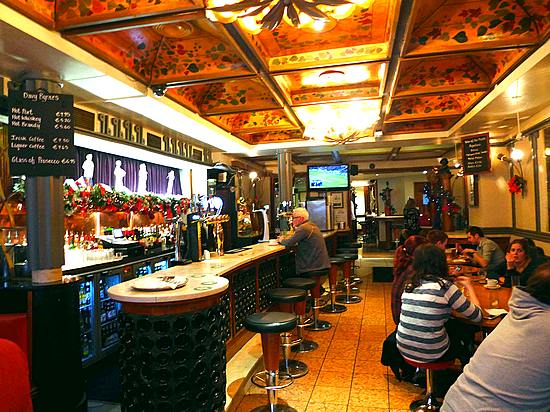 Having spent a glorious hour or so sampling and buying farmhouse cheese at Sheridans (see last post), we thought it would be a great idea to lunch on the most famous cheese sandwich in Dublin, even if it doesn't involve an Irish cheese.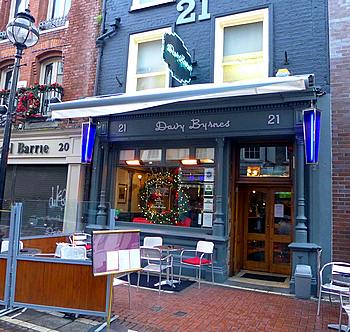 Although much refurbished and modernized, Davy Byrnes Pub (21 Duke Street, +353 1 677 5217, davybyrnes.com) has been a downtown fixture just off Grafton Street since 1889. It was a popular watering hole among the literati long before James Joyce immortalized the bar in Ulysses, published in 1922. In chapter 8, "Lestrygonians," Leopold Bloom stops in on June 16, 1904, and orders a Gorgonzola sandwich. The dish is still on the menu, though the pub now fancies itself "Dublin's original gastro pub" and emphasizes food over drink more than it did in Joyce's day.
In Ulysses, "Mr Bloom ate his stripes of sandwich, fresh clean bread, with relish of disgust, pungent mustard, the feety savour of green cheese. Sips of his wine smoothed his palate. Not logwood that. Tastes fuller this weather with the chill off."
We did not fare as well. "All out of Gorgonzola" was the refrain for several days running. We inquired at Sheridans if the pub bought its cheese from them. "Just once a year, on Bloomsday," came the answer. We'll have to go back on June 16 to see if they're serving the sandwich.
As it turns out, enough people have been able to taste the sandwich that they offer descriptions of the assembly, so here's a reasonable facsimile of Leopold Bloom's light lunch intended to fend off hunger until tea. We made it at home, and can attest that, all in all, it's not bad. By the way, we'll be posting a delicious recipe for Irish brown bread soon.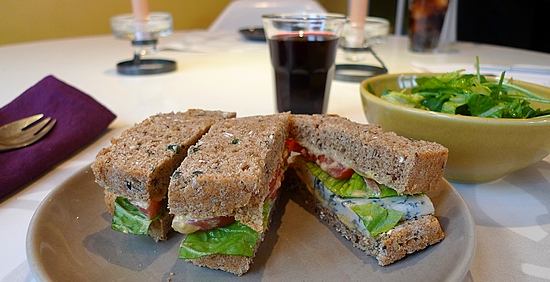 BLOOM'S GORGONZOLA SANDWICH
Ingredients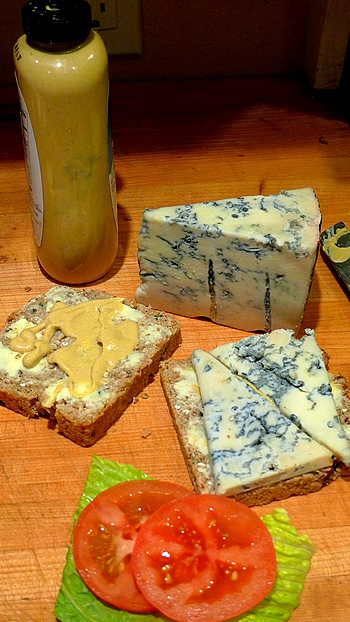 Butter
2 slices of Irish brown bread
1/4 inch slab of mountain Gorgonzola cheese
1 slice tomato
Leaves of butter lettuce
Freshly ground pepper
Pungent Dijon-style mustard
Directions
Butter both pieces of bread. Add the slab of Gorgonzola. Top with tomato slice and lettuce leaves. Grind a hefty sprinkle of black pepper on top.
Cut sandwich in three or four strips. Lift up the bread and deposit a generous portion of mustard. As Joyce notes, "Mr Bloom … studded under each strip yellow blobs."