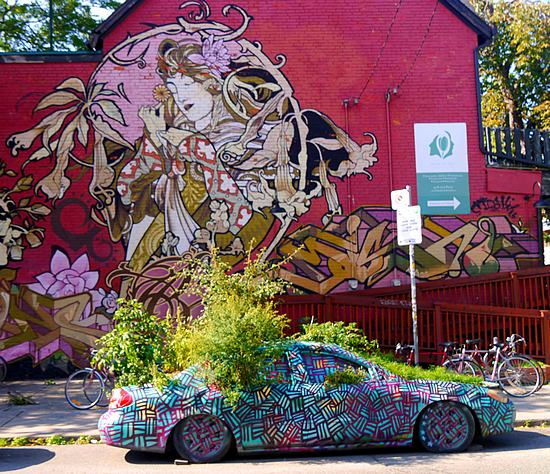 Toronto's playful side is literally written on its walls. The city is full of murals created with a high degree of artistry and a witty sense of humor. The one above with the car-turned-planter in the foreground embodies the spirit of the Kensington Market neighborhood. Just west of Chinatown, most of its shops and eateries are found along Augusta Avenue and adjacent Nassau Street, Baldwin Street, and Kensington Avenue.
The eastern boundary stretches to Spadina Avenue in Chinatown, making a continuous colorful neighborhood of eateries and shops. Once the center of hippie culture in Canada, Kensington Market was where many young American men moved to avoid the military draft during the Vietnam war. The area retains its psychedelic patchouli vibe in the street art and even the graffiti.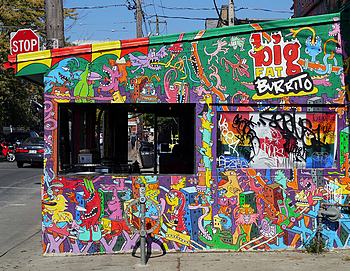 The Kensington Market eateries also lean toward the inventive—be they Hungarian-Thai, Remixed Filipino, or Jamaican-Italian. The preponderance of small restaurants, however, have a Latin flair. NAFTA has opened the borders to Mexican immigrants, and they seem to arrive hungry for such Mexican street food standards as churros, tacos, and chorizo. The Latin presence makes Kensington Market a great area for a quick bite.
But one of the city's best murals—and perhaps the best Mexican food—is at El Catrin Destilería (18 Tank House Lane, 416-203-2121, www.elcatrin.ca). We stopped for a meal after touring the Distillery District shopping, dining, and entertainment area with Will Ennis of Go Tours (www.gotourscanada.com).
Exploring whisky village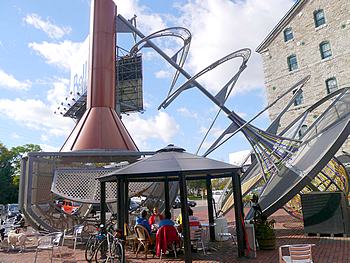 "This is one of the oldest neighborhoods in the city," Will told us. Gooderham & Worts was founded as a grain processor in 1831 and expanded into making whisky in 1837. About half of the roughly 80,000 imperial gallons produced each year was exported, by the way. The rest stayed in the city of 10,000 residents. The story goes that workers' wages were actually based on levels of drunkenness that ranged from "morning drunk" (or hung over) to "drunk as a pig."
The brick distillery as it now stands was built in 1859. By 1862, it was producing a quarter of the distilled spirits in all of Canada. By the end of the 19th century, it was among the largest distilleries in the world. Prohibition in Ontario (1916-1927) put a crimp in the business. (The firm adjusted by canning denatured alcohol and antifreeze during World War I.) Whisky production ceased in 1990 and developers transformed the red brick industrial buildings into a shopping and nightlife district. It is crazy popular among wedding photographers, who love the atmospherics.
One good pour deserves another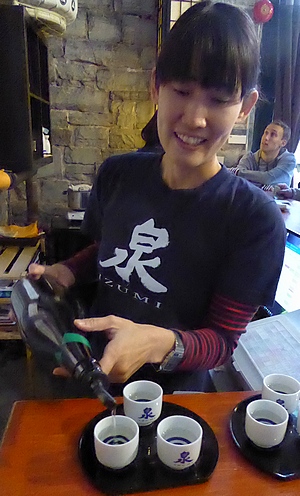 Two small establishments in the development carry on the tradition of making alcoholic beverages. Ontario Spring Water Sake Company (51 Gristmill Lane, 416-365-7253, www.ontariosake.com) brews sake in the "pure rice" style. The brewers use only cooked milled rice, water, yeast, and koji. (Koji is rice inoculated with the aspergillus oryzae mold, which imparts a distinct flavor.) You can watch the process through a large window. Better yet, for $10 you can enjoy a tasting flight of three styles.
In addition, Mill Street Brewpub (21 Tank House Lane, 416-681-0338, millstreetbrewery.com) opened in 2002. It was Canada's first brewer of certified organic beer. The storefront brews small batch seasonal beers on site. The flagship beer is a Pilsener with a nice bit of hops. If it's available when you visit, try the West Coast Style IPA. Made with 50 percent malted wheat and a nice dose of Cascade hops, it gives a less bitter impression than most IPAs. The nose has strong, pleasing mango notes. Mill Street also makes beer schnapps, a liqueur triple-distilled from beer and redolent of malt and hops. Mill Street is the only maker in Canada and the schnapps is only sold on site. "It lights a bit of a fire in your stomach," a server told us as he poured small tastes.
A taste of Mexico

After that snort, we were ready for El Catrin Destileria (18 Tank House Lane, 416-203-2121, elcatrin.ca). This cavernous space with 22-foot ceilings opened in 2013. The tequilas and the food are authentically Mexican. Street artist Oscar Flores painted the two-story mural that dominates one wall. (The other consists of cubbyholes filled with tequilas.) Flores went wild with bright colors, decorative skulls, coyotes, sunflower, eagles, and armadillos.
Chef Olivier Le Calvez hails from Mexico City. His father is French, his mother Mexican. He spent his teens living in France and did his culinary studies there. As a result, he prepares Mexican food—even street food—with French technique.
Cuisine in the sun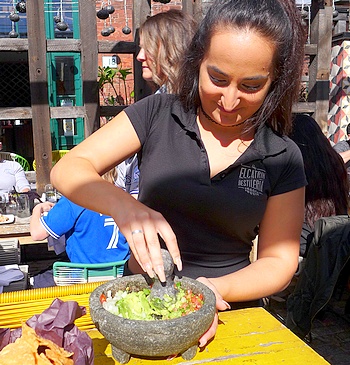 During warm weather, diners and drinkers flock to the tables in the 5,000 square-foot outdoor patio at El Catrin. With a bright October sun shining, we did the same. A server brought all the ingredients for guacamole to the table and mashed it in a mortar as we watched. Several tortilla chip scoops later, we moved on to an excellent tortilla soup. Le Calvez's version is rich with ripe tomatoes and pureed to make it as thick as a gazpacho. The tacos al pastor were delicious—filled with smoky pork, tiny blocks of sweet pineapple, and chopped red onion.
We especially enjoyed the shot glasses full of roasted corn. Called esquítes, they are a table adaptation of Mexican street corn. Le Calvez roasts the corn whole in the husks over charcoal. It steams the kernels and imparts a smoky flavor. Then he cuts the kernels off the cob and sautées them with a little butter and chopped epazote. He mixes in a little chipotle mayonnaise, some crumbled cortijo cheese, and a squeeze of lime.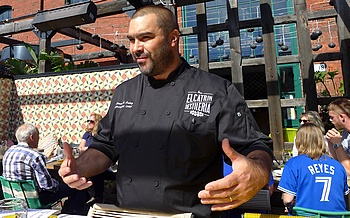 Le Calvez sees himself as something of an ambassador, introducing authentic Mexican food to Canadians. He makes recipes "that I enjoyed when I was young," he says. As with the esquítes, he often brings street food to the table. He hopes Torontonians will adopt the Mexican attitude about a meal. "We love to sit down at the table and enjoy the food," says Le Calvez. "That's very important to us in Mexico. A meal lasts up to two hours."