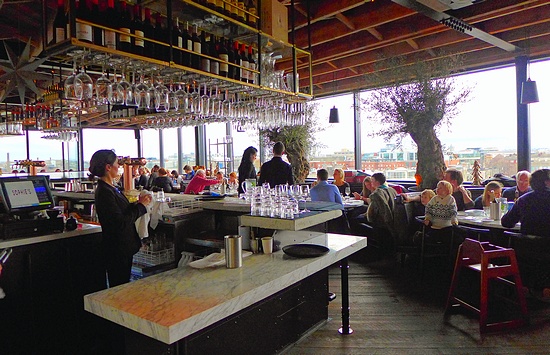 When it comes to good eating in Dublin, the best choices at the moment seem to be either the self-styled gastropubs or terrific restaurants in some of the hotels. The latest arrival is Sophie's (33 Harcourt Street, +353 1 607 8100, sophies.ie) at the Dean (deanhoteldublin.ie), a chic new designer boutique hotel. Both restaurant and hotel opened at the beginning of December, so by the time we arrived on New Year's Eve, chef Darren Mathews (below) had Sophie's running on all cylinders.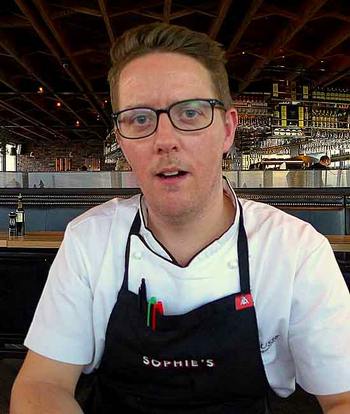 The top-floor restaurant and bar is surrounded on three sides by windows with views of the Dublin rooftops. It's a spectacular space, with banquettes and some booths lining the perimeter of the room and — in true Irish fashion — a big bar in the middle. You get a peek at the kitchen coming in, and one corner houses the beehive brick oven used for making pizzas. The Dublin weather is right in your face, but the warm interior includes ancient living olive trees as part of the décor, which makes it easy to laugh at pewter skies and order another glass of wine.
There's definitely a Mediterranean quality to the menu as well — the wait staff set both olive oil and fabulous Irish butter on the table — but Matthews blends Mediterranean and Irish traditions in intriguing ways. For example, he serves a pork chop with mascarpone polenta, sage, and crumbled bacon. And he dips into home cooking for some dishes, like the "smoked potato and sausage soup" sometimes offered as a starter. It was so good that we vowed not to leave the restaurant without getting the recipe. Apparently sensing our resolve, he sat down with us and wrote the recipe into our notebook. He started making the soup at a previous restaurant when he scooped out the centers of baked potatoes to make gnocchi and thought to use the skins in a soup. It's evolved from there.
SMOKED POTATO AND SAUSAGE SOUP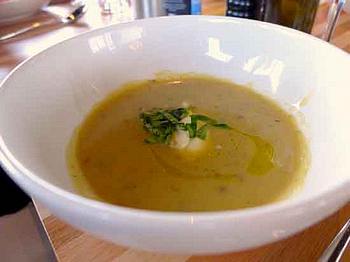 You might expect potato soup in Ireland, but probably not made with roasted potatoes. Mathews suggests using thick-skinned potatoes and baking them at 450°F until the skins are very, very brown. The flavor changes depending on the type of potato. After experimenting, we like russets best for their pronounced earthy richness. Mathews adds thyme to the potatoes when he makes the recipe at home. He garnishes with mascarpone; we prefer the tang of goat cheese.
Serves 4
Ingredients
500 grams (17.6 oz.) potatoes
50 ml (3.5 tablespoons) olive oil
1 small onion, chopped
3 cloves garlic, minced
1 liter (34 fl. oz) chicken stock
250 ml (9 fl. oz.) light cream
meat from two links of pork sausage, crumbled
mascarpone or soft goat cheese
1 bunch basil, cut in fine chiffonade
extra virgin olive oil for finishing
Directions
1. Chop potatoes and roast at 450°F for 45 minutes or until very brown.
2. Add olive oil to soup pot and sweat onion and garlic over low heat until soft.
3. Add cooked potatoes, stock, and cream. Bring to a boil and simmer for 10 minutes.
4. In a separate pan, fry crumbled sausage meat, breaking up into small pieces with spatula. Remove from heat and reserve.
5. Process simmered soup in batches in jar blender until smooth. (Immersion blender works but doesn't yield as smooth a soup.) Return to pot, stir in cooked sausage, and bring back to a simmer.
6. Place rounded tablespoon of mascarpone or goat cheese in each shallow bowl. Ladle in soup and garnish with chiffonade of basil and drizzle of extra virgin olive oil.