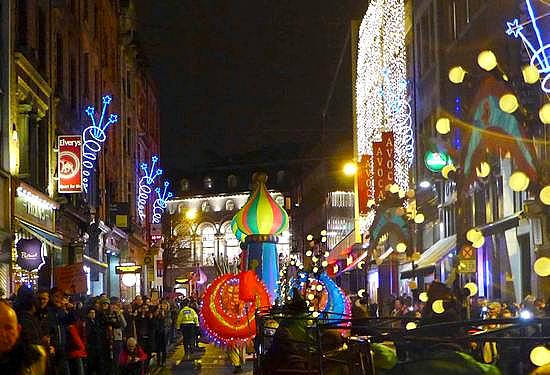 We just returned from Dublin's New Year's Festival, celebrated over three days from December 30 through January 1. This was the fourth year of the festival, and the biggest yet. Along with the raucous parade (above), it featured live rock concerts, a Spoken Word Festival of poetry and rap, other music that drew on traditional and classical genres, special museum and gallery shows, and a whole lot of fun.
The Irish know how to celebrate, and it turns out that they have a lot to celebrate year-round with the new Irish cuisine. Ireland has always had the makings of great food — from the sweet vegetables to the succulent meat from animals grazed on its rich green grass to the fish and shellfish from its coastal waters. Now classically trained chefs are embracing their Irish roots and that great Irish provender.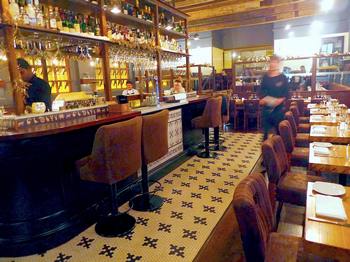 A case in point is chef Oliver Dunne, who followed up on his Michelin-starred Bon Appétit in Malahide (north of Dublin city center) with Cleaver East (6-8 East Essex Street, Dublin, +353 1 531 3500, cleavereast.ie). It's inside the Clarence Hotel, just off Wellington Quay on the south bank of the River Liffey in the Temple Bar entertainment district. The hotel is partly owned by Bono and The Edge from the band U2, but to our way of thinking, Dunne is the greater star. He was schooled the old-fashioned way–by cooking in the kitchens of great chefs, including Gordon Ramsay.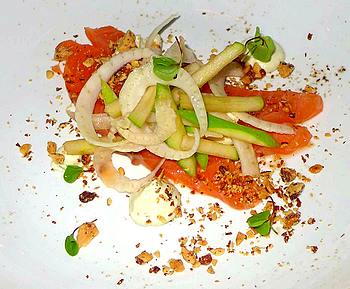 When he came home to Ireland to open his own restaurants, Dunne chose to serve simple dishes based on local ingredients in an informal environment. Cleaver East is an Irish interpretation of a bistro. The bar dominates the middle of the room and it's surrounded on three sides by dining tables, with a few more tables on an upstairs balcony. As big as the bar is, the plates are a far cry from bar food. Dunne is something of a magician. He drew on Irish salmon, crisp apples, and crunchy fennel for a starter that used a touch of lemon and grapefruit to cut the unctuousness of the salmon and give a little bite to the apple-fennel salad.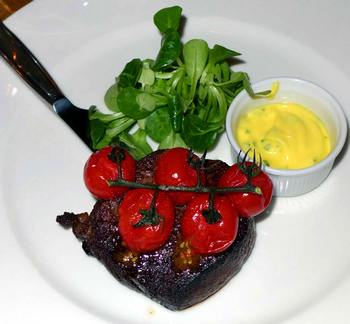 He also presented one of the best cuts of beef we've enjoyed in a long time — a 7-ounce filet mignon of local beef that had been hung to dry-age for 21 days. It was cooked to a perfect medium rare (as ordered), topped with broiled cherry tomatoes, and accompanied by a cluster of maché. You couldn't ask for a simpler dish, but it was fit for an Irish king. In keeping with the bistro tradition, he also served a bowl of perfect deep-fried potatoes ("chips" in Ireland, as they are in England).
This being Ireland, after all, you'll be hearing more about potatoes in future posts.