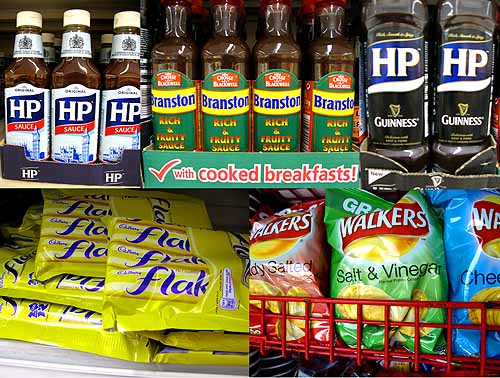 Whenever I visit a British grocery store I scour the shelves for the most unusual items. But it's really the comfort foods that define a cuisine — or at least taste like home. That's the lesson I learned from a lovely woman in Leeds who had lived and worked in Taiwan for 15 years. When I asked her what I might want to buy in the city's big Sainsbury grocery store, she immediately rattled off the items that she had most craved during her years abroad.
At the end of every visit home, she would pack herself a big care package for her return trip to Taiwan. Here are the foods she couldn't do without:
Heinz Tomato Soup. It's ultimate comfort food.
Heinz Baked Beanz. Brits consider this version superior to the American version.
Heinz Salad Cream. This tangy dressing has a consistency like mayonnaise. Dubbed "pourable sunshine," it's as popular on sandwiches or baked potatoes as it is on salads.
Marmite. This yeast extract with a strong, salty flavor is equally loved and hated, even in Great Britain. The dark brown paste is usually spread on toast, with or without a little butter.
Walkers Salt & Vinegar Crisps (potato chips, to Americans). Walkers is the favorite brand in the UK and the salt and vinegar variation has a tangy, salty flavor that is quite addictive.
Cadbury Dairy Milk Whole Nut Bars. Introduced in 1933, this bar pairs Cadbury's creamy, high milk content chocolate with whole hazelnuts.
And here are a few more items that I like to throw into my grocery cart:
HP Sauce. This secret-recipe brown sauce has been manufactured since 1899 and is a favored accompaniment for beef. The original version is available in many U.S. grocery stores, but it's worth seeking out some of the other flavor options, including the blend of HP and Guinness.
Branston Rich & Fruity Sauce. This mix of tomatoes, apples, and dates is blended with herbs, spices, sugar, vinegar, and molasses to make a sweet but tangy brown sauce. It's good on scrambled eggs.
Cadbury Flake. The crumbly bar of thin sheets of milk chocolate is the classic adornment to a scoop of ice cream.