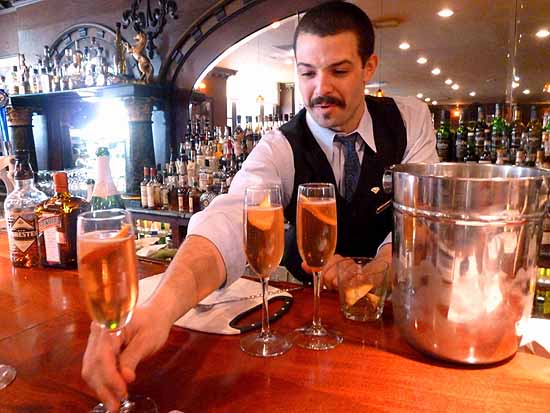 I always think of the mint julep as the classic Kentucky drink, but there's more than one way to imbibe the Bluegrass State's signature spirit, Kentucky Bourbon. As I reported in the January 12 issue of the Boston Globe Travel section, I'm only two drinks away from claiming an Urban Bourbon Trail T-shirt. It's offered to anyone who visits six of the 20 participating bourbon bars and restaurants in Louisville. (Click here to see the Globe story.)
The Seelbach Cocktail, named for the classic hotel where it was invented in 1917, is one of those great accidents that seem to happen at bars as the night wears on. The drink originated when champagne overflowed into a Manhattan, beverage supervisor Michael Anderson (above) told me. "It's a cocktail with whiskey for people who don't like whiskey," he opined.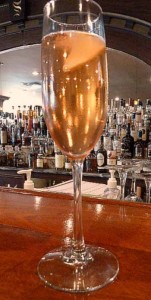 The recipe disappeared during Prohibition. but was rediscovered in 1995. Here's how Anderson makes it today, using fewer bitters than the original 14 dashes, but sticking with Old Forester, America's first bottled bourbon.
SEELBACH COCKTAIL
1 ounce bourbon (Old Forester)
1/2 ounce Cointreau
3 dashes Angostura Bitters
4 dashes Peychaud's Bitters
Champagne
Stir the bourbon, Cointreau, and bitters briefly over ice. Strain into a flute and top with brut Champagne.