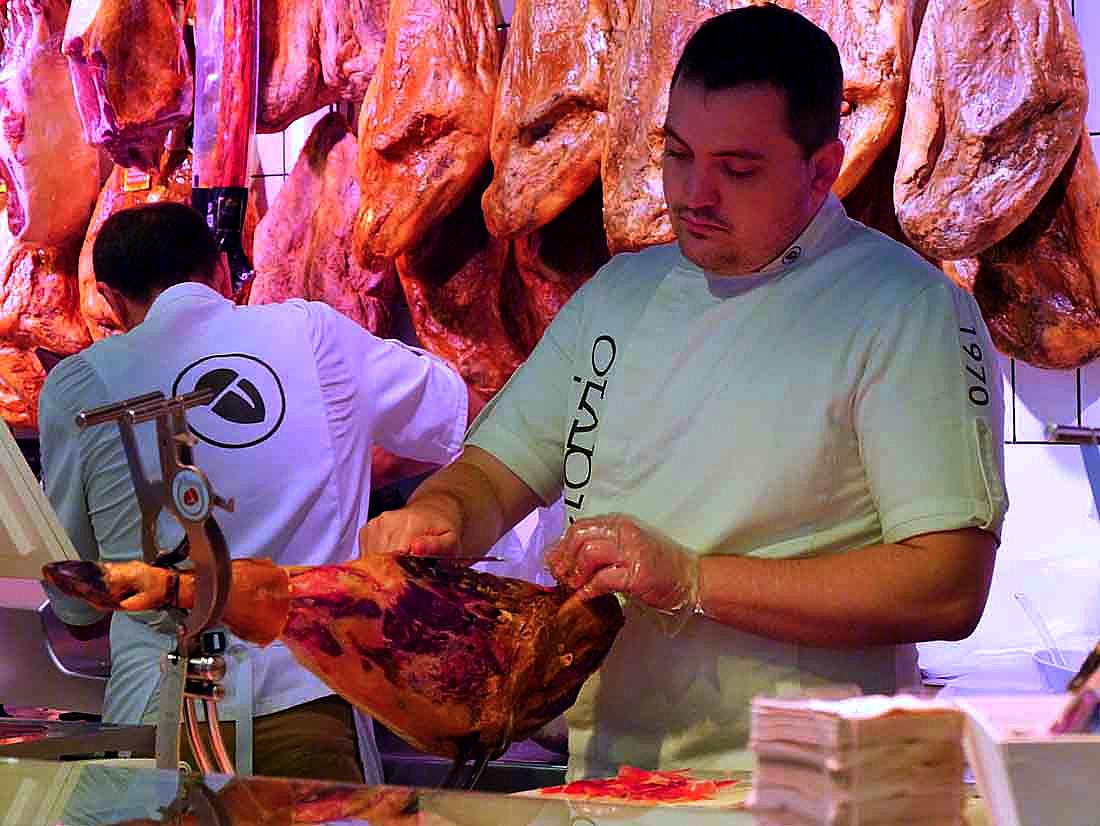 Madrid has been renovating and updating its historic fresh food markets in recent years, starting with the transformation of Mercado San Miguel next to Plaza Mayor into a jewel box full of tapas bars and high-end deli food. But we're even more impressed with Mercado San Antón in Chueca. The market is a symbol of how that neighborhood—once the part of town where you went to buy sex or drugs—has become one of the hippest and most gentrified parts of the central old city. FYI, about the nastiest stuff you'll find on Chueca streets these days are some shoes with 15-centimeter spike heels in the shops on calle Augusto Figueroa.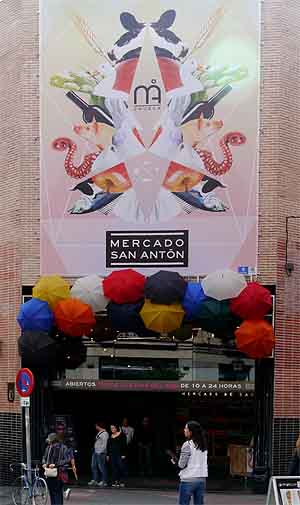 The Mercado San Antón isn't exactly a temple of food like La Boqueria in Barcelona or the Mercado Central in Valencia. We think of it as the parish church of food for the fairly hip, fairly young crowd in Chueca. The basement has a small SuperCor supemarket for the essentials—laundry detergent, canned white asparagus, cheap wine, Coca-Cola in 1.5 liter bottles, etc. The real food is on the first level, where the market stalls have everything from perfectly selected fresh fruit in season to one of the best curated fish stalls we've ever seen. Madrid is in the middle of the country far from the fishing ports, but Madrileños so love their fish that the wholesalers overnight the catch to the capital. There wasn't a cloudy eye to be seen on the mackerel, cod, hake, or grotesque whole monkfish. As befits a great market in Spain, all the ham is cut fresh, as in the photo above.
The second level is even more amazing than the fresh food. It consists entirely of tapas stalls, a wine bar, a pastry/ice cream/coffee stall, and a few tables around the edges. At mid-morning when people are shopping for food, it's placid. From 2 p.m. until 5 p.m., it's a madhouse as people come for a cheap lunch. Some tapas cost as little as €1, as indicated in the image below. You can also get a tuna or an eggplant empanada, a small pork steak and fries, or—at the stall of creative tapas, a fancy burger topped with foie gras for less than €6.
The top level is a restaurant operated by the Jabugo ham group Cinco Jotas. It's not all thin, precious slices of Iberian ham served with Manchego and sherry. The menu includes a wide range of meat and fish dishes. Half the restaurant is on an outdoor terrace, which solves the Spanish need to smoke all through the meal now that indoor dining is smokefree by law.
Mercado San Antón is at calle de Augusto Figueroa, 24; tel: 913-30-07-30; www.mercadosananton.com. The market is open daily from 10 a.m. until midnight.