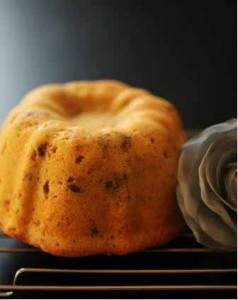 Hot Miami chef Dean James Max (who happens to be up for a James Beard restaurateur award this year) is also the talent behind one of our favorite Grand Cayman restaurants, The Brasserie. Part of what makes The Brasserie so terrific is that Max and his staff use local fish, local produce, and all kinds of goodies they grow in the restaurant garden. The menu is also inspired by Caribbean traditions. Of the restaurant's complex chicken pepper-pot soup, he says, "The peppers you get here on Grand Cayman are just incredible."
So leave it to Max to find a fun use for the ubiquitous island confection, Tortuga rum cake. (You might recall that we wrote about the cake in What to buy in a grocery store on Grand Cayman Island.)
Alas, we consumed the last of our rum cake stash in late January, so we'll have to wait for a return visit to make this bread pudding, which we have slightly adapted from his recipe in the April issue of his newsletter. Max comments, "This has been such a cold winter, even for us in Florida, that we really need to coax in the warm summer with a great island style rum cake. I hope you enjoy this simple and tasty recipe! Bring on the heat."
TORTUGA RUM BREAD PUDDING
Serves 6

Ingredients
8 oz. Tortuga Rum Cake (diced)
2 cups cream
2 Tablespoons sugar
1 vanilla bean
4 eggs
1 cup dried sour cherries
1/4 cup Tortuga rum
3 Tablespoons soft butter
Directions
1. Toast the diced cake pieces on a baking sheet in the oven until they dry slightly and become crisp. Let cool.
2. Mix cream, sugar, and vanilla bean in a saucepan and heat until hot. Remove from heat.
3. In a small bowl, beat the eggs. Stir a small amount of hot cream into the eggs to temper them, then blend eggs slowly into the cream.
4. In a separate small saucepan, heat the rum and cherries and let them soak until cooled. Add cherry-rum mix to the egg-cream mixture.
5. Generously butter a baking pan and scatter the cake pieces to completely cover. Pour the custard over the bread and let it soak at room temperature for 10 minutes.
6. Set the baking dish in a water bath in a preheated 325 degree oven. Cover top loosely with foil and bake for about 30 minutes or until the custard has set. Remove dish from oven; remove foil and let cool. Cut the pudding and serve warm or chilled.