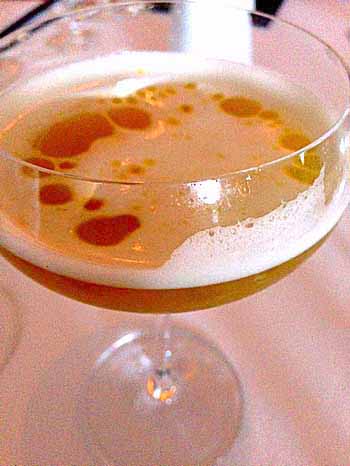 Two years ago we passed along Gerry Jobe's recipe for the Killer Tomato Cocktail, and this harvest season we discovered another way to drink tomatoes, courtesy of the Bar at Rialto, Jody Adams' terrific restaurant in the Charles Hotel in our hometown of Cambridge, Massachusetts. The smooth and elegant tequila drink with lots of layers of flavor — created by Rialto beverage director Young Won — seemed especially timely since it uses green tomatoes. By the looks of our garden, we'll still be gathering them right up until frost. Like many craft cocktails, you have to make many of the components well in advance, so plan accordingly.
ACQUA FRESCO… GREEN TOMATO, THAI BASIL, GINGER, MINT OIL
To make the acqua fresco:
4 green tomatoes, chopped to 2-inch pieces
large bunch of Thai basil leaves and stalk, torn into pieces
scant teaspoon sea salt
Place all ingredients into a blender or food processor. Puree until well blended. Strain though a conical sieve (chinois) lined with coffee filter. Allow three hours for liquid to strain out. Chill strained liquid.
To make the ginger syrup:
Combine 3 parts freshly pressed ginger juice with 1 part sugar and shake into solution.
To make the mint oil:
1/2 cup extra virgin olive oil
large bunch of mint
Blanch the mint and squeeze out excess water. Warm the olive oil in a stainless steel saucepan. Add the blanched mint and cook for a few minutes over low to medium heat. Set aside and let cool. Strain the oil through a very fine mesh.
To assemble the cocktail:

2 ounces green tomato and Thai basil acqua fresco
1 ounce 123 Reposado tequila
1/4 ounce ginger syrup
Glassware: coupe glass
Garnish: three drops of mint oil or an edible flower
Add first three ingredients to a shaker tin. Add ice and shake vigorously. Double strain into a chilled coupe. Dress with three drops of mint oil or an edible flower.