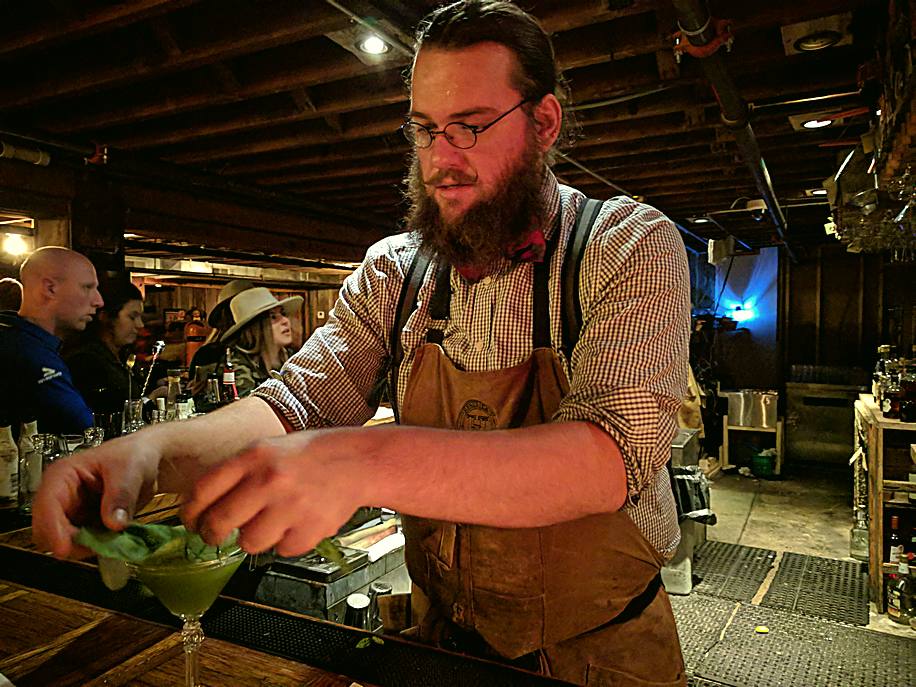 Tony DeMaro stood in front of an unassuming door marked "Employees Only." I assumed that it's for the bartenders and waitstaff for the bustling Murphy's Pub (510 9th Street, murphyspubandgrill.com). A fixture in downtown Rapid City, South Dakota, the friendly place bristles with big-screen televisions tuned to sports.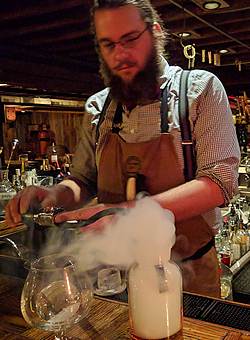 But DeMaro had a surprise in store. He led me through the door and down a short hallway to the Blind Lion speakeasy. I felt like one of the cool kids let in on a secret. Many of the folks watching football and sipping beer in Murphy's probably don't even know that this throwback to the Prohibition era lies beneath them.
"The Blind Lion is as secretive as you can be and still be in business," DeMaro agreed.
With vintage furniture (including glass-topped clawfoot bathtubs as coffee tables), the Blind Lion playfully evokes the glamour and intrigue of the speakeasy days. But the fun is serious at the bar, where Cody Horan (at top) has presided for the last five years. His menu pays homage to the golden age of cocktails. But that still allows him to put his personal stamp on such offerings as tobacco-smoked liquor of the patron's choice (at right) or a Pear Sidecar with pear vodka, peach moonshine, the house citrus sour blend, and brown sugar syrup.


Much as I love the lounge-y divans, the best seats are at the bar. Watching Horan work is all the entertainment you need in this technology-free place. For a classy night out, DeMaro encourages people to get dressed up, leave their stress at the door, and open up their palates to new tastes.
The Blind Lion is open Friday and Saturday evenings. If you find yourself in Rapid City, text 605-939-0095 before 5pm to request the evening's password.
If you want to try something new at home, Horan was kind enough to share this recipe. Be sure to change out of your sweats, turn off the TV, and play some Sinatra when you try it. Cody says the Blind Lion uses Hendrick's gin but that Opihr Spiced Gin is also really good. Here are his detailed directions:
BOB'S QUICK FIX
from Blind Lion Speakeasy in Rapid City
Bartender Cody Horan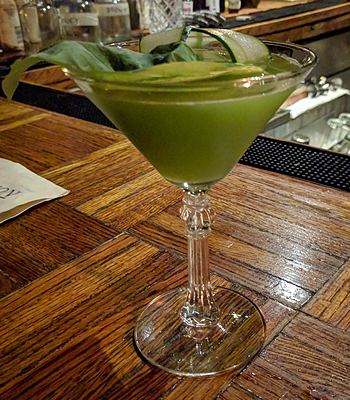 2 oz. Hendrick's gin
1 oz. freshly squeezed lime juice
1 oz. lavender syrup (see below)
basil for muddle
cucumber slices for muddle and garnish
basil bud end for garnish
Fill glass pint side of Boston shaker 3/4 with ice. Transfer to the tin side and pour in 2 ounces of gin. Add 1 ounce of fresh squeezed lime juice and 1 ounce of lavender simple syrup.
Now take the pint glass and muddle good-looking green basil with no brown bits. You have to muddle the basil aggressively until it looks slimy. (You want to access the chlorophyll as well aromatics from the leaves.)
After the basil is muddled, quickly muddle a few pieces of cucumber with the basil and put the glass pint onto the tin and shake. (Once muddled, the basil start to turn brown if let set for too long, but the addition of alcohol will suspend that browning process.)
Strain with a fine mesh strainer while you pour into your glass. Garnish with a whole bud end of basil and maybe a wave of cucumber. (Use a vegetable peeler to make strips from the cucumber by making long cuts along the vegetable.)
To make the lavender syrup: Steep lavender flowers in water. Cody uses about an ounce of flowers in 2 liters of water. Bring it all to a boil and then turn off the heat and let it steep for 15 minutes. Strain off the lavender, saving the water to make a 50/50 simple syrup.