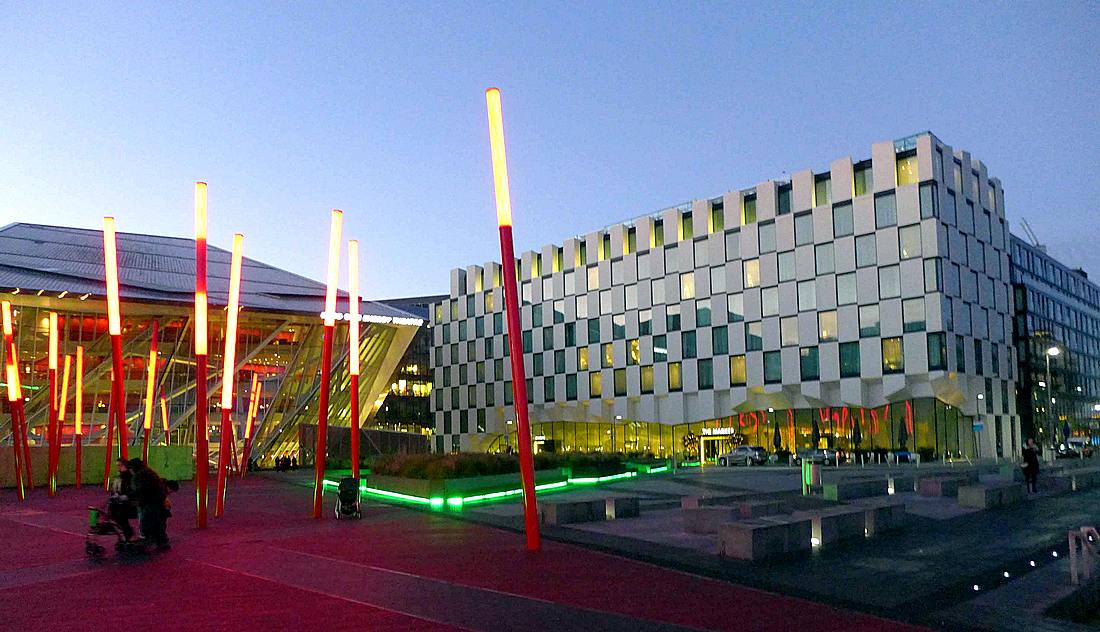 Coming from Cambridge, Massachusetts, we felt right at home when we spent our last few nights in Dublin at The Marker Hotel, which sits on Grand Canal next to the architectural landmark Bord Gais Energy Theatre. (That's the hotel on the right and the theater on the left in the above photo.) This corner of Dublin is known as the Silicon Docks, thanks to the presence of Google, Facebook, Yahoo, PayPal, Etsy, Eventbrite, and others. For those who know Cambridge, the Silicon Docks might as well be Kendall Square minus the robotics firms.
It's a stunningly modern part of Dublin, as this night shot of the Samuel Beckett Bridge suggests. (Santiago Calatrava's design is often likened to an Irish harp, but we think it looks more like the sails of a racing yacht.) Since most of the area has been developed since 2008, it's not surprising that the buildings are largely big glass boxes with display windows on the ground level and offices above.
The Marker has an excellent yet surprisingly casual in-house restaurant called The Brasserie. Chef Gareth Mullins is justly celebrated and is a bit of a local celebrity, often appearing on Dublin's Channel 3 to give cooking demonstrations. Drawing from a Maille popup restaurant concept in Paris, Mullins introduced "Le Drunch" (dishes 8€–16€)—short for drinks and lunch—every Sunday afternoon.
It's been a big hit with Dublin's digerati and other denizens of the neighborhood, especially young women seeking a stylish spot to chat over a light meal. It's also popular with people headed to the theater next door. The dishes are elevated versions of homey food, such as terrific fish and chips. That's a dish we usually eat in restaurants since we don't have a deep fryer, but Mullins was happy to share the recipe for folks who want to tackle it at home.
The Brasserie's Beer Battered Cod

Gareth Mullins advises keeping the batter as cold as possible — even adding ice cubes if necessary. A cold batter ensures that the fish cooks up nice and crisp.
Serves 4
Ingredients
4 pieces skinned cod fillet, 200g (7 oz.) each
150g all-purpose flour (1 cup plus a tablespoon)
150g corn flour (1 cup plus a tablespoon)
1 teaspoon baking powder
1 teaspoon salt
1 bottle ice cold ale
1/2 cup flour with salt and pepper
Directions
To make the batter, mix the all-purpose flour, corn flour, baking powder, and salt together. Pour in the beer and mix together until just combined. Be careful not to overmix the batter. Refrigerate until ready to use.
To cook the fish, set deep fat fryer at 180°C or 350° F. Drag the cod through the seasoned flour and drop into the batter to thoroughly coat. Lift out of batter and carefully lower into the fryer. Deep fry for 8 minutes until golden and crisp. Take out and drain on paper towels.
Mullins serves the cod with deep fried potatoes ("chips" in Anglo-Irish parlance), marrow fat peas with mint, and homemade tartar sauce.