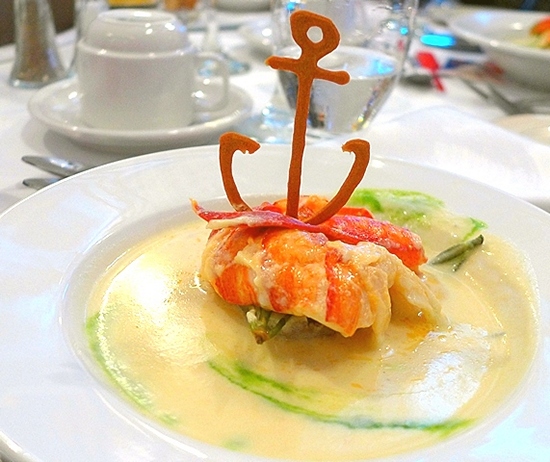 Mussels, oysters, or lobster? It's hard to choose among them on Prince Edward Island, the small Canadian province with the massive shellfish harvest. This year I'm getting my fill of all of them as a judge of Garland Canada International Chef Challenge. But before the competitions got started on Friday the 13th, I joined 500 other diners for the Feast and Frolic kickoff dinner at the Charlottetown Festival Grounds. Food Network Canada star (and Islander) chef Michael Smith played emcee, and the students of the Culinary Institute of Canada did the cooking. It was an auspicious beginning.
The moderately deconstructed lobster chowder (above) consisted of a celeriac broth with foraged sea asparagus and green swoops of pureed lovage. A butter-poached claw and half-tail of PEI lobster was perched on a slab of perfect PEI potato (a fingerling cut lengthwise in thirds).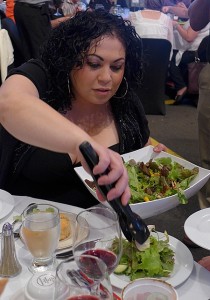 As Smith gleefully pointed out, locavore dining has always been the rule on PEI, and to drive it home, the salad course consisted of a big bowl of mixed greens and flowers (nasturtium, violas) and lettuce that each table harvested with scissors from planter centerpieces. Ilona Daniel of the Culinary Institute was at my table, so she mixed the dressing and tossed the salad.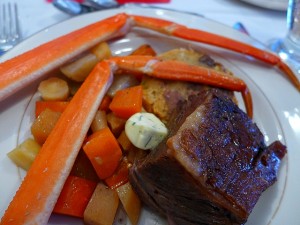 But the capper of the evening was an unusual surf and turf: braised PEI grassfed beef shortrib with some possibly local (I couldn't find out) snow crab legs and a side bucket of PEI blue mussels. It was a reminder that even a small island like PEI has a resident beef industry, and that while most of us think of snow crab as a northern Pacific species, Islanders do indeed fish for them in the waters north of the island.