In our most recent Montreal residency we were amazed by the explosion in cooking classes. Montrealers have always loved to go out to eat, but more and more they're also dining well at home. One of the pioneers in teaching classes for the general public was the Académie Culinaire (360 rue Champ-de-Mars, 514-393-8111, academieculinaire.com), which has its offices and kitchens in a modern facility on the edge of Old Montreal.
The Académie created a modernized, jazzed-up version of pâté chinois that reflects the increased sophistication of even basic Quebecois cookery. We find it a wonderfully comforting supper dish on a cold winter night. The recipe required no tinkering at all, except that we adapted it for cooking in a 9×13 pan. If you prefer, individual portions can also be prepared in six small casseroles.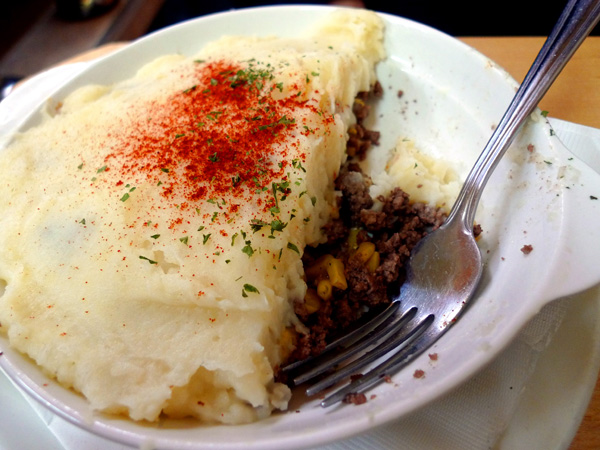 PÂTÉ CHINOIS
Serves 6
Ingredients
3 large potatoes, peeled and cut in cubes
1 tablespoon white truffle oil
1/2 cup heavy cream
salt and pepper to taste
12 oz. creamed corn
1 cup fresh or frozen corn kernels
2 tablespoons olive oil
1 1/2 pounds ground veal
1/4 pound pancetta
3 tablespoons sun-dried tomatoes packed in oil, diced
1/2 cup brown stock
salt and pepper to taste
2 tablespoons butter
Directions
1. Place the potatoes in a sauce pan and cover them with cold water. Season the water with a generous pinch of salt, and cook the potatoes until they are fork tender (7-10 minutes).
2. Place the cooked potatoes in a food mill and process them to prepare the mashed potatoes. Add cream and truffle oil and mix well to obtain a smooth texture. Season the potatoes to taste with salt and pepper. Reserve.
3. Mix the two types of corn together and reserve.
4. In a sauté pan, heat olive oil and sauté veal and pancetta. After a few minutes, add the sun-dried tomatoes and the brown stock and continue cooking until the meat has completely lost its pink color and the sauce has become thick. Season to taste with salt and pepper.
5. Preheat oven to 400°F. In 9×13 pan, create three even layers for the shepherd's pie starting with the meat, followed by the corn and finishing with the mashed potatoes (using a piping bag fitted with a star tip will add flair to the finish).
6. Cut remaining 2 tablespoons of butter into small cubes and distribute over top of potatoes. Place in oven until the potatoes start to brown, 25-30 minutes.