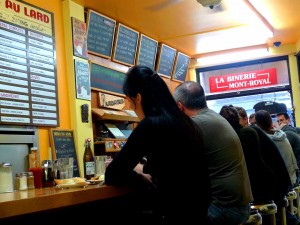 In the three decades that we have been visiting Montreal, the dining scene has never been in so much flux—and we mean that in a good way. One development is a resurgent pride in old-fashioned Quebecois cooking. Dishes that many Montreal foodies had considered guilty pleasures are now celebrated in fine restaurants.
Back in 2007, Montreal's leading French-language newspaper Le Devoir even surveyed 500 people to determine the "national plate of Quebec." (In Quebec, one always describes a province-wide phenomenon as "national.") We were surprised to learn that it was not poutine (French fries, cheese curds, and brown gravy), but rather pâté chinois, sometimes inelegantly translated on English menus as "Quebec shepherd's pie." Keep watching this spot because we will publish an updated recipe for this small casserole of layered ground meat, corn, and mashed potatoes in our next post.
We were most recently in Montreal working on a new book. A labor of love, it will be called Food Lovers' Guide to Montreal and should be available in June from the Globe Pequot Press. As part of our research, we had to seek out the best places to eat some of these classic dishes. For our money, the best place to order pâté chinois is La Binerie Mont-Royal (367 avenue Mont-Royal est, 514-285-9078, www.labineriemontroyal.com), an iconic luncheonette with 11 stools at a long maple counter and a couple of tiny booths. The place has changed hands a few times since it opened in 1938, but the menu is unreconstructed Quebecois. We advise making a veritable voyageur meal of it by starting with a bowl of thick yellow split-pea soup and concluding with a dish of pouding chômeur, a white cake baked with a syrup of maple and cream. (More to come on that as well.)
Don't look here for a poutine recipe, as that's one salty, fat-laden guilty pleasure that we do not make at home, eating it only when we're in Quebec province where fresh cheddar cheese curds are plentiful. The classic poutine and most of its usual variants are the house specialties of La Banquise (994 rue Rachel est, 514-525-2415, www.restolabanquise.com), a place that opened in 1968 as a hot dog and fries bar but went into poutine in a big way in the 1980s. It now offers more than two dozen versions, including the classic, the Ty-Rex (ground beef, pepperoni, bacon, smoked sausage), the Matty (bacon, green pepper, mushrooms, onions), and the Taquise (guacamole, sour cream, tomatoes). Poutine is both a cure for a hangover, and a prevention if eaten at the end of a night of imbibing. La Banquise is conveniently open 24/7.
The fanciest poutine in town is chef Martin Picard's poutine with foie gras at Au Pied de Cochon (536 rue Duluth est, 514-281-1114, www.restaurantaupieddecochon.ca). He doesn't even consider it his signature dish (that would be a pig's foot stuffed with foie gras), but it's been a sensation since he introduced it when the restaurant opened in 2001.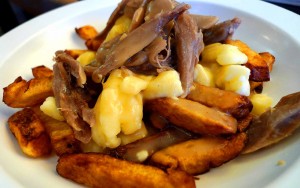 Our top choice lies somewhere between the working-class plates of La Banquise and the luxury treatment of Au Pied de Cochon. And it's available at the tiny lunch counter of the food shop Le Canard libéré, espace gourmand (4396 boulevard Saint-Laurent, 514-286-1286, www.bromelakeducks.com). This is the Plateau's outlet for the duck meat, duck fat, duck livers, and more from Canards du Lac Brome in the Eastern Townships. In the shop's snug kitchen, chef Patrice Gosselin makes our favorite poutine, frying the potatoes in duck fat (addictive, we assure you) and topping the dish with duck confit. It really doesn't get any more Quebecois than that.