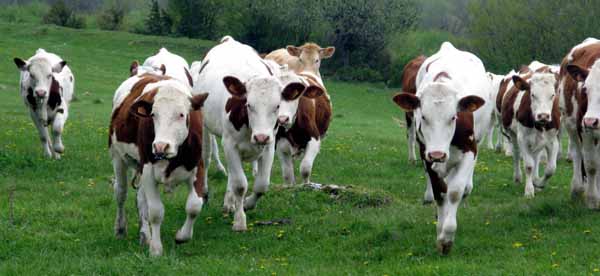 If you've ever eaten a croque monsieur in a cafe anywhere in France (my absolute favorite is served at the News Cafe in Paris at 78 rue d'Assas across from Jardin du Luxembourg), chances are you've eaten Comté cheese. The firm and nutty Comté is the largest selling hard cheese in France. I'd always figured that only a big factory could turn out enough Comté to satisfy the appetites of the fromage-loving French, but it turns out that Comté is still made pretty much the same way that it's been made for about a thousand years–that is, small-scale and personal.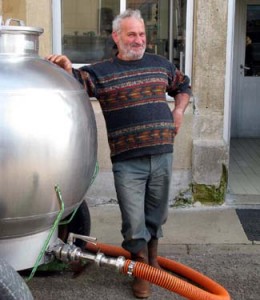 And the whole process is open to the public: from brown-and-white Montbéliarde cows grazing in buttercup-laden meadows, to milk delivery and early morning cheese-making in the cooperative dairies that are town social centers, to row upon row of wheels of cheese aging peacefully on spruce shelves.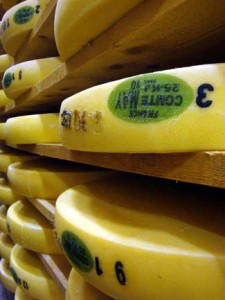 Sandwiched between Burgundy and Switzerland, Franche-Comté is less than three hours from Paris by train. Yet it's far enough off the beaten path to make an amusing Slow Foodie tour visiting some of the 3,000 family farms, 170 fruitières (as the cheese dairies are called), and 20 affineurs (aging facilities) squeezed into an area about the size of Connecticut and Rhode Island combined. The cheese industry's La Maison du Comté (www.maison-du-comte.com) in the tidy town of Poligny explains the whole process and provides a map to find farms, dairies, and affineurs that welcome visitors. They're marked with a green and white sign of "Les routes du Comté."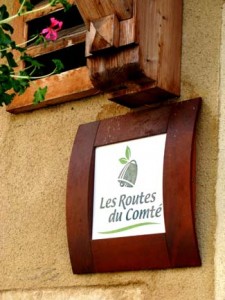 It's no surprise that locals eat Comté several times a day, often starting with a few slices on a baguette for breakfast. The cheese also melts with just the right consistency for fondue. All the locals are Comté boosters but they still debate the merits of young (up to 8 months of aging) Comté vs. cheese that has mellowed for a full year. This being France, they are all preoccupied with food in general. One pleasure of spending a few days in the region is the chance to visit some of the rustic inns where Michelin-starred chefs offer complete tasting menus for the price of a main dish in Paris.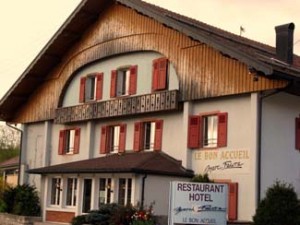 One of my favorites was Le Bon Accueil (www.le-bon-accueil.fr) in Malbuisson. Chef-owner Marc Faivre has held a Michelin star for a decade and grows much of his produce on the grounds. Of course he uses Comté, including in amazing little cheese crackers (sables) that he sets out casually on the table with the appetizer course. "It's just equal parts butter, flour, and cheese," his wife Catherine shrugged when I practically begged for the recipe. No seasonings, no herbs.
Comté tastes so good by itself that it really doesn't need other flavors to enhance it. That's certainly true with the local quiche. "It's just like quiche Lorraine but without the ham," everyone says. I think the best versions are made with crème fraiche.
David and I have been working on the Comté recipes, and have decided that the cheese is going to brighten our holiday: the sables for New Year's Eve with sparkling wine, and the tarte for New Year's Day brunch.
SABLES DE FROMAGE COMTÉ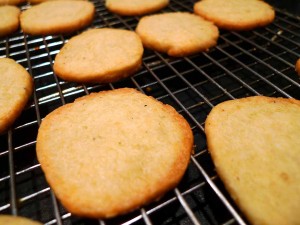 The proportions to make these addictive little crackers isn't quite equal parts flour, butter, and cheese. We played around with several similar recipes until we came up with this version, which uses a little cream to form the dough. It is a pretty good approximation of Marc Faivre's recipe. A food processor speeds up the creation of these crackers and allows you to make the dough without warming it with your hands. As a result, it's ready to bake sooner.

Ingredients
1 cup flour
3/4 teaspoon sea salt
1/4 teaspoon ground black pepper
5 Tablespoons butter cut in 1/4" cubes (pea-sized)
4 oz. Comté cheese, grated
5 Tablespoons heavy cream
Directions
1. Place flour, salt, and pepper in bowl of food processor. Pulse briefly to mix.
2. Add pea-sized pieces of butter and pulse several times until mixture is like coarse sand.
3. Add grated cheese and pulse perhaps a dozen times briefly to blend. With food processor running, dribble cream in feed tube until dough just comes together.
4. Remove dough to counter, divide in half, and roll each half into a log about 1 1/2" in diameter and about 4 1/2" long. Wrap in wax paper and place in freezer while pre-heating oven to 350F.
5. Work quickly to slice dough into 1/4" rounds. Place on baking sheet covered with parchment paper or Silpat sheet, leaving about 1/2" between crackers.
6. Bake 12 minutes, or until edges are brown and centers are firm. Remove and cool on wire rack.
Makes 3 dozen
—
TARTE AU COMTÉ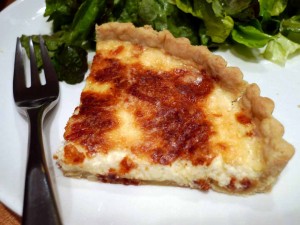 Crème fraiche can be tricky to find in American grocery stores. We make a good substitute by mixing equal amounts of whipping cream and Greek-style yogurt that contains live cultures, and letting the mixture sit on the counter for several hours until it thickens. Refrigerate any that remains after making the recipe, and use within three days.

Ingredients
1 cup crème fraiche
1 extra large egg
Pinch freshly grated nutmeg
1/4 teaspoon sea salt
1/4 teaspoon freshly ground black pepper
3/4 cup (packed) shredded aged Comté
Partially pre-cooked 9" pie or tart shell
Directions
1. Preheat oven to 350F.
2. Beat together crème fraiche, egg, nutmeg, salt, and pepper.
3. Sprinkle Comté cheese over bottom of pie shell. Top with crème fraiche mixture. Bake 40-45 minutes until crust is golden and filling puffs up and browns
4. Let stand 10 minutes before slicing.