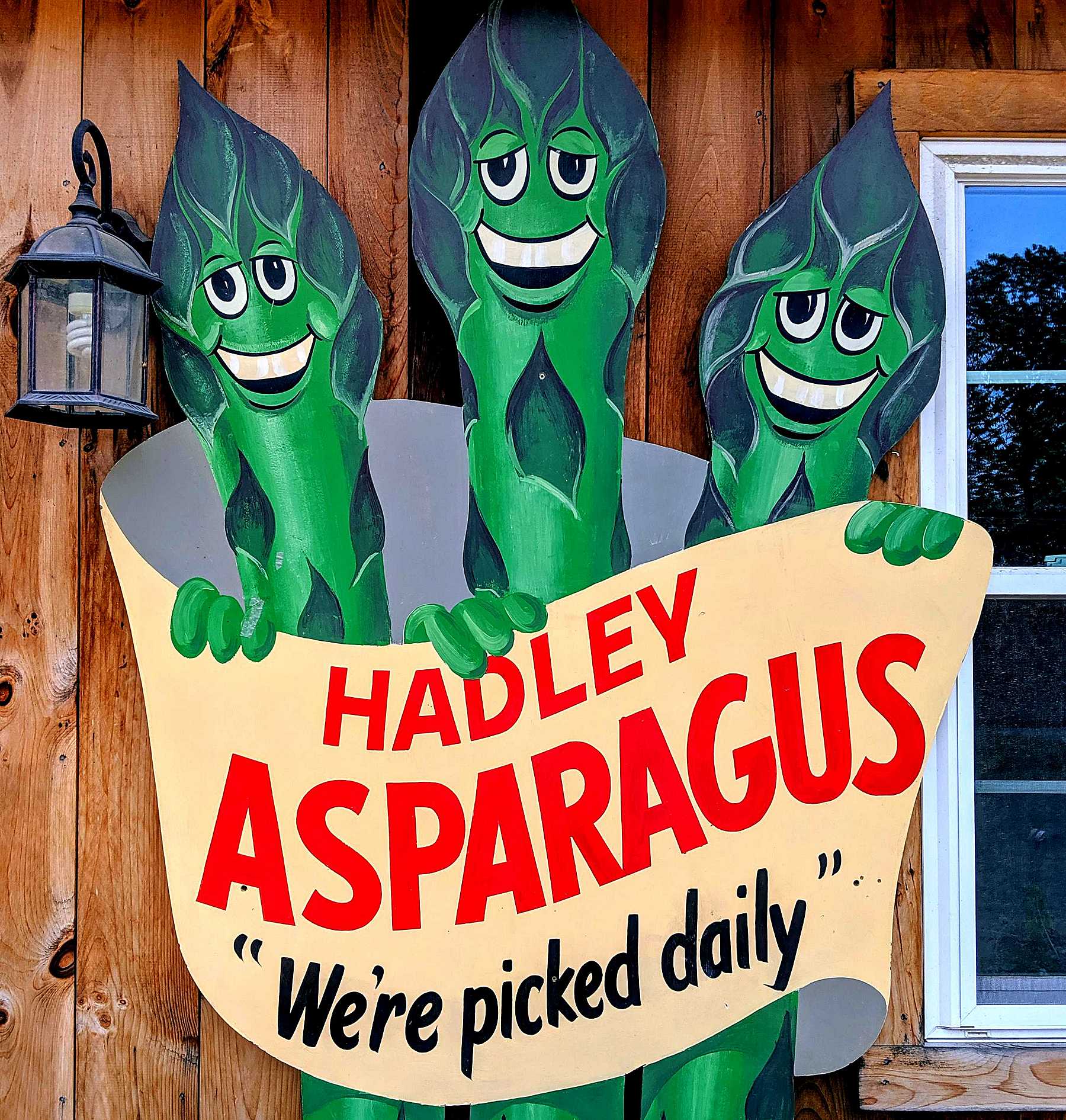 Slicing north to south through western Massachusetts, the Connecticut River Valley is some of the richest farmland in northeastern North America. We like to have an excuse to drive 90 miles west from our home in Cambridge at selected moments in the growing season. And as far as we're concerned, the agricultural season begins at the opening letter of the alphabet. "A" is for Asparagus, proudly priapic. When we saw the sign above at North Hadley Sugar Shack (181 River Drive/Route 47, Hadley, MA; 413-585-8820, northhadleysugarshack.com), we couldn't help but smile.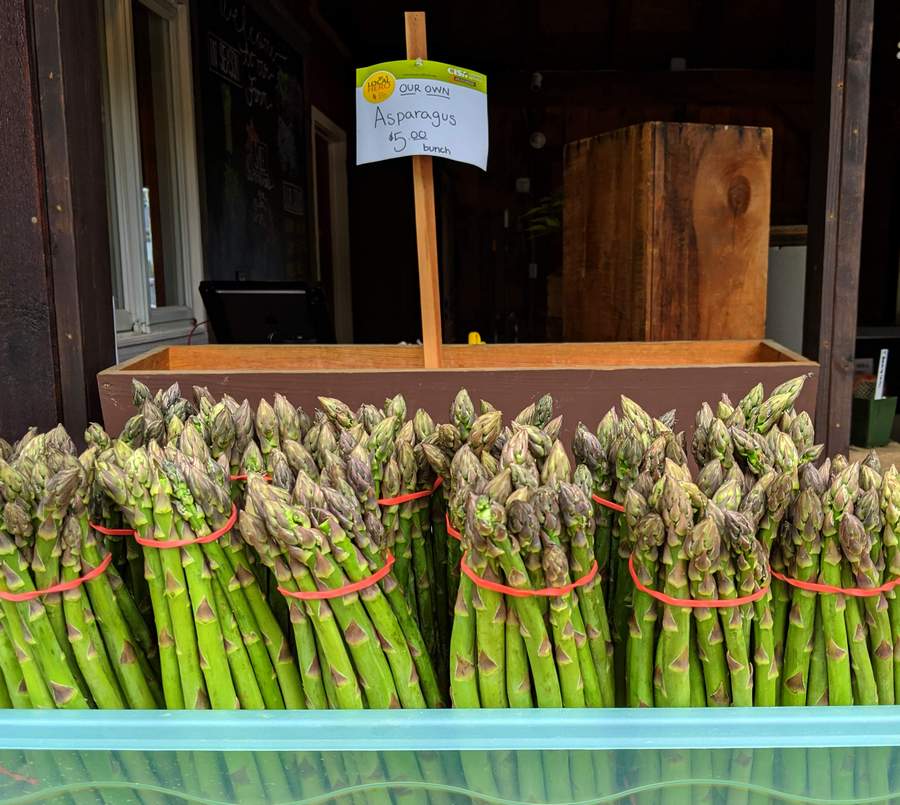 Hadley was famous for asparagus from the 1920s until the Fusarium blight struck in the 1970s, decimating the 50-ton annual production from Hadley and adjacent river towns of Hatfield, Sunderland, and Whatley. Farmers fought back, but only in recent years has "Hadley grass," as it's known in the valley, made a strong comeback. This spring, we've suddenly seen a lot of mature, healthy asparagus in farmstands and even on folding tables at the end of driveways.
Advances in southern hemisphere growing, cold storage, and transportation have almost made asparagus a non-seasonal crop. Any large grocery store stocks asparagus from somewhere all year round. But the taste of the freshly harvested spear can't be beat. So for the few weeks the vegetable is in season, we indulge. And indulge, and indulge….
Here's our go-to asparagus risotto, prepared the conventional way with lots of stirring….
ASPARAGUS RISOTTO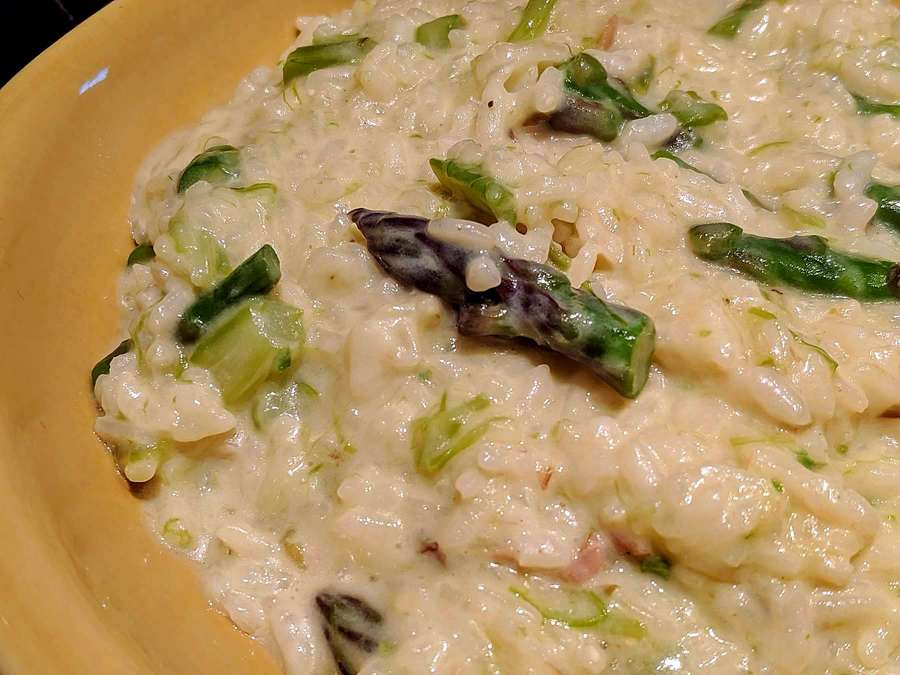 INGREDIENTS
1/4 cup chicken or vegetable stock
1 pound asparagus, cleaned and trimmed
2 teaspoons olive oil
1 medium onion, finely diced
1 cup arborio rice
1/3 cup white wine
1 2/3 cup chicken or vegetable stock plus reserved liquid from steaming
4 slices prosciutto, cut into 1/4-inch squares
2 oz. Grana Padano cheese, finely grated (about 3/4 unpacked cup)
DIRECTIONS
Using a steamer rack in a large pot, heat 1/4 cup stock to a boil. Meanwhile, peel stems of asparagus that seem thick and remove woody bottoms. Slice asparagus into 2-inch lengths, reserving the tips. Steam the stem pieces for 90 seconds. Add tips and steam an additional 90 seconds. Remove from heat and let asparagus cool. Separately, reserve liquid from steaming.
In large saucepan, heat olive oil over medium heat. Sweat onion until soft. Add rice and stir well to coat with oil. Turn heat up to high and add wine, stirring constantly until nearly absorbed (about 90 seconds).
In a separate pan, gently heat stock and reserved steaming liquid. Add in half cup measures to rice, stirring well until completely absorbed. At 8-minute point, rice should just begin to get soft in the middle. Continue until all liquid is absorbed (16-20 minutes total).
Stir in reserved asparagus and pieces of prosciutto. Stir to mix thoroughly and continue stirring over low heat for 1 minute.
Remove from heat and stir in Grana Padano, blending well.
Divide risotto into two 16- to 20-ounce shallow bowls and serve.
To try the pressure cooker method, see this post.