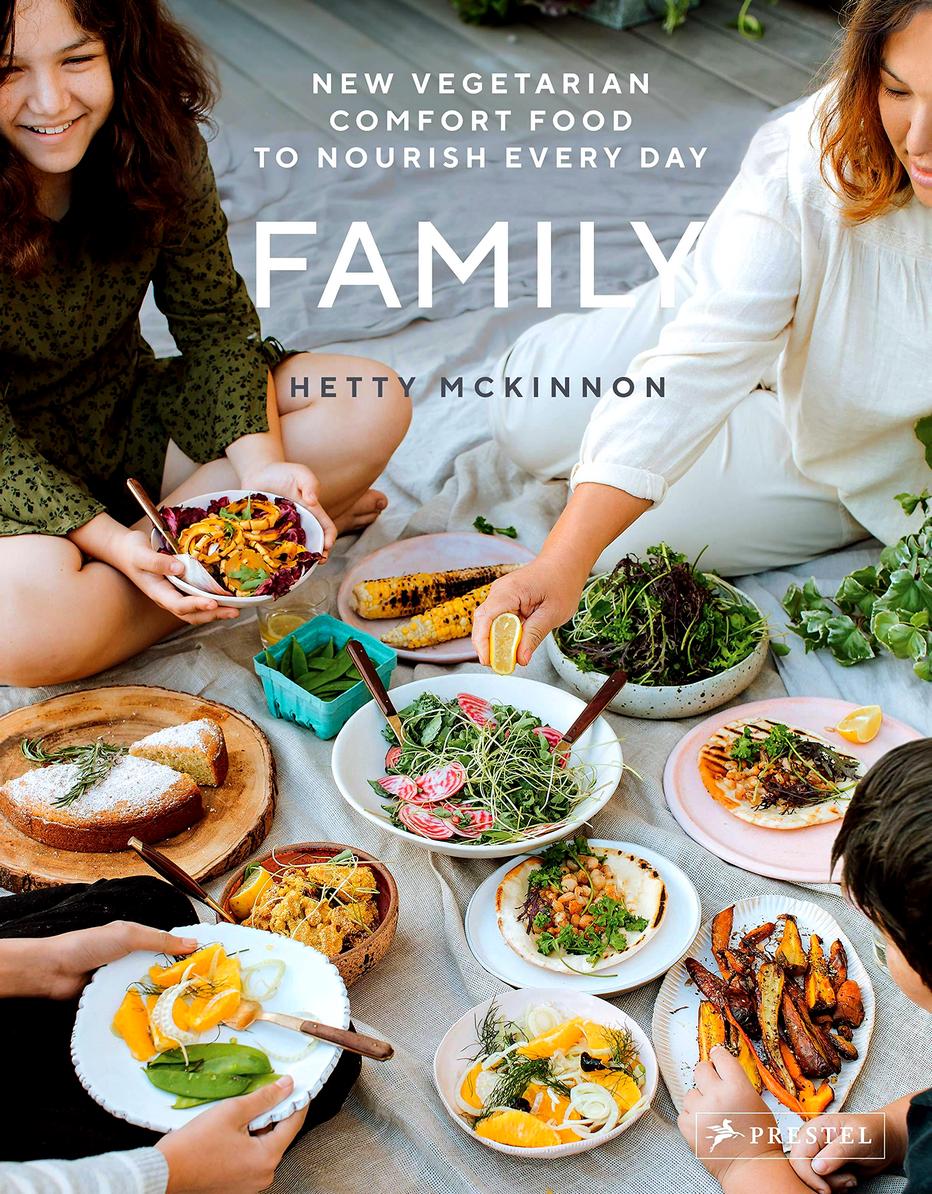 Cookbooks seem to run in phases. A few years ago, we saw a lot of volumes devoted to various ways of cooking meat, especially barbecue. And there are the perennial single-country cuisine books penned by veteran authors. Lately, vegetarian cookbooks by millennial food bloggers seem to dominate. But when we first looked at Hetty McKinnon's new book, Family, we missed the subtitle. We were simply struck by how delicious the recipes sounded. After flipping through, we looked again and realized the full name was Family: New Vegetarian Comfort Food to Nourish Every Day (Prestel Publishing; $35).
McKinnon moved her restaurant, Arthur's Kitchen, from Sydney to Brooklyn a few years ago, and just continued making strikingly imaginative food that happens to be vegetarian. Maybe we should say "plant-based cuisine," which seems a whole lot less doctrinaire. The book is oriented toward food that everyone in the family (including the youngest) will happily eat, which is what really sets it apart from most of the competition.
We were hooked in the first chapter (salads) when we saw how she made a twist on a Roman pasta classic to create a delicious cold plate. We adore cacio e pepe (which we wrote about here). But it is a dish that calls for some variation. By combining the flavors with broccolini, McKinnon has created something entirely new yet hauntingly familiar. It's reprinted here with permission, as is the lovely photo by Luisa Brimble.
CACIO E PEPE BROCCOLINI WITH CRISPY WHITE BEANS
serves 4 / gluten free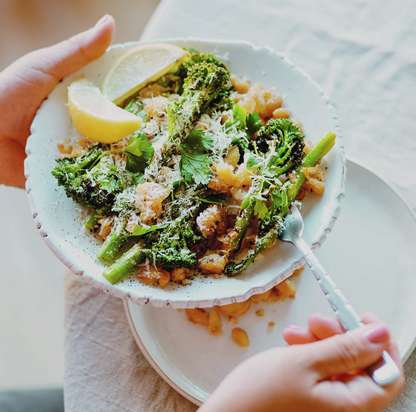 Cacio e pepe (literally "cheese and pepper") is an irresistible flavor combination. The dish requires only a few ingredients, the magic coming from the simple elegance of sharp cheese, freshly cracked pepper, charred broccolini, and seriously crispy white beans. Vary the amount of black pepper to your liking, as some palates might not appreciate the excessive heat or spice.
INGREDIENTS
2 bunches broccolini (about 14 oz), trimmed and each stem halved
extra virgin olive oil
18 oz (500g) cooked cannellini or navy beans (about 2 drained cans)
1 garlic clove, finely chopped
handful of chopped flat-leaf parsley leaves
1/2-1 teaspoon freshly ground black pepper
1 1/2 oz. Pecorino cheese, grated, plus extra to serve
1/2 lemon, cut in wedges
sea salt
DIRECTIONS
Heat a large frying pan over medium-high heat (or use a grill). Coat the broccolini stems in olive oil and fry 2-3 minutes on each side, until there is some charring. Remove from the pan and season well with sea salt.
Place the same pan over high heat and add a big drizzle of oil. Add the beans and fry for 2-3 minutes, Stir in the garlic, season well with sea salt, and fry for 8-10 minutes, stirring every now and then, until the beans are crispy. If the beans become dry during cooking, add more oil.
Toss the broccolini, beans, and parsley together and drizzle with a little more olive oil. Spoon onto a serving plate. Sprinkle over the black pepper and grate over the Pecorino. Serve with extra Pecorino and lemon wedges on the side.