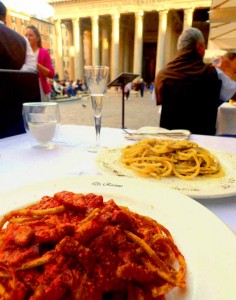 Much as we love Trastevere and its restaurants, one of our other favorite eating establishments is right on one of Rome's most tourist-thronged plazas—just the type of location that we usually avoid at meal time. But when we stopped for coffee one morning at Ristorante-Caffè di Rienzo (Piazza del Pantheon 8/9, 06-686-9097, www.ristorantedirienzo.it), we struck up a conversation with Marianna Di Rienzo, whose father opened the restaurant in 1952. She even invited us to come back at dinner time so that the chef could show us how to prepare some classic Roman pasta dishes.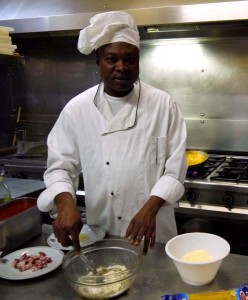 Chef Alessandro Sillani has been with Di Rienzo for 15 years. When we returned around 6 p.m., he and his assistant Tsatsu Nicholas Awuku were not even breaking a sweat sending out dishes to early diners. They decided to demonstrate two of the simplest, but to our minds, most delicious of Roman preparations, cacio e pepe (or cheese and pepper), and amatriciana (tomato and lardons of cured pork cheek). They made both with the thick tubular pasta with a tiny hole in the middle called bucatini. In fact, the restaurant uses Barilla dried pasta, widely available in the U.S. The specific size that seems to be used all over Rome is Bucatini No. 9. Like many restaurants that serve a lot of pasta, Di Rienzo had converted deep-fry vats to boil salted water. The chefs could simply toss the portions of dried pasta into the fryer baskets, lifting and draining in a single motion when the pasta was al dente.
Awuku handled the cacio e pepe. He melted a gob of butter in a skillet, then mixed grated Pecorino Romano cheese and black pepper together in a stainless steel bowl. He poured in the melted butter, mixed well and checked the consistency. When it seemed a little dry, he added a drizzle of olive oil. Once the pasta was al dente (Romans prefer their pasta very firm), he added the hot pasta to the cheese mixture and tossed to coat. He twisted the unruly and springy pasta very tightly to form a nest, transferred it to a plate and then sprinkled on more cheese.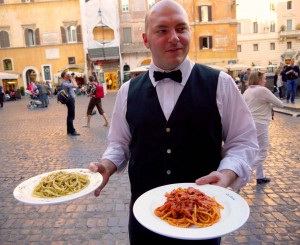 We ate our pastas at an outdoor table, looking at the classic facade of the Pantheon and listening to jazz being played by street musicians. It could not have been more charming, or, for that matter, romantic. And the pasta was delicious. We supplemented our meal with white wine and the superb breads and gelati that Di Rienzo makes in-house. It was humbling lesson that sometimes you can even get a terrific meal on the square with a tourist attraction.
BUCATINI CACIO E PEPE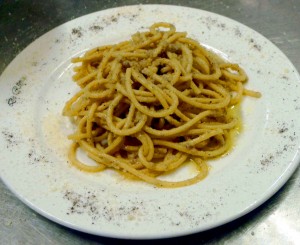 We have adjusted this recipe to serve four as a pasta course or two as a main course.

Ingredients
1 lb. bucatini
1 cup freshly grated Pecorino Romano cheese
1 tablespoon freshly ground black pepper
4 tablespoons butter
olive oil as needed
extra Pecorino Romano to taste
Directions
1. Cook pasta about 10 minutes in salted water.
2. While pasta is cooking, combine black pepper and grated cheese. Melt butter and add to cheese mixture, stirring well to combine. Add olive oil as needed to create a thick cheese sauce.
3. When pasta is cooked firm, drain and add to bowl of cheese sauce. Toss to coat.
4. Place on plate with large fork, twisting mixture tightly. Add extra cheese to taste.