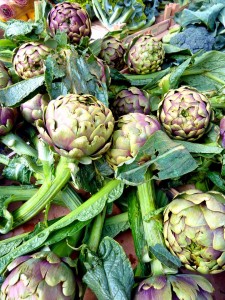 The point of this blog is to discover food that we enjoy when we are traveling and to learn enough about it that we can recreate the flavors at home. But we have learned that some dishes are so special at a particular time and a particular place that we have to enjoy them on the spot and not worry about bringing them home. The best place to spot these seasonal specialties is often the fresh food market. Since we were in Rome in early April, all the vegetable stalls at Trastevere's daily morning market in Piazza San Cosimato were overflowing with beautiful globe artichokes. It meant that the season was perfect to try carciofi alla giudia, the traditional fried whole artichokes made famous in Rome's Jewish ghetto.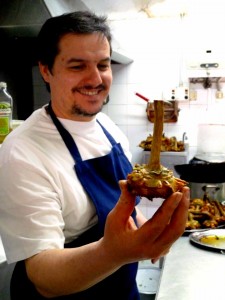 There are a lot of terrific eateries in the Trastevere neighborhood, and, as it turned out, artists recommended the two that we liked best. The glass artists at Studio Forme (via di Santa Cecilia 30B, www.vetriforme.com) told us that we could get a "real Roman meal" at Trattoria da Teo (Piazza Ponziani 7A, 06-581-8355). We stopped by late one morning to investigate. The staff was busily prepping dishes for both lunch and dinner but happily invited us into the kitchen to see. Not only did they have nothing to hide, they were proud of the quality of their ingredients. One young man out front was patiently stuffing zucchini flowers (fiori di zucca) with cheese and anchovies. Later they would be dipped in batter and deep-fried. Others in the back were cutting tuna steaks and trimming beautiful artichokes.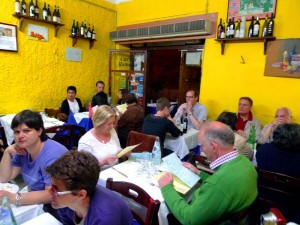 We were skeptical that we would need a reservation at this out-of-the-way trattoria, but we went ahead and made one. When we returned at our appointed hour, the street was filled with eager would-be diners. Anyone who lacked a reservation was turned away as every table in the small dining room and smaller patio filled immediately. Once we were seated a few waiters hastily took everyone's orders – the menus were superfluous. Everyone largely ordered whatever was special that night. Antipasti began flowing out of the kitchen, soon followed by pasta plates, with our white-shirted waiter holding them over his head as he wiggled his hips through the crowds. The wine list, by the way, was studded with little gems. We stuck with a superb, well-rounded verdicchio from Le Marche. And we could resist neither the stuffed zucchini flowers nor carciofi alla giuda.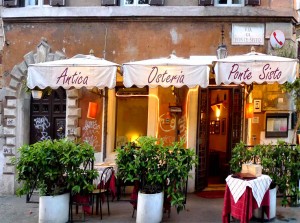 The other excellent recommendation came from Sara Fradiani (www.filogiro.com), a jewelry artist we met at a pop-up store. She excitedly claimed that the best spaghetti carbonara in Rome is served at Antica Osteria Ponte Sisto (Via di Ponte Sisto 8, 06-588-3411), just at the end of the Sisto bridge over the Tiber. Utterly charming and old-fashioned, Ponte Sisto proved as good as she had suggested, with classically robust Roman pastas and a good wine list of reasonably priced bottles. Because it has outdoor seating just steps from the river, it attracts as many tourists as locals, but neither the menu nor the prices seem slated to capitalize on that.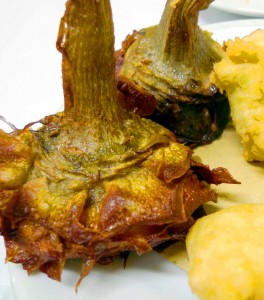 And about those artichokes: Carciofi alla giudia include a large portion of the artichoke stem, which has an especially earthy flavor that is a nice contrast to the sweetness of the choke itself and the crispy potato-chip-like crunch of the fried leaves. They are a tasty treat, but the flavors would go murky if the artichokes were not perfectly fresh and deep-fried at a high temperature. So we will leave the preparation to the trattorie and osterie of Roma in the springtime.