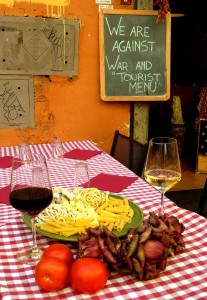 With a chance to spend a week in Rome, we decided to book an apartment so we could live more like Romans than transients. A recommendation in the guidebook Pauline Frommer's Italy led us to Worldwide Accommodations, where we found an apartment in Trastevere, the 13th century neighborhood across the Tiber from the Jewish Ghetto and the ruins of ancient Rome. Overlooked by the 19th and 20th century modernization of the centro storico, most of Trastevere remains a colorful and intimate place stretched out between the Gothic churches of Santa Cecilia and Santa Maria in Trastevere.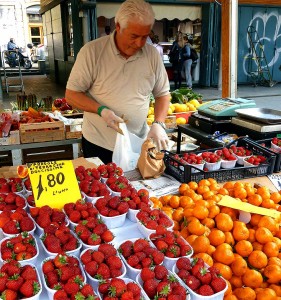 Adding to that neighborly feeling, our landlady Carla Conti welcomed us with a simple tube cake that became breakfast for the week when we topped pieces with sliced fresh strawberries and blood orange segments that we purchased at the morning market in Piazza San Cosimato. When we left, she even gave us the recipe (see below).
We enjoyed the cozy apartment with a spacious bedroom, a modern bath, a pleasant sitting room, and a compact but functional kitchen. The neighborhood was so full of good trattorie and osterie that we never did get around to cooking dinner, but we did make breakfast. More to come on some of our favorite restaurants and recipes for typical Roman dishes.
CARLA CONTI'S HEALTHY ROMAN CAKE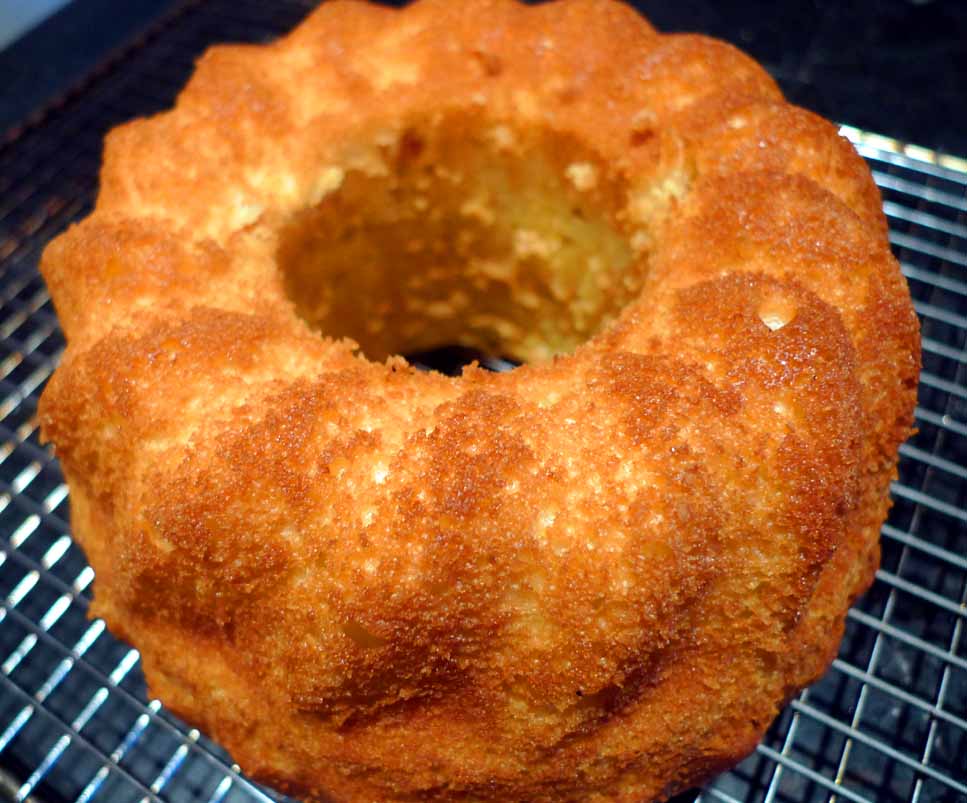 Carla makes this simple cake as a welcome gift for renters in her Trastevere apartment. Her version comes out as a large, slender ring. Since that kind of pan is hard to find in the U.S., we decided to cut the recipe in half and use a small (6.5 inch) Bundt pan. Like most cakes and pastries, this one works best if you weigh the ingredients rather than relying on volume measurements. Because it uses vegetable oil and yogurt, Carla calls it a "healthy" cake – but she often drizzles it with chocolate fondant to make a more decadent dessert.
Ingredients
115 grams white flour
8 grams baking powder
2 small eggs
125 grams superfine sugar
60 grams vegetable oil
75 grams yogurt (plain or fruit)
Directions
1. Heat oven to 350F. Grease and flour small Bundt pan.
2. Sift together flour and baking powder. Set aside.
3. In medium bowl, beat eggs until frothy. Beat in sugar, a little at a time to make sure it dissolves. With mixer running, add vegetable oil and beat until mixture takes on consistency of soft mayonnaise.
4. Add alternating portions of flour mixture and yogurt, beating well after each addition. Pour mixture into Bundt pan. Bake 25 minutes or until toothpick inserted into cake comes out clean.
5. Cool on rack for five minutes. Remove from pan and let cool completely. Slice and serve with fresh berries.