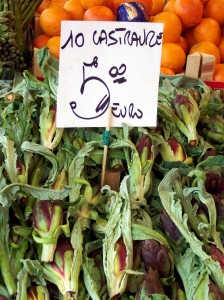 We'd always thought of making risotto as a laborious process that required standing at the stove and stirring for nearly half an hour, sometimes with disappointing results.
Not for Anna Maria Andreola, the pressure cooker queen of Venice.
Earlier in the day, we'd gone together to the Rialto market and bought gorgeous baby artichokes, which we trimmed as Anna Maria talked us through the risotto she was going to make. She sauteed the trimmed artichokes for three minutes in the open pressure cooker with a clove of minced garlic and a splash of olive oil. Then she added a teacup (about a half cup or 110 grams) of arborio rice per serving, and dumped in a half wine-glass of white wine and stirred. Once the wine had mostly evaporated, she added water to cover and fastened the lid on the pressure cooker.
It took about a minute to reach full pressure. Five minutes later, she quick-cooled the pot under the cold tap and opened it.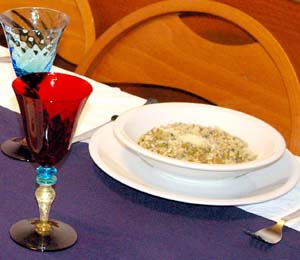 She stirred in a dollop of butter, a dribble of milk and a handful of grated Grana Padano cheese. In ten minutes from start to finish, we had a luscious artichoke risotto. The rice was perfectly al dente, the artichokes retained their integrity, and the dish was as creamy as any hand-stirred risotto we've ever eaten.
It was a revelation.