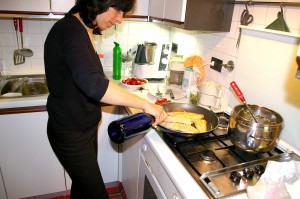 Anna Maria Andreola's kitchen at Le Mansarde B&B in Venice was not what we expected, especially in a lovingly maintained but traditional old stone palazzo that wore its two centuries proudly. The aroma of fresh bread greeted us at the door. She had dumped all the ingredients into a high tech bread machine that morning and set the timer so bread would be ready for dinner. Right next to the breadmaker stood her universal kitchen machine that weighs, processes and slow-cooks food. (It also serves as a mixer and a blender.) The counter also held a juicer and an electric ice cream freezer.
Silly us. We'd been expecting a big stove and nothing else.
We should have been prepared for the Italian predilection for kitchen gadgetry. Remember: These are the people who invented the classic espresso machines with their array of dials and levers. They also make much of the industrial food-processing machinery from giant cooking vats to wine-bottling lines. What's a few appliances?
But Anna Maria's favorite piece of kitchen equipment didn't have a plug. It was the pressure cooker, and she preached its gospel like a late-night TV pitchman. Not only does it cut cooking time, she said, it also conserves flavors and vitamins. "I do everything with it," she said, seeing our skepticism. "I would have had my children in the pressure cooker if I could have."