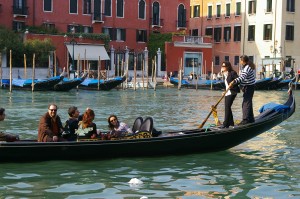 Venice changed our lives. Really. More exactly, it changed the way we eat. After a week of cruising the Venetian lagoon on a rental houseboat, we spent several days in the city, staying with Anna Maria Andreola at the B&B in her family's 18th century Cannaregio palazzo. (It's called Le Mansarde, but has no web site. Contact Anna Maria Andreola at 011-39-041-718-826 or [mobile] 011-39-338-868-8935. Her email is cazzar.ola@libero.it.) One day she took us shopping and showed us how to make a Venetian meal.
From the B&B on Rio Tera San Leonardo, we headed straight to the Grand Canal and boarded a "traghetto," a bare-bones gondola that crisscrosses the canal and saves walking long distances to a bridge. Anna Maria led us into Venice's great Rialto market complex, armed only with a shopping trolley (basically a shopping bag on wheels). We could have spent hours just taking pictures of the pristine fish and meat and the colorful fruits and vegetables, but we were on a mission.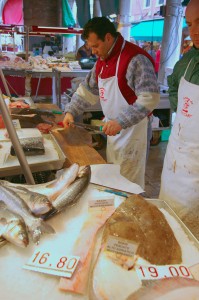 Anna Maria had been thinking about veal as the main course for dinner, but as soon as she spotted rombo (a kind of flounder) at her favorite fishmonger, a different menu began to take shape. With two filleted fish in hand, we strolled into the produce section and gathered cherry tomatoes to accompany the flounder. Tiny strawberries from the lagoon islands got her excited. "We'll make ice cream," she said. Then she found the best prize of all: a small basket labeled "castraure." They were small, purplish baby artichokes, also from the islands.
"Risotto!" she exclaimed.