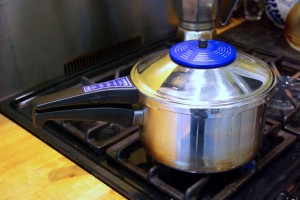 We love risottos, but always saved them for special occasions because they were so time consuming. But Anna Maria Andreola had demonstrated in her home kitchen in Venice that it was feasible to make great risottos in a pressure cooker in almost no time. We were eager to try it at home.
Finding the right pressure cooker wasn't easy. Most pressure cookers in we saw in Venetian and U.S. kitchenware stores were lightweight, flimsy aluminum pots. Many U.S. shops didn't carry them at all. "They're dangerous," clerks told us. "They explode!"
To which we say, "bah" and "humbug." We've been using a venerable Presto pressure canner for years (David bought it in 1970) to process sauces and vegetables from the garden, and even to occasionally cook corned beef. With both a weight that releases excess pressure and a safety valve that blows out if the steam vent is clogged, it's a model of safety. (And, yes, we've blown out the safety valve a few times. It's quick and easy to replace.) More modern models use slightly different mechanisms, but every one we've found for sale has at least two ways to avoid explosion.
Our problem was finding a pressure cooker with a more reasonable capacity (8 quarts is too large to make risotto for two), an alloy base to promote even heating for searing or sauteeing, and a surface finish that would minimize stuck food.
We finally discovered it at a kitchen store in Connecticut's Litchfield Hills: the 3.5-liter Anniversary model made by Kuhn Rikon (www.kuhnrikon.com). It's widely available from web merchants, but actually handling the pot convinced us to buy it. The balance is perfect, and the locking lid is an easy and smooth fit.