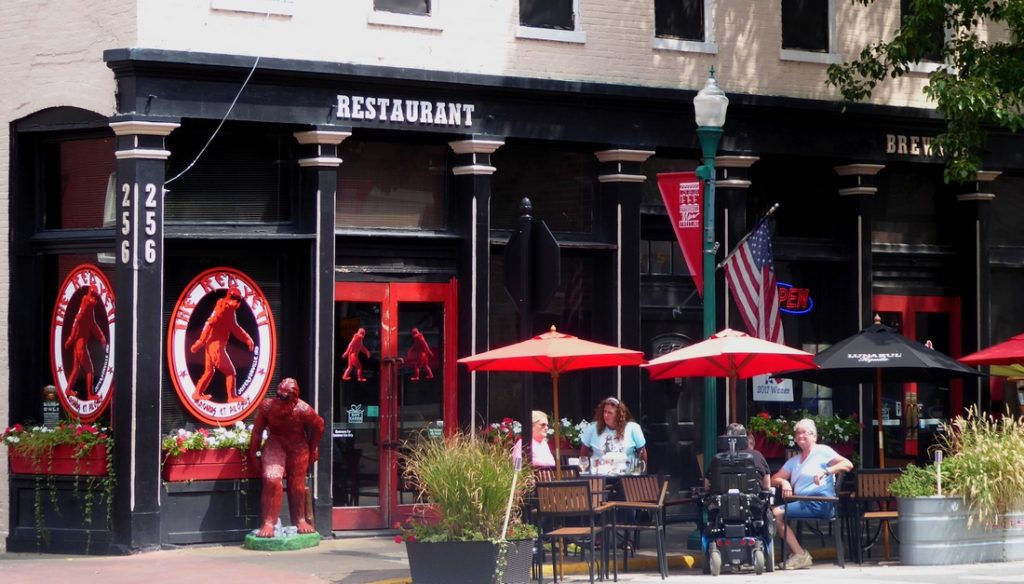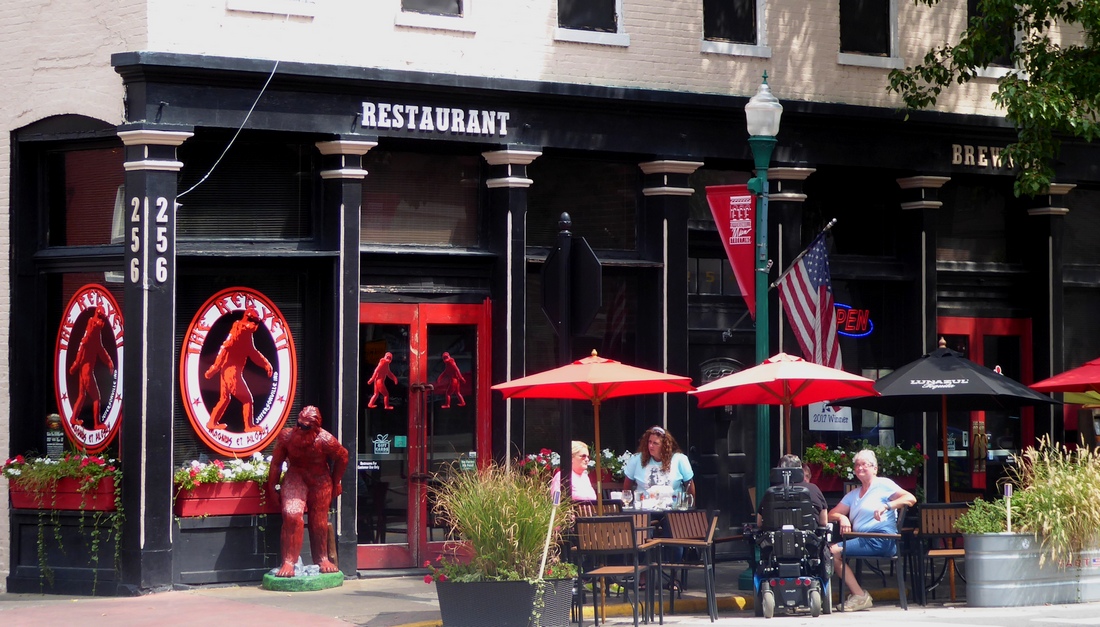 Jeffersonville, Indiana, is a fascinating little town with a deep history and a lot of good eats. We will soon be featuring several spots there in upcoming posts about our visit to Louisville, Kentucky, and the towns across the Ohio River in Indiana. But right now we're looking at frost forecasts this week. So we're busy harvesting everything left in our garden. That includes a lot of tomatoes that haven't yet shown the first blush of ripening.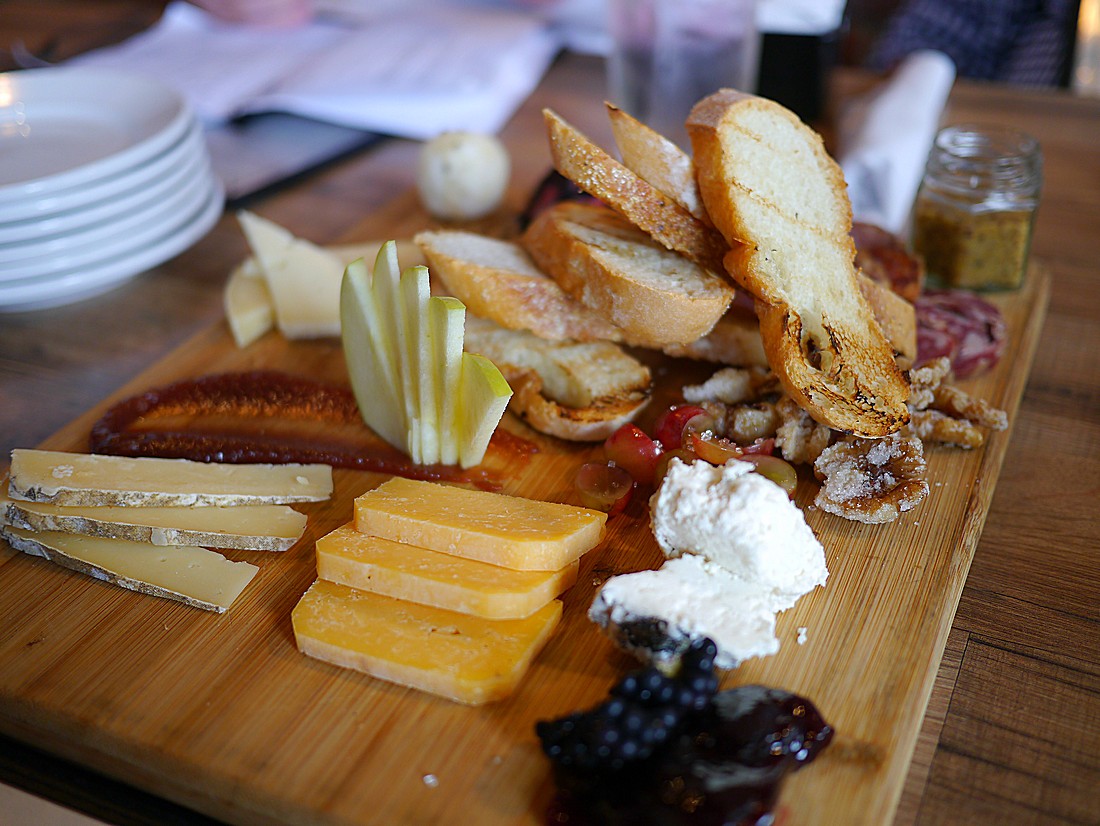 Jeffersonville happens to be the home of Red Yeti Restaurant and Red Foot Brewing Company (256 Spring St., Jeffersonville; 812-288-5788, redyetijeff.com). We enjoyed a beer flight with a bountiful board of cheeses from five Indiana and Kentucky creameries and along with sausages and other charcuterie from Henpecked Farm in neighboring New Albany, Indiana. Chef Michael Bowe makes the country breads and the tangy porter whole grain mustard in house.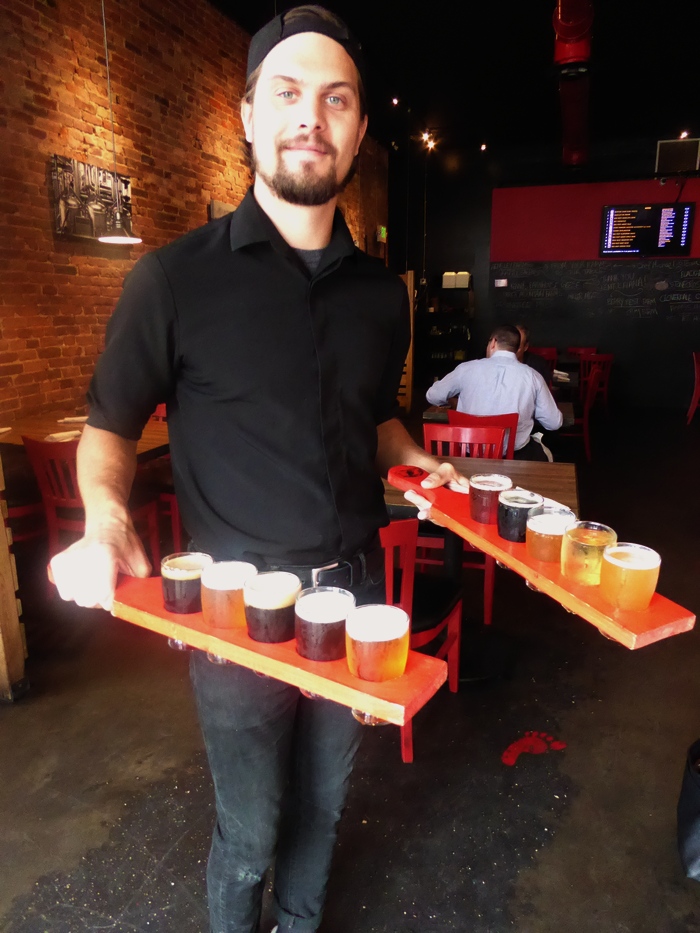 The beer choices change frequently, of course, but we found the entire flight to be eminently drinkable. The mellow porter had a nice roundness, while the stout was a mild, not terribly bitter version. Of the lighter beers we tried, we were especially impressed with the ginger beer. It managed to showcase the brightness of the ginger without the muddiness that often dampens our enthusiasm for such brews. With a bright carbonation on the tongue, it was like drinking a spicy pilsner.
We could have stopped there. But we wanted to try the macaroni and cheese topped with fried green tomatoes.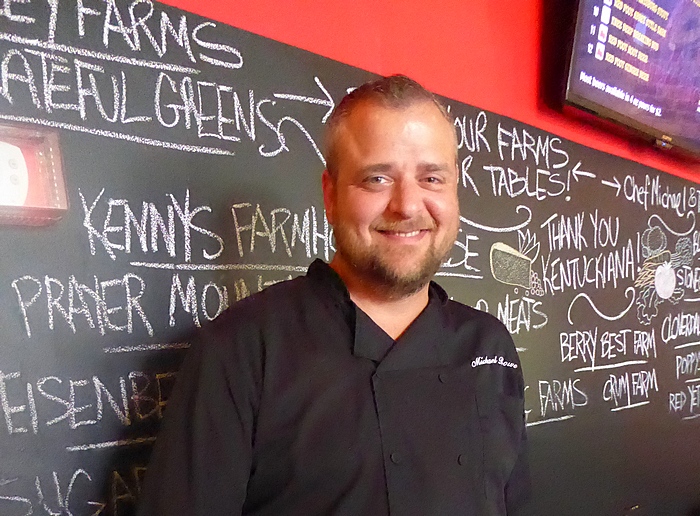 Chef Bowe (right) cleverly tops a bowl of sinfully luscious macaroni and cheese with a trio of crunchy, slightly tart fried tomato slices. While fried green tomatoes are a Southern staple (and Jeffersonville is almost in the South), the seasonings in Bowe's breading elevated these crispy, tasty slabs far above the usual fare. So for all our readers faced with a drawer of green tomatoes, Bowe and the crew at Red Yeti agreed to share the recipe below. Ours is adapted, since the original made around three dozen servings.

FRIED GREEN TOMATO MAC & CHEESE
Serves 6
For cheese sauce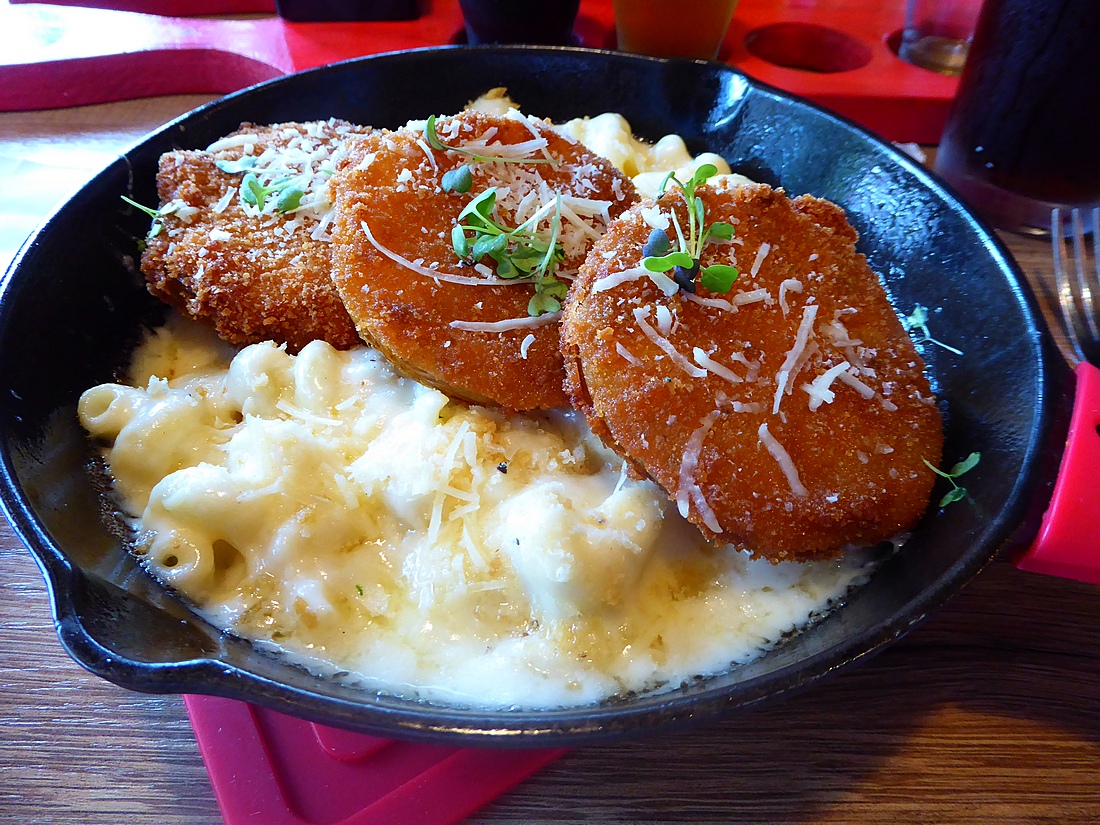 1 1/4 cups milk
3/4 cup heavy cream
1 cup shredded white cheddar
1 cup shredded Gruyère
1/2 cup shredded Provolone
2 tablespoons cornstarch mixed with 3 tablespoons cold water to make slurry
1/4 teaspoon white pepper
1/2 teaspoon salt
2 1/2 cups elbow macaroni
8 cups lightly salted water
Heat milk and cream on medium-high heat. When near boiling, add the cheeses. While stirring slowly, add the slurry. Continue stirring until sauce thickens. Add white pepper and salt.
Cook macaroni in lightly salted boiling water until just past al dente. Drain and add to cheese sauce.
For fried green tomatoes
Breading
3/4 cup flour
2 teaspoons Old Bay seasoning
2 teaspoons paprika
1 teaspoon salt
2 teaspoons black pepper
1 1/2 teaspoons onion powder
1 1/2 teaspoons Montreal seasoning (see below or substitute steak rub spices)
Preparation
Mix together to make breading.
1 egg
2 cups buttermilk
18 thickly cut slices of green tomatoes
3/4 cup panko bread crumbs
vegetable oil to 1/2 inch deep in large frying pan
Beat egg. Then whisk into buttermilk.
Coat tomatoes with breading, then dip tomatoes in buttermilk mixture. Remove and coat with panko breadcrumbs.
Fry breaded tomatoes in vegetable oil until golden brown.
Divide macaroni and cheese into six heatproof bowls. For each serving, place three tomato slices on top. For added flair, sprinkle each with some additional panko crumbs and a little grated Parmesan cheese and brown in 400° oven for 3-5 minutes.
MONTREAL SEASONING
So-called "Montreal" seasoning employs some of the spices used to cure the famous Montreal smoked meat. They are similar to pastrami spices. This recipe makes far more than you'll need for the mac & cheese, but the remainder makes a good rub for beef or seasoning for hamburgers.
2 tablespoons black peppercorns
1 tablespoon mustard seeds
2 teaspoons dill or fennel seeds
1 teaspoon coriander seeds
4 teaspoons coarse kosher salt
4 teaspoons dried minced garlic
1 teaspoon crushed red pepper flakes
Toast spices in a dry frying pan until aromatic. Crush in mortar and pestle. Makes about 1/2 cup.