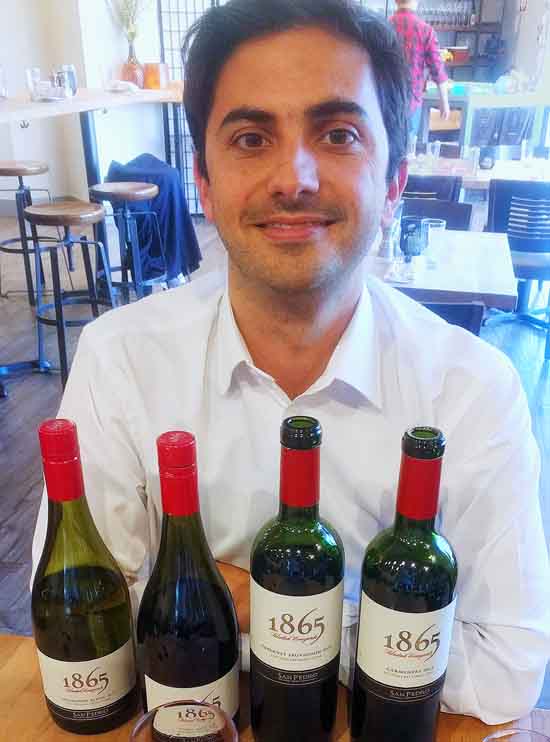 As the planet's temperature rises, wine regions creep into zones once considered inhospitable for Vitis vinifera. Chile is no exception. Matias Cruzat, the young winemaker for Viña San Pedro's 1865 brand (sanpedro.cl/en/1865-single-vineyard), casts the newer cold-climate vineyards as "seeking Burgundy in Chile."
To his credit, Cruzat isn't imitating the Burgundians. But he has steered the 1865 wines toward a balance between old and new world styles. Bargain-priced in the $12-$18 range, these are nonetheless premium wines. (Viña San Pedro's entry-level wines sell under the GatoNegro label.)
Cruzat's reference to Burgundy refers to the newest 1865 single-vineyard wines: Pinot Noir and Chardonnay from the Elqui Valley. "It is really the southern end of the Atacama Desert," he points out. The region has grown grapes since the late 17th century, but most were either table grapes or muscat destined to be distilled into pisco (the signature brandy of Peru and Chile). As the high-altitude valley began to warm, Viña San Pedro planted Pinot Noir and Chardonnay vineyards. The first vintage from those vineyards was 2014, but 2015 is the first of any size.
I can't speak to the Chardonnay, but Cruzat's version of Pinot Noir from the Elqui Valley is a true cold-climate Pinot of the old school. Instead of assaulting the nose with strawberry and raspberry, it smells like a French chestnut or acacia forest. The earthiness of the nose includes notes of mushroom and semi-aromatic spices like toasted coriander, cumin, and a hint of anise seed.
The wine tastes Old World as well. Tannins are soft even though Cruzat ferments with up to 30 percent whole bunches. The wine is light and carries good, rounded fruit with an aftertaste of anise, leather, and a tiny hint of menthol. It would be excellent with poultry, hard cheese, and oily fishes.
Valley signatures to 1865 wines

Cruzat and I tasted a range of the 1865 wines. Each represents an especially good Viña San Pedro parcel in a different valley. He crafts the Leyda Valley Sauvignon Blanc in a style that stands out from the rest of the southern hemisphere. Instead of the intense sweet red pepper and gooseberry flavors of say, New Zealand Sauv Blanc, Cruzat opts for a fruit-forward style that tastes almost like eating fresh grapes. The petrol qualities of the grape carry through from nose to aftertaste, and the great acidity (despite an alcohol that speaks to very ripe fruit) makes it quite food friendly.



The two big Bordeaux reds in the portfolio—a Maipo Valley Cabernet Sauvignon and a Maure Valley Carmenère—show striking sophistication at their price point. In both cases, the grapes are hand-picked and destemmed. About 20 percent of the wine is matured in 300-liter French oak barrels, the rest in huge 5,000-liter French oak casks (foudres) that let the wine breathe without imparting wood flavors.
Chile is one of regions where great Cabernet Sauvignon is possible, and even entry-level versions of the wine are often very good. The 1865 Cabernet Sauvignon is full of black plums—big, round, alcoholic (but not hot)—and a mouthful of soft tannins. It will hold its own with beef, but might be better with veal or game birds.
The 1865 Carmenère is a splendid representation of this grape that has become more Chilean than Bordelais, despite having been mistaken for a century for an odd Merlot clone. More structured than the Cabernet, it pays off in the mouth with flavors of ripe blackberries and resinous notes. This is one for after-dinner sipping or enjoying with a mild cigar.