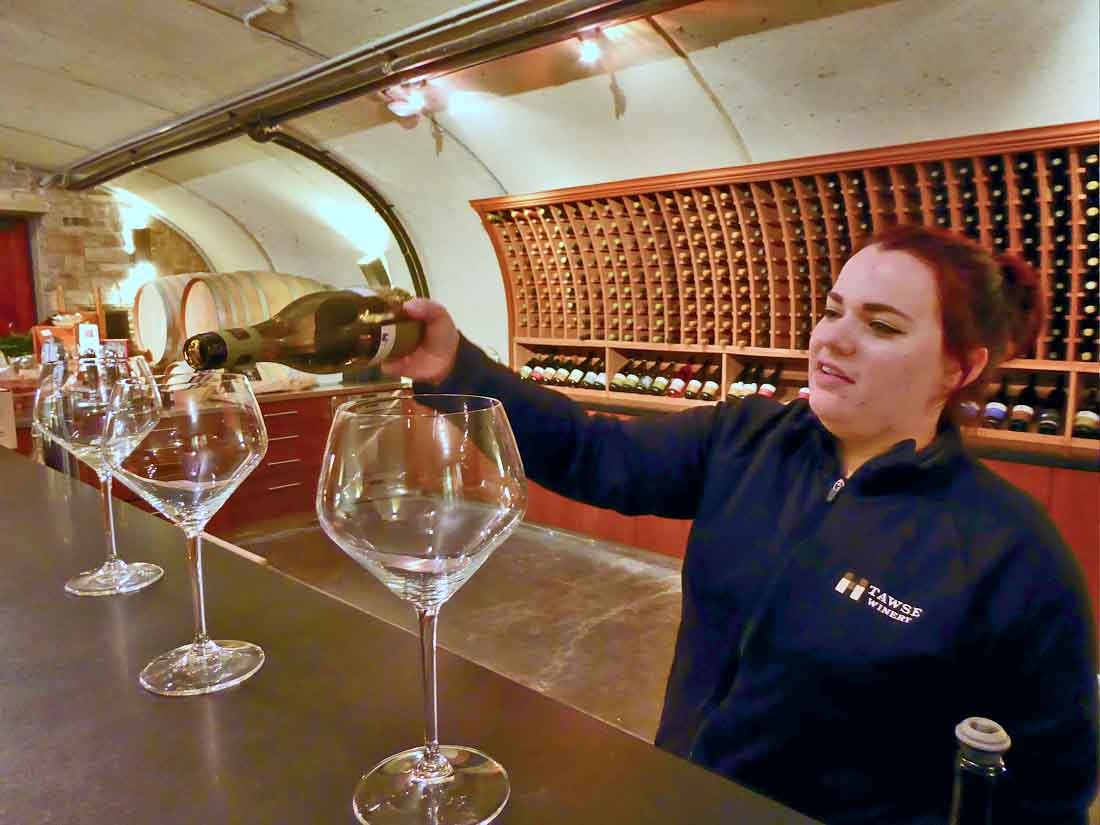 Toronto financier Moray Tawse is a lifelong lover of both red and white Burgundy. A happenstance tasting of a great Chardonnay from an obscure (and now defunct) Niagara winery changed his real estate shopping plans back in 2001. Rather than seeking out vineyards to buy in Burgundy, he turned his attention to the fledgling Twenty Valley, which comprises vineyards in Beamsville, Vineland, and Jordan in the town of Lincoln and extends eastward to the city of St. Catharines. A wine geek's heaven, this region is a patchwork of different soils and subsoils. The Twenty Valley chicken clearly crossed the road because it preferred the terroir on the other side. Now Twenty Valley is home to more than 50 wineries. (For details, see Niagara's Twenty Valley web site at www.20valley.ca or Visit Niagara at www.visitniagaracanada.com.)
In 2001, Moray Tawse bought his first 9-acre property, and in 2005 opened Tawse Winery (tawsewinery.ca). Tawse has expanded to five vineyards encompassing 200 acres and has been named Canadian Winery of the Year four times.
Tawse wines are organic and biodynamic. (The winery has both Ecocert and Demeter certification.) A regular farm menagerie assists in the vineyards. Sheep graze on the lower canopy of the vines, while horses crop the upper canopy. Chickens strut up and down the rows, eating bugs and picking out weeds around the trunks and between the vines. Architectural ingenuity helps make the winery (see below) all the more sustainable. Taking advantage of a hillside location, every operation is gravity-fed. Burgundy-based Pascal Marchand—a rock star among flying winemakers—advises Tawse Winery on every step of the process. Niagara College-trained Paul Pender makes the wines and oversees the vineyards.
Tastes of Tawse

All the certifications in the world mean nothing if the wines don't live up to it. But they do. In fact, the Tawse wines as a group are outstanding. They vinify more than 90 wines each year, including 13-14 different Chardonnays from slightly different terroir.
We tasted the 2012 Estate Chardonnay—a barrel-fermented white made in the style of a Maconnais. The oak is well-balanced as a background note, letting the apple and melon notes come to the fore on the palate. It retails at $38. We also tried a 2015 Limestone Ridge Riesling ($24). It's a perfect wine for light meats sauced with acidic marinades or rubs—roast pork with applesauce, for example, or chicken lemon pasta. The aromatic Riesling dominates but in this cold year, there's a distinct green apple acidity in the mouth. The vineyard is planted over two types of soil. Grapes from the limestone northern half go to Tawse. Grapes from the red clay southern half go to Redstone (see below).
The 2011 Cherry Avenue Pinot Noir ($49) is the Tawse flagship red. The vineyards were 9 years old when the grapes were picked, and the wine shows great promise as the vines mature. The nose of violets and black cherries gives way to a rounded, fruity wine with a suggestion of pomegranate, menthol, eucalyptus, and warm spices on the palate. It is classic cold-climate Pinot Noir—lean and elegant as a greyhound.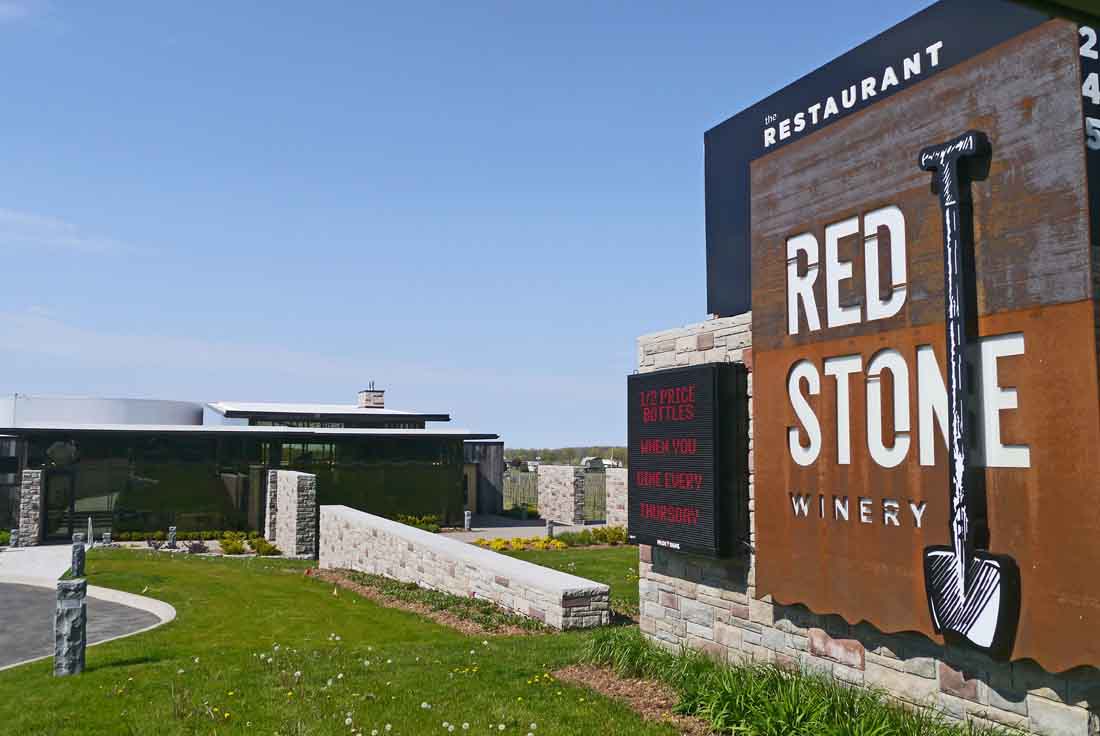 Redstone, brawny sibling to Tawse

When Tawse began expanding his holdings in 2009, he bought some vineyards planted in the red clay soils of the Lincoln Lakeshore sub-appellation (still part of the Twenty Valley region). The first vintage in 2010 was so radically different from the Tawse wines that Moray Tawse decided that the vineyards needed their own winery and own identity.
So Redstone Winery (redstonewines.ca) was born. Moray Tawse took the opportunity to build a new winery with a big tasting room and a fine restaurant, making Redstone especially visitor-friendly. The integrated operation raises its own lamb, chicken, and duck and buys beef, rabbit, and venison from nearby Ontario farms.
Wines show Canadian cheekiness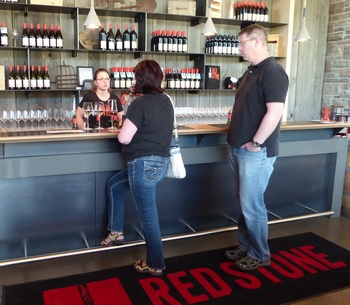 As the red-clay soils of the property are ideal for late-maturing Cabernet Franc, Merlot, and Cabernet Sauvignon, the winery's identity is tied to the Bordeaux reds. Redstone also produces a powerful Syrah, a Chablis-style Chardonnay, as well as some Riesling and Sauvignon Blanc. Like Tawse, all wines are certified organic and biodynamic.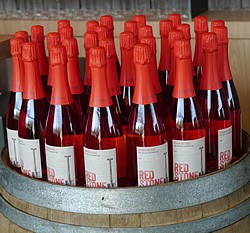 Wines here range from a frisky sparkling rosé available only at the winery to a robust Rhone-style Syrah ($40) that practically cries out for roast leg of lamb studded with garlic and rosemary sprigs. The Reserve Chardonnay ($30) hails from the south half of the Limestone Ridge vineyard shared by Tawse and Redstone. Winemaker Rene Van Ede is Australian, and his wines have that Down Under rowdiness. This Chardonnay tastes like a New World rambunctious cousin of Chablis. It has a fruit forward expression of lemon, sweet apple, and a notable toasty oak. The lush texture lingers a long, long time.
We also sampled the 2013 Cabernet Franc ($40). An elegant expression of Cabernet that could use a few more years in the bottle, it is a little closed right now. Swirled in the glass, it gives up a distinct black pepper aroma on top of ripe blackcurrants and dark cherry. The nose suggests a jammy quality not present in the mouth. Slightly puckery, it has layer after layer of dark fruit still restrained by its tannins. Give it a year or two and it should drink like a bodyguard in a tuxedo.