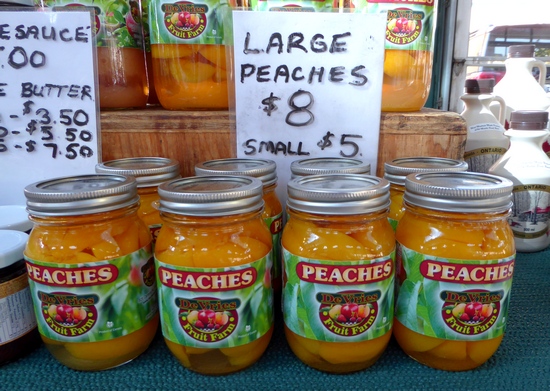 Grapes may rule the Niagara Peninsula today. But peach farmers were the first to recognize the potential of the rich soils of the limestone escarpment. When they planted peach orchards in 1825, they set the area on its agricultural path. By 1950, the Niagara Peninsula boasted more than 4,000 fruit farms, with peaches and cherries the dominant crops.
Many former orchards have been transformed to vineyards. But Niagara still supplies about 90 percent of Ontario's peaches, plums, nectarines, and apricots—as well as the lion's share of plums, pears, and cherries. That's according to the Ontario Ministry of Agriculture, Food and Rural Affairs, the agency charged with paying attention to such things.
The folks in the area seem to keep an equally close eye. They wait for the succession of tender fruits to ripen and make their way to market. In May, when we visited the St. Catharines Farmers Market (https://goo.gl/S44kN8) in downtown St. Catharines, it was too early for the new crop of tree fruits. Or even for strawberries and raspberries. A few folks were selling their preserved peaches (above) and some cold-storage apples. Farmers were offering asparagus, rhubarb, local honey, cultivated mushrooms, and hothouse cherry tomatoes. By now, the cornucopia is overflowing. Pecks of apricots and peaches vie for table space with watermelons, hanks of garlic, baskets of onions, and big juicy tomatoes.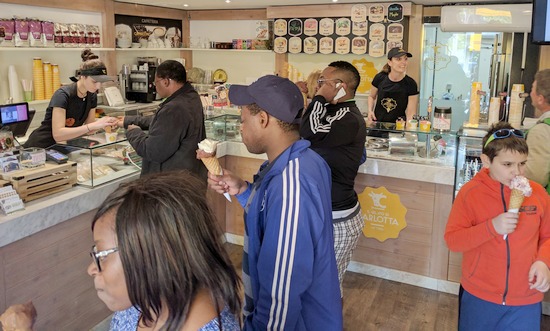 Gelato: Fruit with Italian cool

Purists contend that there is nothing better than a sun-warmed peach fresh off the tree. We can hardly argue with that juicy sweetness. But Il Gelato di Carlotta (gelatodicarlotta.com) has achieved spectacular success combining fresh Niagara fruits with the Italian flair for making gelato. Florentine Carlotta Cattani, who lives in Niagara-on-the-Lake, launched the gelateria in 2013 with her husband and her two Italy-based brothers. Their first shop was in Niagara on the Lake (above). It proved so popular that they have expanded to the Fallsview Casino Resort in Niagara Falls and the Vaughan Mills shopping mall north of Toronto.
Carlotta trained in Bologna to master the fine points of making gelato. She's very particular about what goes into her frozen treats. She uses all natural ingredients and never resorts to preservatives or artificial colors or flavors. Her pistachios hail from Sicily, her hazelnuts from Piemonte, her coconut from Sri Lanka, and her mangoes from outside Bombay. But the peaches, strawberries, raspberries, plums, and pears are all grown by Niagara farms and orchards. Her simple, respectful treatment only enhances their goodness.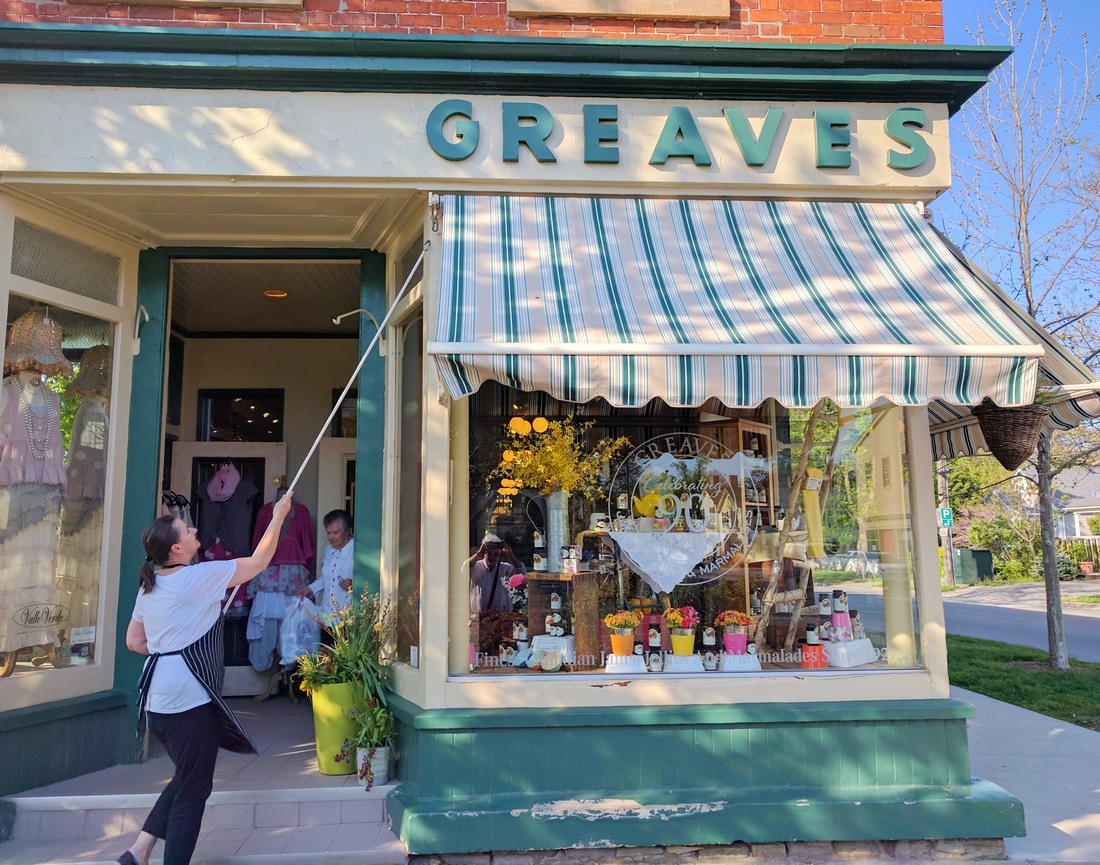 Niagara's own jampot

Greaves Jams & Marmalades (greavesjams.com) beat Carlotta to the punch. The company opened on Queen Street in Niagara on the Lake in 1927 to make and sell jams, jellies, marmalades, and other condiments. From the start, Greaves has employed Niagara fruits and vegetables. The company has also adhered to a strict ban on pectin and preservatives. Production has moved to a larger facility, but uses the original recipes. Indeed, the original shop still sells the wares. Greaves' own line of 35 jams, jellies, and preserves line the shelves along with products from other manufacturers and tableware and serving pieces. It's a lot to choose from. We decided to stick with classic strawberry jam and peach jam. They should make great toppings for the delicious scones that we are going to try to recreate using the recipe given to us by the Prince of Wales, the small town's most gracious hotel. We'll be publishing that recipe soon.