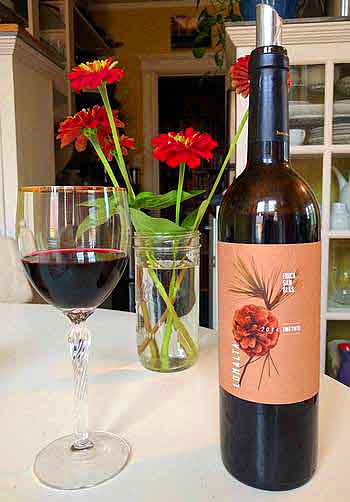 Our previous posts on D.O. Utiel Requena (see here) have concentrated on wines of the indigenous Bobal grape. Finca San Blas (fincasanblas.com) in Requena makes a well-regarded 100 percent Bobal. But the bodega also has extensive vineyards planted in Merlot, Tempranillo, Cabernet Sauvignon, and Chardonnay. Its 2014 Lomalta blends 40 percent Bobal with 30 percent each of Merlot and Tempranillo. The resulting wine is a world apart from the black cherry and resinous spice profile of traditional Bobal.
The Bobal characteristics are largely overshadowed by the other two grapes. We had to double-check the label to make sure it wasn't an experimental bottling from Rioja, which has had a love affair with French grapes for 150 years. The nose has the pronounced hot-climate menthol of Merlot, and the fruitiness in the mouth confirms the Merlot parentage. But the back of the mouth flavors and finish are pure Tempranillo. The three grapes are all vinified separately, aged separately in new French oak for nine months, and blended just three months before bottling. That approach keeps the grape characteristics quite individual, but it poses a challenge for pairing with food.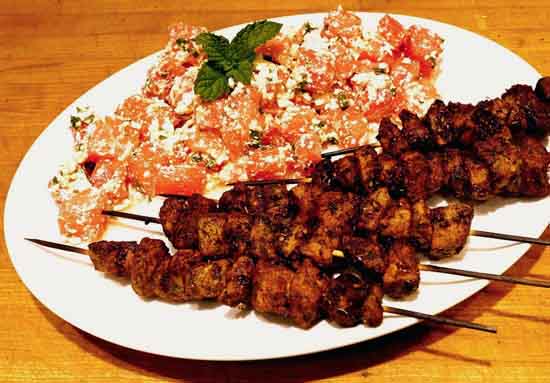 Finding the right food

We wondered if Lomalta might be a tapas bar wine—served by the well-aerated glass with small bites of spicy food. Having recently acquired Barbecue Sauces, Rubs, and Marinades—Bastes, Butters, and Glazes, Too! by grilling guru Steven Raichlen (Workman Publishing, $17.95), we decided to try his "pincho powder" seasoning as a rub for skewers of pork. And since the rub is fairly hot (use it sparingly if you have a sensitive mouth), we figured the best cooling companion would be a salad of watermelon cubes tossed with crumbled feta, chopped mint, and a lime-olive oil dressing.
Our intuition about the wine proved correct. The smoky paprika-saffron-coriander-cumin combo knit the grapes of the wine together into a single, more subtle quaff. The roundness of the Bobal and Merlot softened the heat of the rub, and the spices married well with the Tempranillo's aromatics and the bite of oak. It was as if the food switched on a light, and the wine woke up to its potential. With the publisher's permission, here's the recipe for Raichlen's Spanish-style rub.
PINCHO POWDER
Ingredients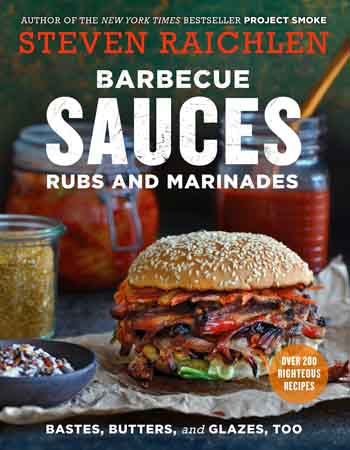 1/2 teaspoon saffron threads
1/4 cup smoked paprika
1/4 cup dried parsley
1/4 cup freeze-dried chives
2 tablespoons coarse salt (sea or kosher)
2 teaspoons dried onion flakes
2 teaspoons dried garlic flakes
2 teaspoons red pepper flakes
2 teaspoons ground cumin
2 teaspoons ground coriander
2 teaspoons dried oregano
2 teaspoons freshly ground black pepper
Directions
Crumble the saffron between your fingers into a bowl. Stir or whisk in the remaining ingredients. Transfer to a jar, cover, and store away from heat and light. The powder will keep for several weeks.
From Barbecue Sauces, Rubs, and Marinades—Bastes, Butters, and Glazes, Too! by Steven Raichlen (Workman Publishing, $17.95). You can buy it on Amazon here.