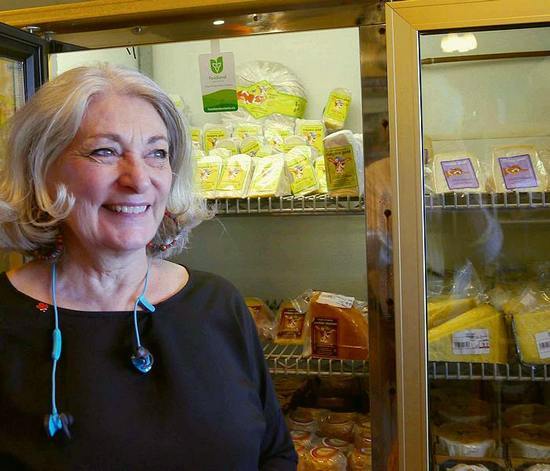 Niagara College has played a big role in the Niagara peninsula blossoming as a foodie destination. The school is turning out talented graduates with a commitment to making the most of the region's bounty. The college's offerings run the gamut from culinary and hospitality programs to winemaking, viticulture, brewing, and distilling. The college even operates a teaching brewery as well as Canada's only commercial teaching winery. As we traveled through the region, we met many of its talented graduates and interns who intend to make their careers in the region.
But in the pantheon of food and drink, one thing is missing. "There are no courses on cheesemaking offered in the area," Vivian Szebeny of Upper Canada Cheese Company told us.
Szebeny is a partner in the operation that was founded in 2005 and calls itself "the first small, modern Niagara creamery in generations." Upper Canada Cheese Company (uppercanadacheese.com) makes and sells its cheeses from a modern building with retro train station style in the town of Lincoln. They also stock other artisanal cheeses and local products such as honey, pickles, preserves, and maple syrup that offer an overview of the local food scene.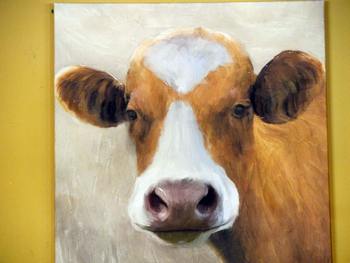 Szebeny learned her craft in France and Quebec and now trains the company's other cheesemakers. They are fortunate to start with an extraordinary ingredient—milk from a herd of Guernsey cows. The brown and white cattle graze contentedly at Comfort Family Farm, about a 20-minute drive from the facility. The protein- and cream-rich milk "is more flavorful," said Szebeny, "and we can make more cheese per liter." Upper Canada makes cheese every second day, starting with about 2,000 liters of milk.
Variations on a Guernsey theme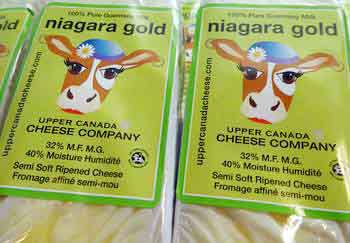 The company first introduced Niagara Gold, a washed-rind semi-firm cheese that is aged four to five months. Modeled on Port Salut from the Loire Valley in Brittany, it has similar buttery flavors, a nutty nose, and earthy flavors in the mouth. Comfort Cream, a Camembert-style soft cheese, was "named after the farm," Szebeny said. Intensely buttery, it has a long tangy finish with an air of fresh mushrooms.
The Guernsey cheeses have been very successful, but the cheesemakers wanted new challenges. "If you are a cheesemaker you like to experiment with different milks," Szebeny explained. "So we got some goat milk." And the result is Nosey Goat, a semi-firm washed-rind goat cheese and Nanny Noir, a Camembert-style cheese rolled in vegetable ash before aging.
Szebeny also developed a fresh cheese that the company calls Guernsey Girl. It's a cheese style particularly popular in eastern Canada. With a nice salty flavor and a squeaky bite, it holds its shape when fried or grilled. "Grill it and it becomes caramelized and brown on the outside and gooey on the inside," Szebeny said.
When we visited in May, Upper Canada was close to releasing its first cheddar, which had been aged for eight months. Clearly excited about the release, Szebeny noted that "it's the only Guernsey cheddar that I am aware of."
We look forward to what they'll do next.