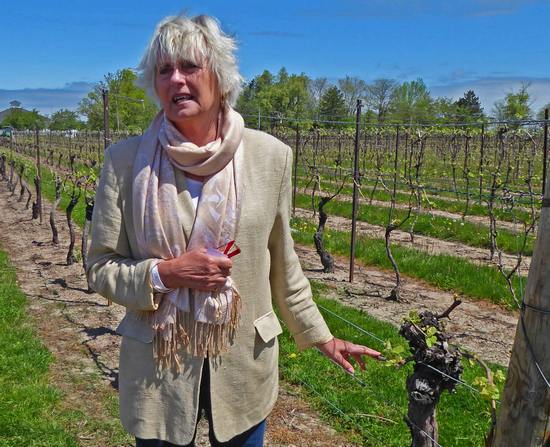 Like many wine drinkers, we've always thought of icewine as an after-dinner treat. But if Inniskillin (www.inniskillin.com) has its way, we'll be drinking it with dinner as well. As Debi Pratt told us when we toured the property, icewine makes an excellent, if somewhat extravagant, table wine.
Inniskillin is another pioneer in the Niagara wine region. It was founded in 1975 by Austrian-born Karl Kaiser and Canadian Donald Ziraldo. "Karl said, 'If I'm going to live in a new country, I'm going to drink the wines of my new country,'" Pratt told us.
Ziraldo had actually planted Riesling, Chardonnay, and Gamay vines the year before at his commercial nursery. But when Inniskillin launched, the winery relied heavily on two winter-hardy French hybrid grapes, Vidal Blanc and Maréchal Foch. The early Vidal plantings survive for icewine, but nobler vines have displaced the old red hybrid as well as the original Gamay. Today's Inniskillin Niagara table wines lean heavily on Chardonnay, Cabernet Franc, Merlot, Riesling, and Pinot Noir. (Inniskillin also has a branch in the Okanagan Valley of British Columbia.)
When cold is cool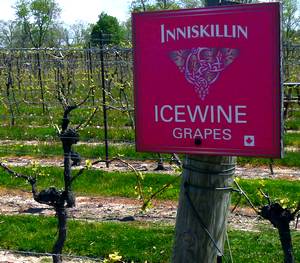 But Inniskillin electrified the wine world with its distinctive New World icewines. Winemaker Kaiser produced Niagara's first icewines in 1984, using the thick-skinned Vidal grapes. Familiar with German and Austrian icewines, he suspected that the climate in Niagara should be perfect to produce icewines in most harvests. Subsequent years proved him right, and the consumer response to the once-exotic product was strong.
"Donald and Karl are pioneers of Ontario icewine," Pratt said. Today, Inniskillin reserves 5 percent of its grapes for icewines. They hang on the vines until at least early December and sometimes aren't harvested until early March. The optimal temperature for harvesting is -10°C (14°F). VQA regulations state that the harvest must be carried out at -8°C (17/6°F) or lower.
Thick-skinned Vidal grapes last longer on the vine than other varietals. As a result, the grape accounts for about 85 percent of Canada's icewine production. But Inniskillin and some other Niagara wineries have also had good luck with Riesling and Cabernet Franc. They also have thick enough skins to become desiccated on the vine without rotting.
Icewine with food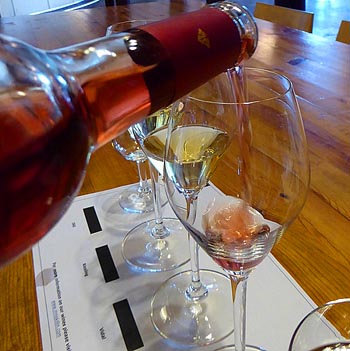 You can taste icewine flights at the dedicated Icewine Tasting Bar. We headed instead to the Riedel Room, which is named for the premium maker of wine glasses. After Kaiser's prompting, Riedel developed a specific glass for tasting icewine. "It evolved from an aromatic glass, a port glass, and a Sauterne glass," said Pratt. "The shape maximizes the layers of aromas in icewines."
Food, we were to quickly learn, also brings out the nuances of the wine. We sampled three dishes prepared by chef Tim MacKiddie to pair with Riesling, Vidal, and Cabernet Franc icewines.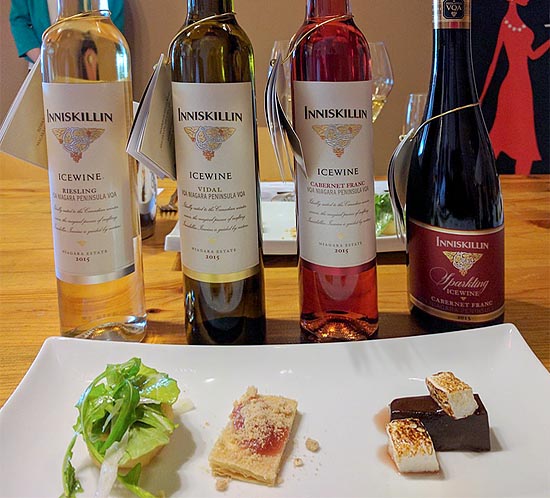 Riesling pairing
In the Riedel icewine glasses, the Riesling icewine showed a lot of flowery notes and citrus that ranged from Meyer lemon to bergamot. MacKiddie served a goat cheese croquette with a fennel salad lightly dressed with a cumin-lime vinaigrette. The citrus notes balanced the ashen cheese nicely, while the bright anise of the fennel echoed the aromatics of the wine.
Vidal pairing
The Vidal icewine was rounder and more luscious, tasting of apricots and gooseberries. MacKiddie explained that baking spices pair nicely with Vidal, which tends to preserve its fruitiness even as an icewine. He then proved his point by serving a rhubarb tart with cinnamon butter pastry and a crumble topping.
Cabernet Franc pairing
The "dessert" course among the icewines was reserved for the Cabernet Franc, which displayed a luscious concentrate of blackberries and elderberries spiked with black pepper. MacKiddie offered a "Canadian s'more." It consisted of a block of chocolate ganache with a few toasted homemade marshmallows, all sitting in a small pool of Cabernet Franc syrup. "A match made in heaven," he called it—and we agreed
We were convinced: Icewine can pair nicely with food. Pratt pointed out that Inniskillin's sparkling icewines—either Sparkling Vidal or Sparkling Cabernet Franc—might be even more food friendly. "The bubbles cut the sweetness," she said.
Nonetheless, it's hard to give up the sheer indulgence of simply sipping and enjoying icewine as a special pleasure all its own.
For an overview of Niagara wineries, see the web site of the Vintner's Quality Alliance of Ontario (vqaontario.ca) or Visit Niagara (visitniagaracanada.com).