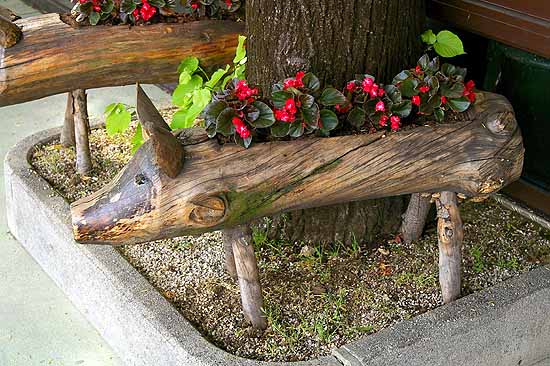 San Daniele del Friuli is a beautiful little community about 20 kilometers southwest of the big industrial city of Udine, located in the hill country where dry-aged hams are a tradition. Making prosciutto is the principal business of the town – perhaps followed by eating it. Even some of the flower planters in town are in the shape of pigs.
Although the Friulani love their asparagus (see my posts from May 2009), the only time I've ever eaten asparagus risotto in Friuli, it was made with white asparagus. The Friulani version was silken and smooth and very pale. Oddly enough, I had often been served cold steamed asparagus wrapped in prosciutto, and Pat and I wondered why we'd never seen a risotto that combined the two. Since we had some extra prosciutto di San Daniele available, I thought I'd see how the delicate ham would be in risotto with Grana Padano, a more understated grating cheese than Parmigiano. Local asparagus isn't in season, but I was lucky to get some plump, crisp spears that had just come off the plane from Peru.
We were pleased to discover that as long as neither the asparagus nor the prosciutto is overcooked, this recipe makes a risotto in which all the elements — the prosciutto, the cheese, the rice, the asparagus, and the stock — not only retain their individual flavors and identities, they combine into a delicious, harmonious risotto. We'll certainly be eating it again.
This is another pressure-cooker risotto, but can be made conventionally by steaming the asparagus for five minutes, and cooking the risotto while constantly stirring and adding liquid for 20-25 minutes. If doing it conventionally, you'll need another half cup of stock.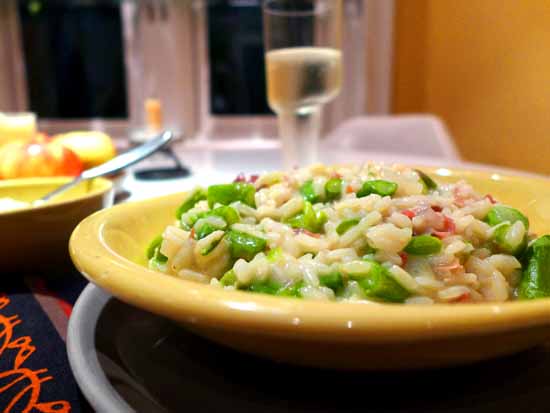 ASPARAGUS & PROSCIUTTO RISOTTO
Ingredients

1/4 cup strong chicken stock
1 pound asparagus, cleaned and trimmed
2 teaspoons olive oil
1 medium onion, finely diced
1 cup arborio rice
1/3 cup white wine
1 cup strong chicken stock plus reserved liquid from steaming
4 slices prosciutto di San Daniele, cut into 1/4-inch squares
2 oz. Grana Padano cheese, finely grated (about 3/4 unpacked cup)
Directions
1. Place rack in 3.5 liter pressure cooker and add 1/4 cup chicken stock. Bring to a boil. Place asparagus spears on rack, close pressure cooker, and steam 60 seconds. Quick cool pot and remove asparagus. Cut into 1-inch lengths and reserve. Pour off steaming liquid and reserve.
2. Wipe out pot. Add olive oil over medium heat. Add onion and sauté until soft. Add rice and stir well to coat with oil. Turn heat up to high and add wine, stirring constantly until nearly absorbed (about 90 seconds).
3. Add chicken stock and liquid reserved from steaming asparagus; stir well. Secure lid on pressure cooker and bring up to pressure. Cook for 7 minutes before quick-cooling pot to remove lid.
4. Place pot back on low heat and stir. (The risotto should be soupy and the rice slightly too firm.) Add asparagus and prosciutto. Stir to mix thoroughly and continue stirring over low heat for 1 minute.
5. Remove from heat and stir in Grana Padano, blending well.
6. Divide risotto into two 16- to 20-ounce shallow bowls and serve.