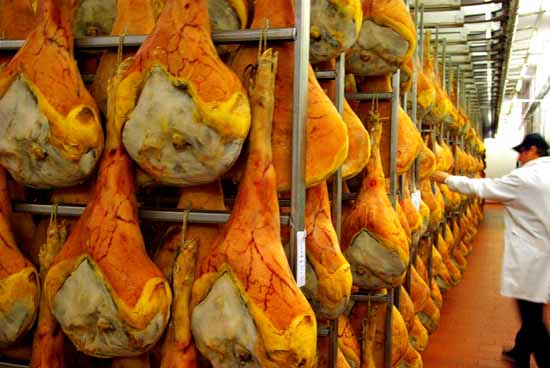 The Legends from Europe folks passed along a packet of prosciutto di Parma, the most familiar of the Italian raw hams seen in the U.S. and the one most imitated by American and South American producers. To qualify for the PDO label as prosciutto di Parma, the ham must come from pigs fed a special diet and raised in a defined north-central region of Italy. Additionally, the ham must be cured in the countryside near Parma in Emilia-Romagna. Much of the intense flavor comes from applying just enough salt to keep the ham "sweet" and then aging it at least 400 days. (The photo above shows whole hams hanging in a chilled aging room in Italy.)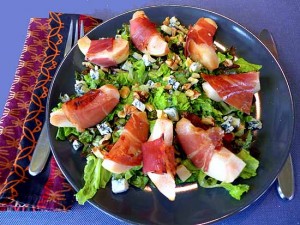 Parma prosciutto is the most intense of the Italian raw hams and stands up well to other strong flavors. It is often paired with melon and even combined with Gorgonzola cheese on pizzas. But melon is out of season, so I decided to try the prosciutto di Parma with some gorgeous but firm Anjou pears. I peeled the pears, cut them in eighths, wrapped prosciutto around each wedge, and roasted them for four minutes under a broiler.
Once they cooled, I arranged them on some local red-leaf lettuce tossed with a light vinaigrette and sprinkled on some toasted walnuts and a few crumbles of mountain Gorgonzola. The saltiness of the ham was a perfect foil to the Gorgonzola, and the slight crunch of the lettuce highlighted the crisp edges of the warm prosciutto. In fact, lightly roasting the prosciutto retains the flavor of the raw ham but adds a bacon overtone.
It made a great lunch.