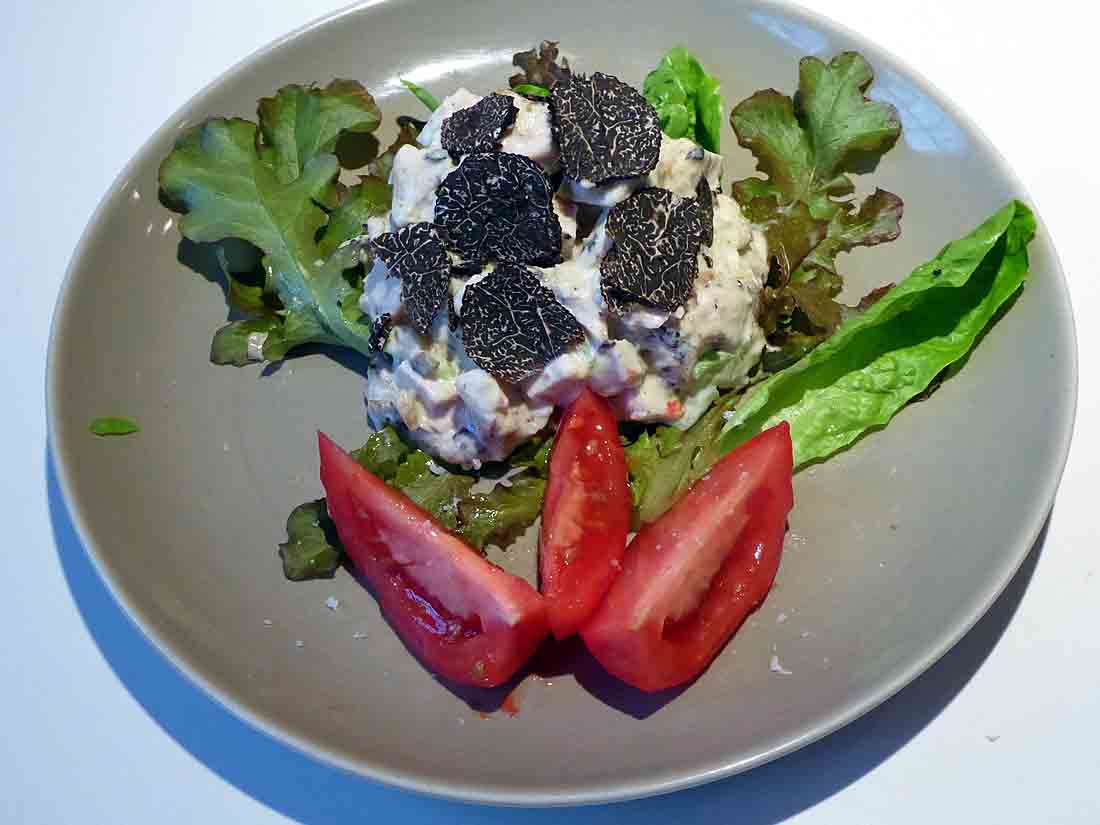 The good and bad side of fresh truffles is that you have to eat them up right away because they only keep for a week or two in the refrigerator, even if you let them breathe every day when you change the absorbent paper in the container. In the process of eating them up, it's easy to have a lot of truffle "crumbs" or extra shavings. The solution to that problem is truffle alioli, the Catalan answer to mayonnaise. We made a pretty big batch (nearly 2 cups) and used it to make potato salad (with sliced boiled potatoes, minced onion, chopped boiled egg, and minced celery) and to make a delicious chicken salad. The secret to great alioli is to store the eggs in a sealed container with a truffle for a few days.
BLACK TRUFFLE ALIOLI

4 large cloves garlic, peeled and grated
20 grams grated black truffle
2 egg yolks
1 whole egg
2 tablespoons lemon juice
1 teaspoon sea salt
1 1/2 cups extra virgin olive oil
Place all ingredients except the oil in a food processor fitted with steel blade and process to mix. Add olive oil in a slow drizzle with processor running. The alioli will have the texture of thick mayonnaise. Add extra lemon juice or salt to taste. Store overnight, as garlic will mellow and truffle will permeate the alioli.
TRUFFLE ALIOLI CHICKEN SALAD

This is the dish pictured at the top of this post.
1 large chicken breast, roasted in wood oven (or on charcoal grill via indirect heat)
3 stalks celery
6-8 fresh figs
1 shallot, minced
3/4 cup alioli (see above)
black truffle shavings
Remove skin and cut chicken off bone. Dice into 1/2-inch pieces. Cut celery stalks into 1/2-inch wide strips, then cut very thin slices on the diagonal. Destem figs and dice. Combine chicken, celery, and figs with minced shallot and mix together. Add alioli. Serve on lettuce with fresh tomato, topped with a few shavings of black truffle.