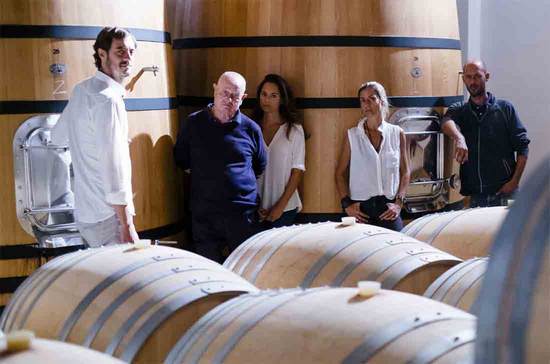 The Viticultores de SanJuan bodega is owned by the Valsangiacomo family (above), which represents the fifth generation of family winemaking that began in Switzerland in 1831. Built in 1960, the winery in the village of San Juan Bautista, about 60 kilometers west of Valencia, Spain. The vines range from 60 to 80 years old.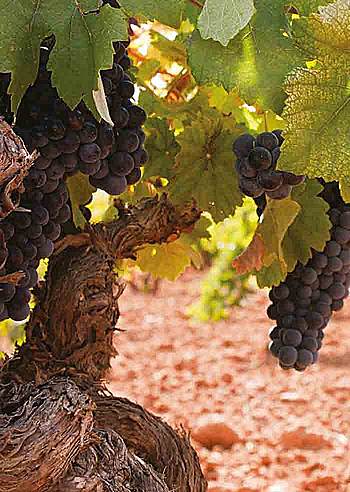 Since there was always a market for blending wines and grape concentrate, traditional growers in the Utiel Requena region never had reason to rip out their old Bobal vines. Vineyards tend to be broad pieces of open acreage supporting bush-style vines grown without irrigation. As the region began to focus more on quality of grapes rather than quantity through the DOP Utiel-Requna, these ancient vines (right) proved a huge asset. The gnarly trunks still support a shady canopy of big leaves that protect the grape bunches.
The SanJuan winery is as old-school as the vines. The Valsangiacomos craft their Bobal red and rosé in raw concrete tanks, then age the wines in large barrels of French oak. Their straightforward Bobal de SanJuan is a prime example of letting old vines do their thing. It is is a medium-bodied, deeply red wine with a spicy nose of anise and black pepper. In the mouth, the juicy fruit suggests black cherry, red currant, and dark plums. Tannins are extremely soft, so the wine finishes very smoothly. It is perfect slightly chilled to about 60°F.
The spiciness of the nose and the tart cherry in the mouth make Bobal de SanJuan an excellent accompaniment to this traditional paella of inland Valencia province, very loosely adapted from Anna von Bremzen's The New Spanish Table and Penelope Casas' The Foods and Wines of Spain.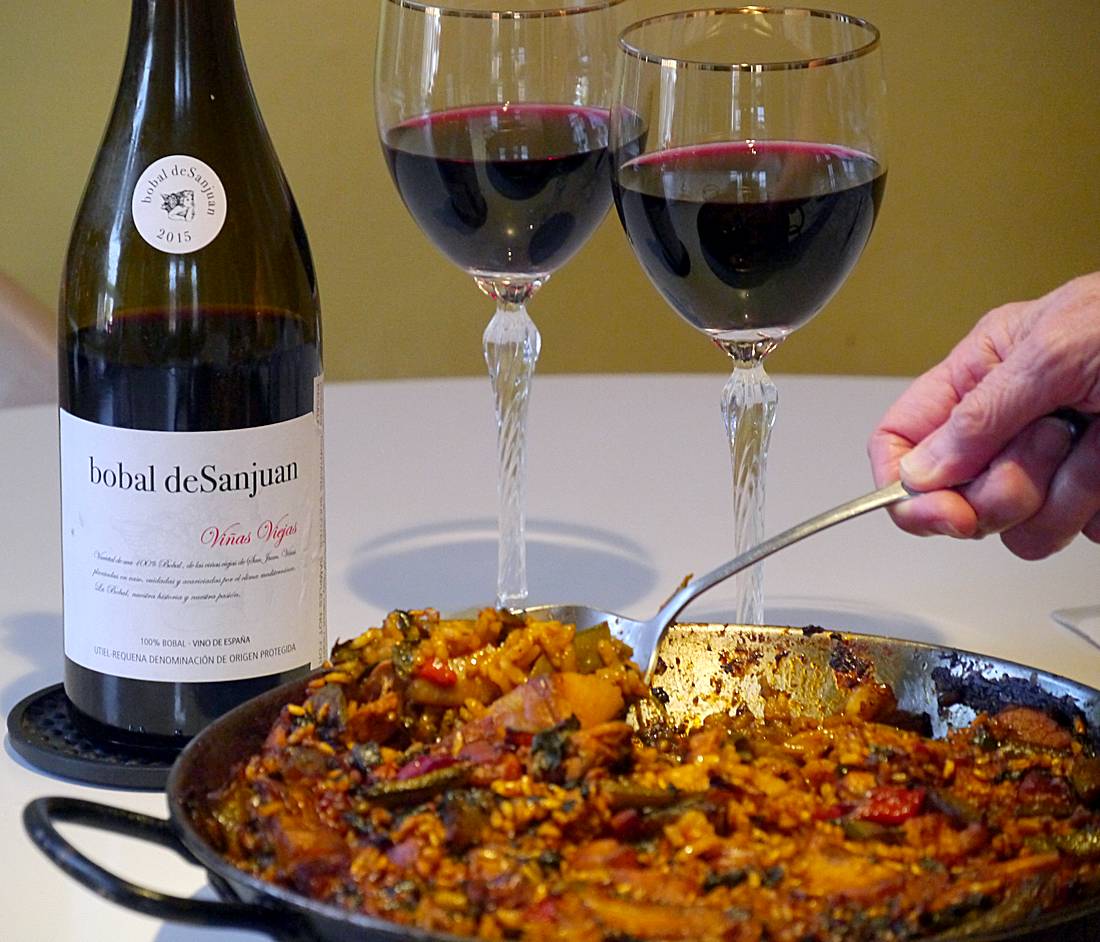 PORK PAELLA
Ingredients

8 ounces boneless pork loin or shoulder, cut into 1-inch pieces
coarse sea salt and freshly ground black pepper
1 1/2 teaspoons dried oregano
1 1/2 teaspoons sweet paprika
1 tablespoon ancho chile powder
about 3 cups chicken stock
1 large pinch of saffron
1/3 cup (more or less) extra virgin olive oil
1/2 cup snap peas, trimmed and cut into 1-inch lengths
3/4 cup small cauliflower florets
1 small ripe red bell pepper, cut into large dice
1 1/2 cups frozen artichoke hearts, thawed and patted dry with paper towels
2 cups baby spinach leaves
4 medium garlic cloves, pressed or grated
1 1/2 teaspoons hot paprika
2 large tomatoes, peeled and crushed
1 1/2 cups Valencia rice (arborio or canaroli can be substituted)
Directions

Rub pork with salt, pepper, oregano, sweet paprika, and ancho chile powder. Marinate 2 hours to overnight in refrigerator.
Heat stock to simmer. Add saffron. Keep warm.
Pour enough olive oil into 12-inch paella pan to cover entire bottom. Sauté pork, tossing and turning, until browned all over. Push to edges of pan and add snap peas, cauliflower, and red pepper. Sauté a few minutes, add artichokes and cook about 5 minutes. Add spinach and stir until wilted. Remove pork and vegetables to bowl.
Add more oil to pan. Saute garlic for a few seconds, then add hot paprika. Stir well and add crushed tomatoes. Cook a few minutes until thick.
Set oven at 425°F.
Return pork and vegetables to pan. Add rice and stir to mix. Add 2 cups hot stock and shake pan to distribute evenly. Cook over medium heat about 7 minutes. If it starts to dry out, add more stock.
Place in oven and bake about 15 minutes. (Check after 10 minutes and add additional stock if needed.) Remove from oven and cover. Let sit 10-15 minutes before serving.