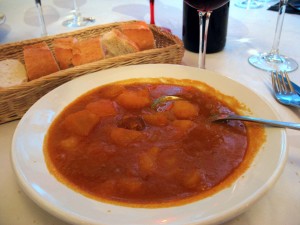 We don't feel too bad messing around a little with tradition to make this dish with New England provender. This rich stew hails from the Ebro River valley in La Rioja, but until Napoleon brought potatoes to northern Spain in the early 19th century, this dish was made with chestnuts!
Of course, nowadays the local potato varieties of the Ebro valley are highly prized—considered by many the tastiest potatoes in Spain. In fact, the Riojanos tend to keep them for themselves. Not only do they have the rich potato flavor of say, a Kennebec, they also keep their shape like a waxy potato while containing enough starch to thicken a broth. We discovered that a mix of waxy potatoes (Red Bliss are the easiest to find) with some starchy potatoes like russets both thickens the stew and provides some toothy pieces of potato.
The Riojanos also have a special way of cutting their potatoes to maximize the exposure of starch to the broth. Hold the scrubbed, unpeeled potato and insert a sharp small knife at a 45 degree angle to the surface. Dig in about an inch, then twist the potato to make a conical cut. Snap out the piece, and continue until the whole potato is cut into irregular, roughly conical pieces. (It's actually a quick way to cut up potatoes with a small knife.)
Spanish chorizo is usually available in U.S. grocery stores that cater to a Latin American clientele. Other types of chorizo are less spicy; if substituting, double the garlic and add an additional teaspoon of paprika.
This version of the dish is adapted from chef Raúl Pérez Marín of Restaurante Sopitas in Arnedo, southeast of Logroño, the capital of La Rioja.
PATATAS A LA RIOJANA
Ingredients

1 ancho chile pepper, stemmed and seeded and torn into pieces
1/2 cup boiling water
1 1/4 lb. (two large) russet potatoes
1 1/2 lb. Red Bliss or other waxy potatoes
2-3 tablespoons olive oil
1 medium onion, peeled, cut into quarters and thinly sliced
1 large red bell pepper, seeded and roasted to remove skin, cut into 1-inch pieces
3-4 large cloves of garlic, sliced thinly
1 large fresh tomato, cored and skinned, coarsely chopped
1 bay leaf
1/2 teaspoon dried thyme
1 tablespoon smoked Spanish paprika
8 oz. Spanish chorizo, cut in 1/2-inch slices
1 cup dry wine (white or red)
3 cups chicken or beef stock
coarse sea salt and black pepper to taste
chopped parsley to garnish
Directions

1. Soak dried chile pieces in boiling water for a half hour. Puree in blender or food processor. Set aside.
2. Cut up potatoes. Peel russets and cut into 1/2-inch cubes. (They will almost disappear and provide the thickening.) Scrub the waxy potatoes and cut into irregular, more or less conical shapes about 1 inch on widest dimension. Set potatoes aside.
3. Heat olive oil over medium heat in 4-5 quart Dutch oven or other large pot. Add onion and bell pepper and sauté until onion is soft. Add garlic, tomatoes, and bay leaf and sauté until most liquid has evaporated. Stir in thyme and paprika and cook another 30 seconds.
4. Add chorizo and raise heat to lightly brown the meat. Add the pureed pepper.
5. Stir in potatoes and add wine. Bring to boil and cook 3 minutes to burn off alcohol. Stir in broth and raise to a boil. Reduce heat and simmer, covered, for about 30 minutes.
6. Remove about a cup of potatoes from the stew and mash with a little liquid. Stir back in and cook another 5 minutes.
7. Serve in shallow bowls with a little chopped parsley sprinkled on top.