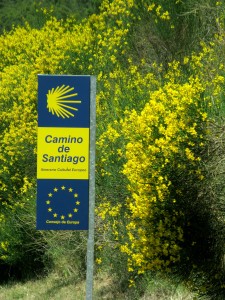 Full disclosure first: We did NOT walk one of the pilgrimage routes to Santiago de Compostela, Spain. But last spring, when we were in northern Spain to research a guidebook, we did see pilgrims everywhere.
Guess we shouldn't have been surprised. Pilgrims have been walking across Europe to Santiago de Compostela, ever since the tomb of St. James the Apostle was discovered around 814 A.D. Pilgrims often carry walking sticks with scallop shells, the symbol of Santiago. Alas, they also often throw rain ponchos over their backpacks. There's a good reason the north is called "green Spain." It rains a lot.
Two of the main routes from France (the Camino
del Norte and the Camino Aragónese) converge in Navarra and La Rioja, continuing west across the rugged northern mountains to Galicia. The pilgrimage routes are marked with a scallop shell, and in some places the path parallels the modern paved highway. Many towns along the route were founded as way stations for the pilgrims, like the colorful Santo Domingo de la Calzada, and they usually have hostels where pilgrims can spend the night. Generally, though, the pilgrims are required to hit the road by 8 a.m., rain or shine.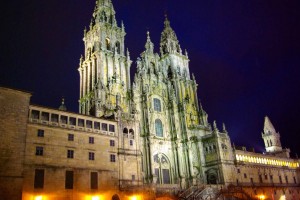 Many bars and restaurants, naturally, have special discounted pilgrim menus of hearty, earthy dishes to give them the energy to keep going. Whenever we would stop at one of these pilgrim restaurants, we'd feel a little guilty after a day in the car, but we couldn't resist the food either. One of the most sustaining dishes is called patatas a la riojana, or Rioja-style potatoes, and we still find our adaptation the perfect bowl to lift body and spirit on a cold and rainy day.
More in the next post…