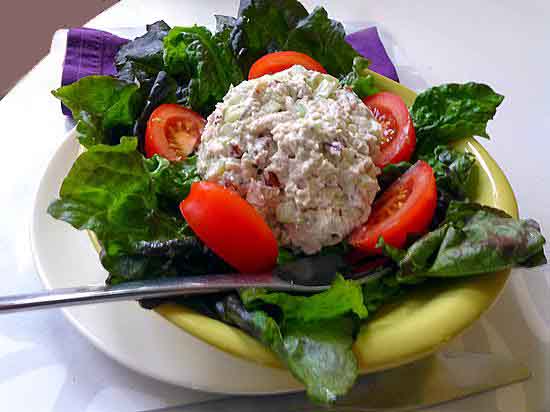 For truly ambitious eaters, the state of Alabama has come up with a handy list of "100 Dishes to Eat in Alabama Before You Die." It's a big undertaking, but I got a start when I partied in Mobile during Mardi Gras. Located across the street from Cathedral Square, Spot of Tea (310 Dauphin St., 251-433-9009, www.spotoftea.com) is right in the middle of the festivities and is also one of the few restaurants in the state to be recognized for two standout dishes. In this case, it's two breakfast dishes: Bananas Foster French Toast and Eggs Cathedral (a variation on Eggs Benedict featuring local seafood). Locals are just as likely to stop in for lunch and it's a good bet that they will order the "gourmet chicken salad," either as a sandwich or atop a salad. The recipe, which uses only white meat chicken, was passed down from the grandmother of owner Ruby Moore (That's Ruby below.)

CALVERT'S GOURMET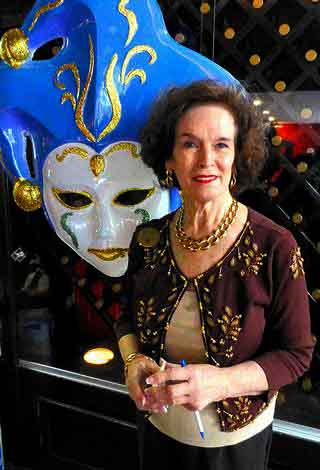 CHICKEN SALAD
This is the version as served at Spot of Tea in Mobile. I prefer using 1 teaspoon of ground celery seed in place of the celery salt, as it lets me adjust the seasoning more carefully. I also prefer using roast chicken breasts to poached breasts, though that's truly a matter of taste. Finally, I sometimes substitute fresh goat cheese (chèvre) for part or all of the cream cheese. It makes a slightly drier, more tangy chicken salad.
Serves 10
Ingredients
3 lb. boneless chicken breast
8 oz. cream cheese
8 oz. mayonnaise
4 ribs celery, chopped fine
celery salt
salt
black pepper
4 oz. pecans, chopped fine
Directions
1. Poach chicken until fully tender. Cool under cold water, pat dry, and dice.
2. Add cream cheese, mayonnaise, chopped celery, and chopped pecans.
3. Adjust to taste with celery salt, pepper, and salt. Blend well. If not creamy enough, add more mayonnaise.