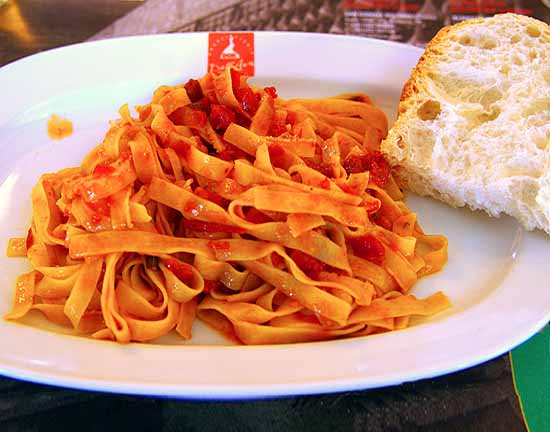 The last time I was in San Daniele del Friuli, I was traveling with the restaurateurs of Gruppo Ristoratori Italiani (GRI) on one of their annual pilgrimages to Italy to research products, find new sources, and generally take inspiration from the regional products. Since we were a fairly large group, we booked a meal at Prosciutterie DOK dall' Ava (via Gemona 47, tel. 0432-940-280, www.dallava.com, open daily 10-10), one of the town's full-service restaurants with a prosciutto-oriented menu.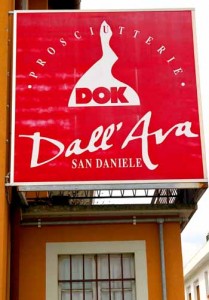 It's a funny place, since it's outside the main village and near one of the prosciutto factories. It looks like a tourist trap, to be honest, and bus groups stop here. But the service and the food are both terrific and the prices, while not cheap, are pretty reasonable for top-quality prosciutto. We shared lovely plates of sliced prosciutto, prosciutto and melon, and prosciutto and asparagus, and we each ordered a small individual plate. Mine was as simple as it gets – fresh pappardelle tossed with prosciutto and hastily sautéed tomatoes.
Normally I reserve this dish for the summer months when I have a surplus of sweet, fresh tomatoes. I dip them in boiling water and slip off the skins, then chop them coarsely, and sauté in a little olive oil with shredded prosciutto. Tomatoes this time of year are nowhere near as good, so I've taken to using the Pomi brand of boxed diced tomatoes instead. A 750 ml box drained and three slices of prosciutto works out just right for two people. (Save the juice for making minestrone.) To make a really easy dish at home, I like to use Colavita brand dried pasta. The rigatoni 31 cooks up nice and plump to support the tomato and flecks of ham.