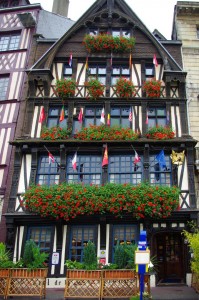 The marvelously bourgeois restaurant La Couronne changed the way Americans eat, so when I was in Fécamp to write about Bénédictine for the Robb Report (see "Leisure: A Secret for the Centuries"), I had to stop off in Rouen on my way back to Paris. Mark your calendar: On Wednesday, November 3, 1948, Julia and Paul Child stopped for lunch after their ferry landed at Le Havre and they began the drive to Paris. Writing years later, Julia called it "the most exciting meal of my life." It was her first taste of French food.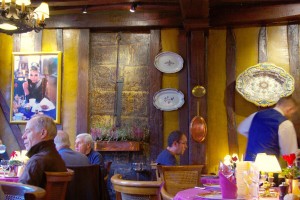 Founded as an inn in 1345, La Couronne (31 Place du Vieux Marché, 33-02-35-71-40-90, www.lacouronne.com.fr) has a strong claim as the oldest auberge in France, not that the countryside Art Nouveau décor suggests such antiquity. Nor does the kitchen: The cooking is timeless northern French cuisine. Since this was a pilgrimage to the spot where Julia Child figuratively discovered fire, I ordered the same dishes that she and Paul ate in 1948.
When I requested six oysters, sole meuniere, green salad, fromage blanc with berries, and coffee, accompanied by a half bottle of Pouilly Fume, my waiter nodded and smiled. "Le Menu Julia Child"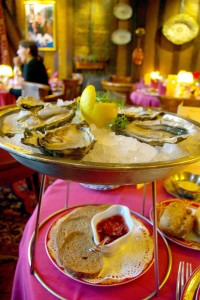 Minutes later he whisked over six perfect Brittany oysters so large and plump that each made two substantial bites. They were presented on a bed of ice with a plate of rye bread and a small pitcher of onion-steeped vinegar. As I paused between oysters to savor the clean salinity, the proprietor, Madame Darwin Cauvin, came over and we chatted about the pilgrims who had been coming since the release of "Julie and Julia," which featured the First Lunch filmed at La Couronne.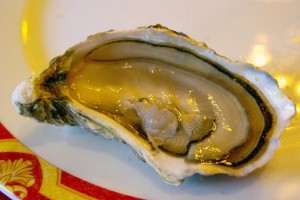 The centerpiece of the meal the Dover sole, a European fish rarely seen fresh on my side of the Atlantic. The whole fish arrived on a presentation platter, perfectly browned with the butter sauce still sputtering. I approved and the waiter whisked it to a side table to de-bone, presenting me with four perfect fillets. Julia called the sole "a morsel of perfection," and I won't argue. I closed my eyes to savor the aromas, then opened them to take a tentative bite, chewing slowly and enjoying the mild salty fish and lemony sauce. It was a little like eating hot buttered ocean.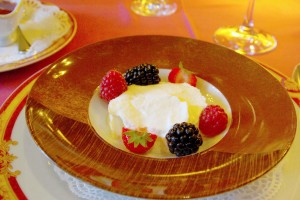 After the sole, the green salad with a lightly acidic vinaigrette was almost anti-climactic, though it did clear my palate for the subtle but unctuous fromage blanc (like a cross between tangy yogurt and sour cream) with fall berries. Black coffee and crisp little tuiles made a perfect finish.
—-
SOLE MEUNIERE
Here's my version of that great fish dish, substituting New England winter flounder for the unavailable Dover sole. I also use fillets because they are easier to handle and serve than the whole fish, especially without a waiter to expertly de-bone it. The picture, though, was taken at La Couronne, a reminder of how to serve a seemingly unattractive dish. This recipe serves 2.
Ingredients
4 flounder fillets, 4-6 ounces each
1/4 teaspoon salt
1/4 teaspoon pepper
1/3 cup all-purpose flour
4 tablespoons butter, divided
2 tablespoons olive oil
2 tablespoons minced parsley, divided
4 teaspoons lemon juice
1/2 teaspoon capers
Directions
1. Rinse the fillets and pat them dry. Sprinkle with salt and pepper. Spread flour on a flat surface and drag each fillet through flour, patting lightly. Turn fillets over and repeat. Shake off excess flour.
2. Divide butter evenly between a large (12-15-inch) frying pan or fish sauté pan and a small (8-inch) skillet. Add oil to large pan and heat over medium-high heat, swirling to blend oil and butter. When mixture begins to foam, add fillets and cook without disturbing for about 90 seconds per side, until coating is lightly browned and fish is firm to the touch. Remove to warm platter, sprinkling half the minced parsley on top.
3. Heat butter in smaller skillet over medium-high heat. Swirl pan steadily until butter begins to sputter and brown. When it reaches the color of an almond, add lemon juice, capers, and remaining parsley. Stir vigorously with a slotted spatula to emulsify ingredients and serve immediately over the warm fish.