Perhaps I have such an affinity for Friuli because I lived for more than a decade in the Pioneer Valley of western Massachusetts, where Hadley asparagus, grown on the rich riverbank soils of the Connecticut River, is some of the finest "grass" in the U.S. I'm in Cambridge now, but I still gorge on Hadley asparagus during the short May season.
For the last couple of years I have worked to adapt recipes from an authoritative Friuli book on the subject called simply Asparagi 103 ricette by gourmand Antonio Boemo. It just might be the final word in great asparagus cookery, featuring recipes from some of Friuli's finest chefs. (Thanks, Bepi Pucciarelli, for finding the out-of-print book and helping with the translations.) Here are a couple of my favorite Friuli-style treatments of Hadley asparagus.
SEA SCALLOP AND ASPARAGUS TAGLIATELLE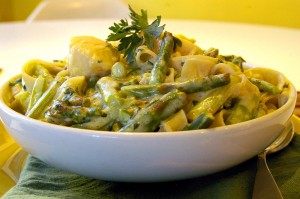 This can also be made with small in-shore scallops, but the plate looks less dramatic. This dish was adapted from Vanni Aizza of Ristorante La Columbara in the amazingly ancient village of Aquilea (via Zilli 34, +39 0432-910-513). It serves 6 as a pasta course.


Ingredients
6 large sea scallops (about 1/2 lb)
1 lb fresh asparagus
1/4 cup olive oil
3 cloves of garlic, finely chopped
1/4 cup white wine
1/2 cup coarsely chopped parsley
1 cup light cream
salt
1 lb fresh tagliatelle or linguine
pepper
Directions
1. Bring large pot of salted water to boil.
2. Clean the scallops and asparagus, removing tough ends from asparagus and peeling spears if they are large. Cut asparagus into 1-inch lengths.
3. Add olive oil to a deep skillet set over medium heat. Add garlic and brown lightly. Add scallops and sear on one side (30 seconds). Turn over and sear on other side (30 seconds). Add wine to pan. Remove scallops and set aside.
4. Add chopped asparagus and parsley to pan and saute, turning often, for about 7 minutes or until cooked al dente. Add cream to pan and stir well to mix. Bring to full boil for 1 minute. Add scallops and boil two more minutes. Taste and add salt, if necessary.
5. While scallops are cooking, add pasta to pot of boiling salted water and cook 90 seconds to 2 minutes. Drain.
6. Toss pasta with asparagus-scallop sauce, dust with a few grinds of black pepper, and serve.
——-
RUSSIAN SALAD WITH ASPARAGUS AND MUSHROOMS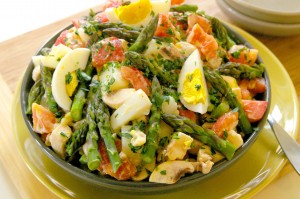 This is a Friuli version of a classical banquet dish that celebrates the spring mushrooms and asparagus of the Friulian woods and fields. We have some pretty terrific spring mushrooms in New England, too, but this version employs a mix of grocery store fungi. It's adapted from the recipe by Ivan Uanetto of Trattoria Da Nando in Mortegliano (Viale Divisione Julia 14, +39 0432-760-187). It serves 6.
Ingredients
1 lb. asparagus, peeled and tough ends removed
1 large waxy potato (Yukon, Red Bliss, etc)
2 tablespoons butter
small onion, minced
1/4 cup flour
12 oz whole milk
salt and pepper, to taste
1/2 lb. white button mushrooms
1/4 lb. oyster, chanterelle or shiitake mushrooms, sliced
2 large Roma-style tomatoes, peeled
5 hard boiled eggs
chopped parsley
Directions
1. Steam the asparagus until barely cooked (4-5 minutes depending on size). Cool immediately.
2. Cut potato into 1/2 inch cubes and steam until just barely cooked through (7-8 minutes). Cool and set aside.
3. Melt butter over medium heat in 10-inch frying pan. Add minced onion and saute slowly until onion is thoroughly cooked through but not browned. Place flour in mixing bowl and whisk in milk slowly, blending thoroughly. Slowly add milk mixture to onion in frying pan, stirring constantly. Cook until thick (5-7 minutes). Season to taste with salt and pepper. Remove from heat and let mixture cool.
4. Remove tips from asparagus and set aside. Cut remaining asparagus into 1/2 inch lengths and combine with cooked potatoes. Cut mushrooms, tomatoes, and boiled eggs into similar sized pieces and gently combine with asparagus and potatoes. Mix in dressing and toss gently.
5. Place in serving bowl and lay reserved asparagus points on top. Sprinkle thoroughly with chopped parsley and serve.