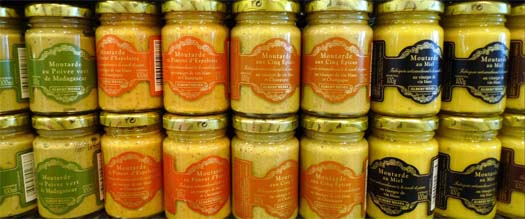 It is funny that France is such a fantastic country for eating but we rarely discover as many finds in French grocery stores as we do in other countries. Part of the problem is that most of the good stuff (like the sausages and the fresh produce and seafood) can't be brought home. The other factor is that many French foods are available in our local groceries, so we have learned to be restrained. We have also found that the fancy stores like Bon Marché and Galeries de Lafayette are big on stocking what they consider exotic delicacies-like American ketchup. There are a few things we just cannot pass up. Here's our shopping list when we visit Paris: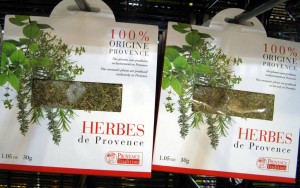 Herbes de Provence. We've been told that this blend of dried herbs typical of the Provençal countryside was invented as a marketing ploy in the 1970s. We don't care. The blend is handy to toss into almost everything from a stew to a vinaigrette. Why bother to bring it all the way home from Paris? Because, unlike American manufacturers, the French don't muddy up the flavors by putting lavender flowers and leaves in the mix of savory, fennel, basil, and thyme. And the herbs are cheap if you skip the fancy crockware packaging.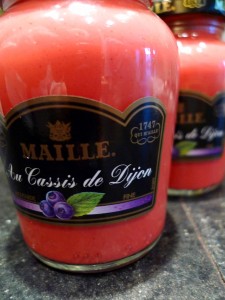 Cassis mustard. Talking with French mustard makers, we learned that even in Dijon, much of the mustard seed comes from Canada, even though it is processed in France. And we are fortunate that some good French mustards (usually Maille) are fairly available in our local stores. But we never see cassis mustard in the U.S., so we always try to pick some up. Its sweet-savory flavor makes it the perfect spread for a sandwich made with leftover charcoal-grilled chicken.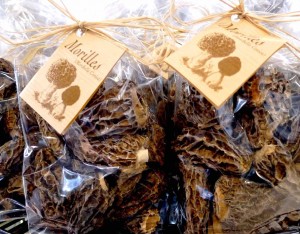 Dried morel mushrooms. Again, they're available in the U.S., but here in New England they tend to cost an arm and a leg. In France they are relatively cheap, and 3 ounces of dried mushrooms yield about the same volume as a pound of fresh morels. The flavor is intense and meaty. We think the simplest treatment-a morel mushroom omelette-is the best. Rehydrate them by soaking about 5 minutes in warm water and sauté lightly in butter before adding them to the eggs.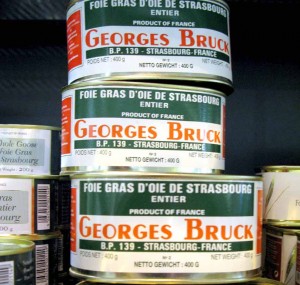 Tinned foie gras. Tout le monde makes preserved foie gras, but only the French seem to do it really well. Or, more specifically, the Alsatians. We like the goose foie gras from Strasbourg, which is poached and packed in tins. Once in a while we'll use some in a sauce, but it's really best lightly chilled and cut in thin slices spread on a plate and served with a sweet wine. The French prefer Sauternes, but it's also nice with an intense gewürztraminer from any of the Rhine regions (preferably an auslese).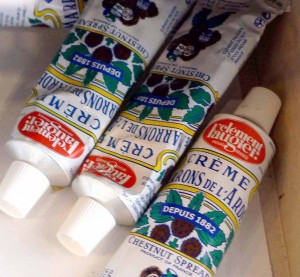 Crème de marrons de l'Ardeche. This sweetened chestnut cream is France's answer to Nutella. It's used in cookies and making millefeuille pastries, as an additive to whipped cream, or just spread on a buttery croissant. The French also like to squirt some from the tube on a crepe and roll it up to serve. It makes a pretty impressive dessert with very little effort. This is one French fast food we heartily endorse.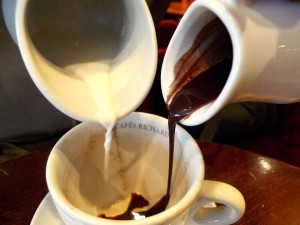 Drinking chocolate. Every culture does hot chocolate (chocolate chaud) a little differently. In Paris you usually get a little pitcher of hot milk and a little pitcher of concentrated chocolate to mix to taste in your cup. The next best thing to ducking into Angelina (226 rue de Rivoli, (0)1 42 60 82 00) on a chilly Paris day is mixing up a pot of thick hot chocolate at home. The fancier grocery stores in Paris tend to stock Angelina's mix along with several others. We often pick up extras for the folks who have been feeding the cat or picking up the mail.